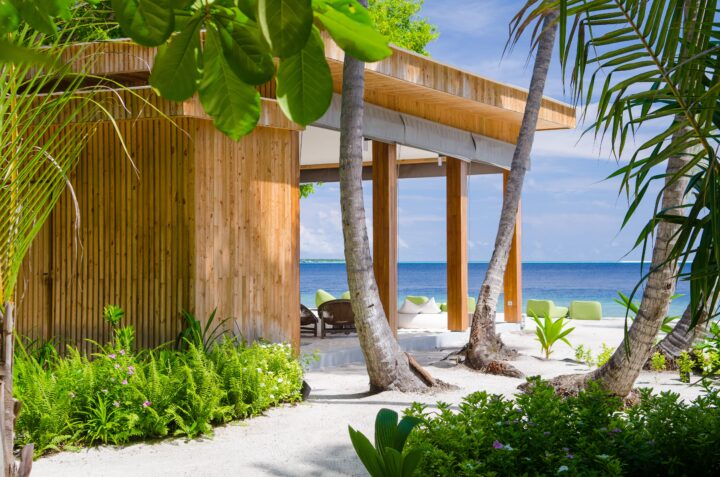 Meet the team of Practitioners & Artists at Amilla Fushi
OCEAN BLOOM
Canadian born athlete, Ocean Bloom, brings a refreshingly sensible, holistic and personalized approach to total health and fitness with over 25 years' experience in the fitness industry as a fitness champion, personal trainer and a certified yoga teacher. Ocean's powerful, innovative programs have produced many athletic champions and supported countless individuals in accomplishing their personal health and fitness goals. Ocean's classes combine physical fitness (raw, outdoor training) with inner, spiritual development (yoga, meditation and clean eating).
Services offered at Amilla until summer:
CMT (Conscious Movement Therapy) & NLT (Neuro-Linguistic Tapping) – A centering approach to transforming physical, emotional and energetic blockages in a way that is empowering and satisfying.  Sessions combine dialogue, breath work, and Thai Yoga Massage, to connect to your own inner guidance.
RAW FITNESS – Become vibrantly alive in your body with Raw Fitness, an outdoor training system of strength, cardio and core work that focuses on total health and wellbeing through movement and conscious awareness of the body and its surroundings.
YOGA – During a 75 minute group class, explore new patterns of movement, breath and meditation. Ocean's energetic flow vinyasa sequences create a deeper connection to your physical, mental, energetic and emotional bodies, improving postural alignment, balance and core strength. BUATHON THIENARROM
Visiting practitioner Dr. B believes "The most important tool for daily living is to train the mind for its own transformation," A Holistic Practitioner and Educator; Sukkasart Institute of Healing Arts with an intensive knowledge in Alternative Medicine,
Taoist Practice, Tibetan Medicine and Mind Training. Experience Dr. Buathon's Signature Healing by allowing your body and mind to become one. Sessions include energy enhancing chakra healing oil and Tibetan sound healing, mind transformation and physical tension release and abdominal detox. All guests are invited to join Dr. Buathon's complimentary Holistic Consultation to understand the greater connection of the body and mind for overall well-being.
Dr. Buathon will be available for group workshops or private consultations from 20th of January onward.
The Javvu Spa offers an extensive menu of innovative, results driven spa treatments, fitness and wellness classes that focusses on the importance of individual holistic treatments. Tailor-made services are designed to re-establish energy flows, increase circulation and create a foundation for balance, health and wellness.MARK STANDING
Originally born in Zimbabwe, London based international exhibiting artist Marc Standing has a wealth of experience in the art world. His work is displayed worldwide from private members clubs to national collections; with his signature style recognized internationally at art awards, charity initiatives as well as solo and group exhibitions.
Group and private art classes with Marc are available daily from the 22nd of January to the 18th of April at the Amilla artist studio. Which is located at the heart of the island, the Emperor Beach Club – Amilla's epicentre of fun and games for guests of all ages.