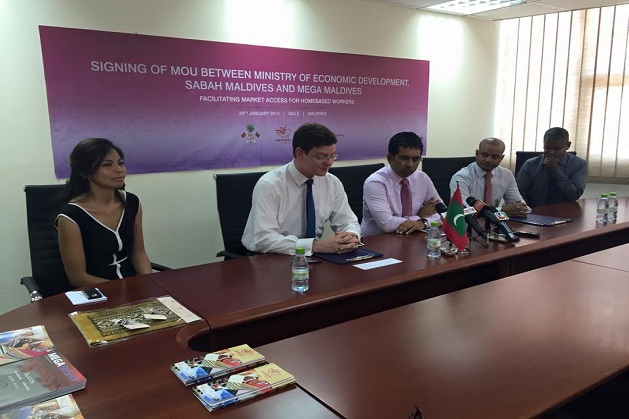 Mega Maldives to offer in-flight duty-free souvenirs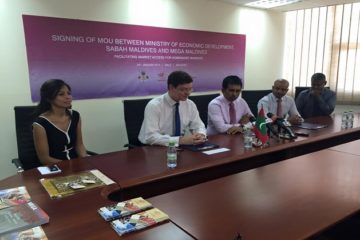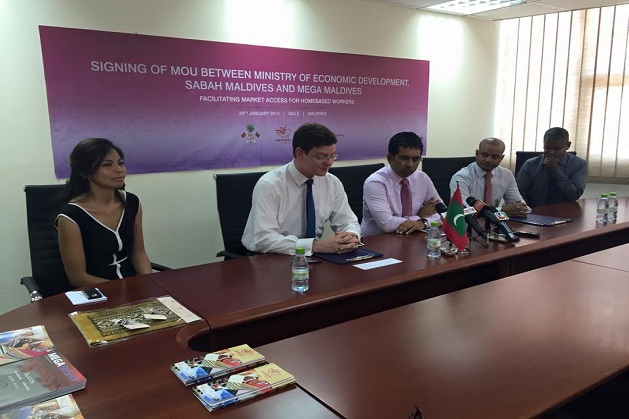 Mega Maldives Airlines signed a Memorandum of Understanding (MOU) with the Ministry of Economic Development on January 29 to promote and sell local souvenir products in-flight through its duty-free sales. The airline plans to offer souvenirs and handicraft from the SABAH Maldivian brand for sale on its sky shop.
 At a signing ceremony on Thursday, Mega Maldives CEO George Wienmann signed the MOU on behalf of the company while Minister of Economic Development Mohamed Saeed signed on behalf of the government.
"The aim of the MOU would be to identify, promote and ultimately sell products from the Sabah Maldives brand on Mega Maldives Airlines in-flight duty free as part of the 'MEGA Exclusives' range," the airline explained in a press release. "It will add to the growing portfolio of Maldivian products that we already sell, which have proven to be a huge success with our passengers."
 SABAH is a regional initiative of SAARC aimed at improving the livelihoods of home-based workers in member countries. The project was launched in the Maldives in May 2012 with the establishment of the SABAH Maldives for profit co-operative society. The SABAH brand product line currently includes lacquer work boxes, vases, pendants, key chains, bangles and small containers as well as reed mats and wooden items.
Mega Maldives is meanwhile the largest Maldivian international airline. Mega Maldives brings over 100,000 tourists to the country annually, representing 30% of Chinese tourists and 10% of all tourist arrivals. According to the airline, research by the Ministry of Tourism has revealed that Chinese tourists are among the highest spenders on shopping and local artifacts.
 "As a Maldivian company, we take great pride in the creativity and customs of our country. The products that we make are highly desired by the thousands of tourists that come to the country, but many local craftsmen lack the platform on which to promote and sell their products," said Mifzal Ahmed, director for strategy and business development at Mega Maldives.
 "We are therefore delighted to provide one such platform. We are also very proud to have the opportunity to partner with the Government in this very worthwhile initiative, and we look forward to working very closely with them on many more initiatives to promote economic development in the Maldives"