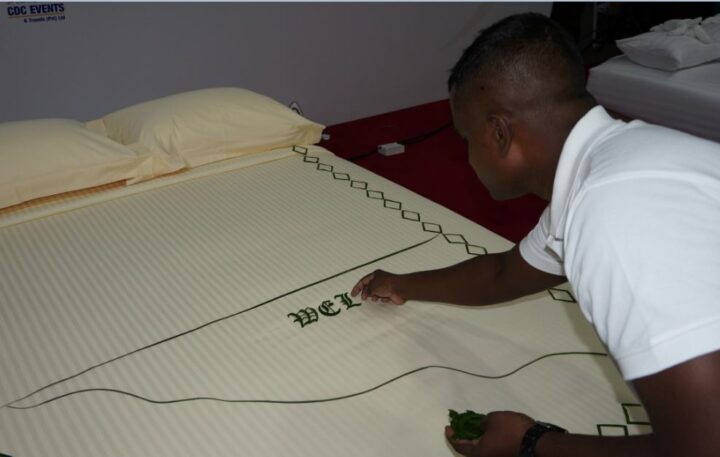 Maldives Housekeepers Forum concludes successful Bed Decoration Competition
Maldives Housekeepers Forum (MHF) has successfully concluded Maldives' first-ever Bed Decoration Competition. The competition, held in conjunction with Food and Hospitality Asia Maldives, was targeted towards housekeeping staff of hotels and resorts.
"The Bed Decoration Competition 2017 was aimed at creating opportunities for housekeeping professionals proudly working day and night to showcase unbelievable talents and show appreciations of their hard work," says Hari Krishnan, general secretary of MHF, speaking with Hotelier Maldives."Bed decoration comes from passion, innovation and creativity. Housekeeping staff are an integral part of any resort operation, especially in a country such as the Maldives, famous for honeymooners, and those visiting to celebrate anniversaries and other such occasions," adds Hari, who is also the Director of Rooms at Mercure Maldives Kooddoo Resort.More than 50 housekeepers from over 25 resorts and hotel operators participated in the competition; including Mercure Maldives Kooddoo Resort, Velaa Private Island, Kurumba Maldives, Meeru Island Resort & Spa, Centara Hotels and Resorts, Baros Maldives, NIYAMA Private Islands, Bandos Maldives and Hulhulé Island Hotel.Other hotels and resorts which competed in the competition are Hotel Jen, Naladhu Private Island Maldives, Anantara Maldives Resorts, Hurawalhi Island Resort, Taj Hotels Resorts and Palaces, Hideaway Beach Resort & Spa, Veligandu Island Resort & Spa, Komandoo Maldives Resort, Coco Collection and W Maldives."I believe this competition adds value to individual housekeepers and would be a great take-away for organisations by giving opportunities to those who deserved, says Ahmed Siaar, President and Founder of Executive Housekeepers Association of Maldives.MHF was established in 2010 as a non-governmental organisation, working to train housekeeping staff and provide them with more opportunities. Some of the other notable highlights of MHF include the training, certification and provision of employment in hotels and resorts to persons with special needs. It is also a member of the Asia Housekeeping Association, which comprises 11 member countries.