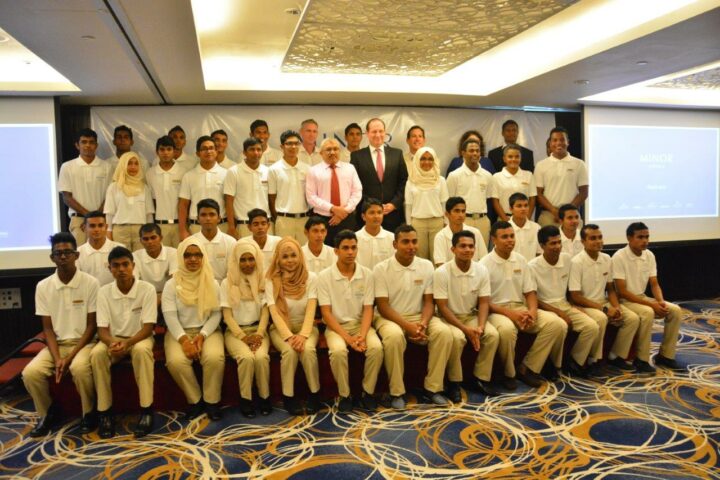 Minor Hotel Group awards certificates to graduates of 'Explorer' training programme
A graduation ceremony was held at Hotel Jen on Sunday (17 June) for the participants of the Minor Hotels' apprenticeship programme, Explorer, class of 2015.
The graduates received their certificates on stage from Vice President Abdulla Jihad, the chief guest of the ceremony.
Some 17 students completed their training in three areas of specialisation; Culinary, Food & Beverage service and Front Office.
"What is encouraging for us to note is that in this batch of 17 graduates, 6 of them have already found job placements within the Minor Hotels family – this being a very healthy number," said Mohamed Yamany, Training Manager at Anantara resorts, Maldives.
"The rest are still looking at the various opportunities available to them since there are several hotel openings scheduled for Minor Hotels in the months ahead. Overall, our Explorer graduates are given priority in terms of employment, giving them an added edge and a head start over their contemporaries."
The ceremony also celebrated the inauguration of new apprentices into the Class of 2016.
According to the hotel group, other soft skills and training have been put in place such as self-defense courses, adopting corals, surfing and culture 101 classes to ensure that "their overall well-being and personal development are looked into, and in so doing, ensure a holistic growth and training approach during their one year with us."
"Minor Hotels has always held fast to its commitment to develop talent within the countries it operates. This not only helps to ensure a well-educated and well-trained workforce to serve our guests at the hotels, it is an active support of the sustainable development of talent for the local economy."
According to Minor Hotel Group, the Explorer programme is unique in that it is the first syllabus that is mapped to both the Australian and Maldivian Vocational Education Framework, which translates to greater employability for their graduates.
"This Certificate III accreditation will provide the graduates the opportunity to further their qualification if they desire, by pursuing a Certificate IV or Diploma down the road."
"It is currently the only Australian-certified apprenticeship programme in the Maldives. With the certification it would be very easy for our graduating Explorers to gain entry into many international universities if they wish to continue further education. Minor Hotels is very interested in developing the local youth from all of the Maldives," said Yamany.
Launched in 2014, the Minor Hotel Group (MHG) Explorer School Leavers Program provides training and subsequent employment opportunities for young people in the communities the group operates.  MHG offers a certified vocational qualification in a practical industry setting. It is a 12-month program that uses an "earn as you learn" approach.
"MHG Explorer is different as our program is modern, uses an industry based blended learning approach, and is aligned to the globally recognized Australian Qualifications Framework (AQF)," the group said.
"As we grow, each of our graduates can also grow with us. They have opportunities through the various destinations where we operate and be part of our story in celebrating life and enabling a contemporary travel lifestyle for our guests. Whether it is by the tranquil coast with views of the Andaman Sea in Phuket, or in the heart of cosmopolitan Sao Paulo in Brazil, or in Kenya's tented camp in Laikipia favoured for elephant-watching, the experiences are theirs to choose."
"But for those who wish to remain home in the Maldives, our four resorts here are equally desirable options to grow and develop their career in hospitality."
Minor Hotels is an international hotel owner, operator and investor currently with 146 hotels. Since 2001, Minor Hotels has been expanding its footprint globally and today, through its Anantara, AVANI, Elewana, Four Seasons, Marriott, Oaks, PER AQUUM, St. Regis and Tivoli properties, Minor Hotels operates in 22 countries across Asia Pacific, the Middle East, Africa, the Indian Ocean, Europe and South America.