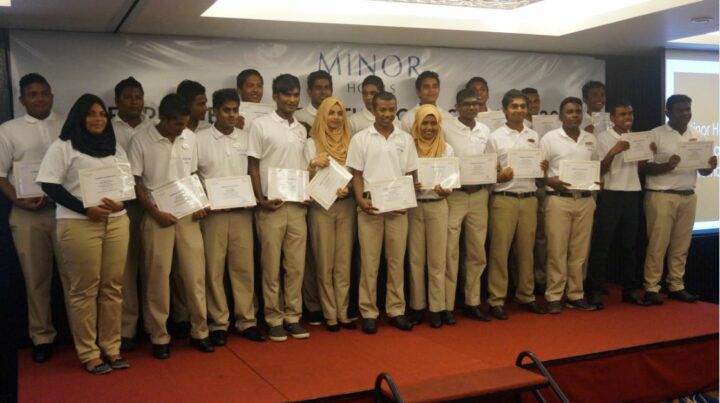 Minor Hotels concludes third successful Explorer apprenticeship programme
Minor Hotels Group has concluded the third edition of its annual Explorer apprenticeship programme and welcomed new enrolments. The ceremony held at Hotel Jen saw the graduation of six explorers from Anantara Maldives Resorts and Spa & Anantara Kihavah Maldives Villas, with a further four explorers graduating from Niyama Private Islands.
The twelve-month programme was first launched in 2014, and has since seen the successful graduation of over 30 candidates. The curriculum of the programme is produced by an accredited institution in Australia, which is gauged as a Certificate III in Hospitality.
"Our students have done extremely well. It's actually been quite easy to guide and manage them as they always strive for the best. They are very often quoted in reviews left by the guests," says Gauderic Harang, Resident Manager at Anantara Hotels, Resorts and Spas.
"It has been a great pleasure to participate in the local environment by helping the guys with this programme and in turn, we have been rewarded with excellent employees."The programme is conducted by industry experts and workplace coaches from Anantara Maldives Resorts and Spa, Anantara Kihavah Villas and Niyama Private Islands. They are trained and accredited to international standards in training and assessment, and "positively impact the learning journey and success of our explorers," says Minor Hotels.
The opening remarks of the graduation function were delivered by Thomas B. Meier, Senior Vice President Operations of Minor Hotels. Highlighting the importance of being a part of the country's fastest growing industry, Sonya Brown, group director of HR in Asia for Minor Hotels explains: "The programme is designed to help foster students talents and skills by learning while on the job."
According to Minor Hotels, with its strong commitment to ensuring a well-educated and well-trained workforce in the Maldives, it is the first hotel company to combine accreditation, workplace training and online tools for on the job training. It is also the first to offer an international certification mapped to both the Australian and Maldivian Vocational Education Frameworks."It has been a pleasure for me to complete the programme, and it has been an important lesson for me in life," says Ali Nafiu, an explorer graduate, who has since been offered a position at the Front Office at Anantara."Throughout the duration of the programme, I have had the pleasure of learning many new skills, especially on how to ensure guests always leave with a smile."Minor Hotels is an international hotel owner, operator and investor currently with 154 hotels, resorts and serviced suites. Through the Anantara, AVANI, Elewana, Four Seasons, Marriott, Oaks, St. Regis and Tivoli properties, Minor Hotels operates in 24 countries across Asia Pacific, the Middle East, Africa, the Indian Ocean, Europe and South America.