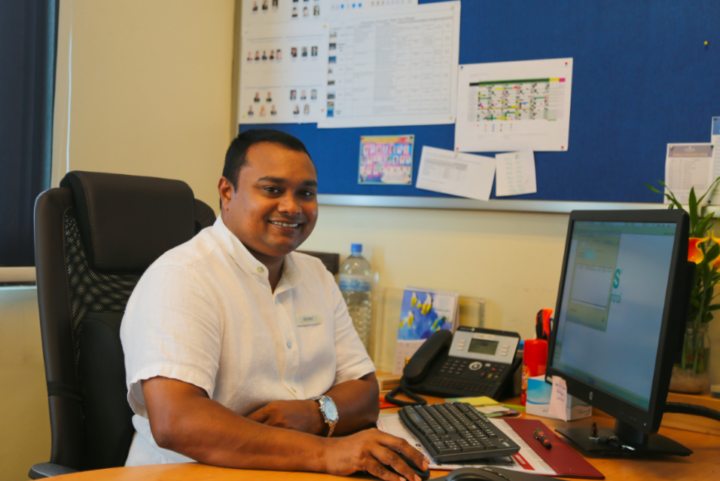 Mohamed (Sobé) Sobir, F&B Manager at Anantara Kihava Maldives
Born to a middle-class family in Feydhoo, Addu City in the 1980s, Sobé lived with his mother and grandparents after his parents separated when he was just an infant. Shortly afterward, his mother started a new family and had 3 daughters who showered him with affection.
The happiness was short lived as his mother passed away when he was just 8 years old. He and his sisters suffered another blow when their grandparents passed away and it was a desperate and tough period in his life, looking after himself and his mourning sisters.
However, Hassan Kaleel, his uncle, and role model was always there for him throughout his entire life to guide and support him. Kaleel worked in the hospitality industry in F&B and whenever he visited the family, he would cook delicious dishes and regale his nephew and nieces with tales of his exploits and his workplace, which they enjoyed and looked forward to immensely. Sobé admired his passion, drive, and enthusiasm – qualities that led him to want to follow in Kaleel's footsteps.
With that one ambition in mind, he studied and achieved his diploma in F&B Service from the Faculty of Hospitality and Tourism studies at The Maldives National University. In 2003 he began his career with Four Seasons Kudahura as a waiter and spent 2.5 years abroad working at various Four Seasons properties including FS Shanghai, FS Hong Kong, FS Singapore and FS Saudi Arabia.
From the very beginning, Sobé knew that as much as he wanted to work in F&B, it was a difficult department to enroll in without prior experience and consequently, he slowly worked his way to it. "What attracts me to the industry is the lifestyle, the fast pace and the fact that I am able to look after and entertain guests on a daily basis.
I believe a huge part of my self-development took place during my years abroad when I learned to adapt to new cultures, see things from a different perspective. The experience made me stronger on many levels. I remember being very homesick and learning to live without Maldivian cuisine was tough therefore I started cooking "kulhimas" and "chapatti" and what started as nights cooking by myself slowly became evenings entertaining and cooking for my new found friends."
After 7 years with the company, he decided to come home to the Maldives and remain near his family. And in 2010 he Joined Shangri-la Villingili as the Assistant Restaurant Manager and after 3 years of hard work and multiple promotions, he was appointed as the F&B Divisional Training Manager.
Another 3 years down the line, he decided that it was time for a new opportunity and challenge which was when he decided to join Minor Hotels and Resorts to work at their flagship property, Anantara Kihavah where he is currently employed.
"What I admire about Anantara properties is that in such a fast growing company, they give opportunities for people to grow and advance in their career. I have never worked for another company where they give leadership roles to so many local employees – this is something I'm very proud to see and wish that other brands would follow suit.
"Also, very recently Minor hosted an F&B conference where I had the fantastic opportunity to meet with all the F&B managers and directors of Minor Worldwide – it was a truly eye-opening and proud moment to be a part of the weeklong conference."
Sobé wishes to thank Mr. Armando Kraenzlin, the Regional Vice President and General Manager of Four Seasons Resort Maldives at Landaa Giraavaru, who gave him the opportunity of a lifetime to begin his career in F&B when no one else recognized the potential he had.
Sobé's strength to face the challenges that life threw at him in succession has been his aunt, Khadeeja Shafya. She supported him from the very beginning and he holds her in high esteem, referring to her as his mother. Owing to a wonderful aunt and uncle and the will to survive and make something of himself, Sobir has come a long way from a desolate childhood. A path ridden with much hardship taught him to fight for what he wants and to work hard to achieve everything he wants in life.