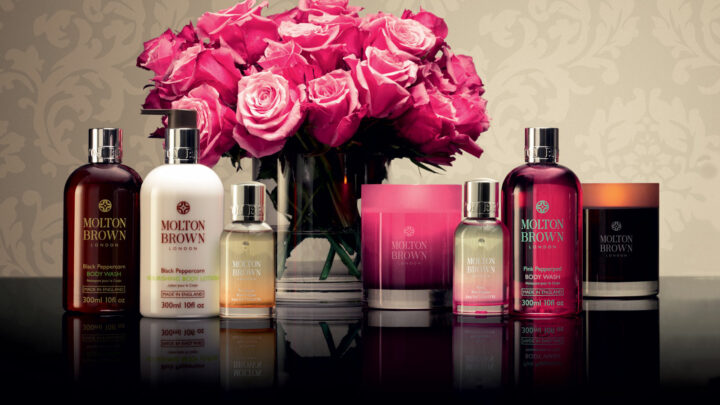 Molton Brown: Welcome to the world of luxurious fragrance
From their first store in London's upmarket Mayfair to luxurious destinations across the globe, Molton Brown blend unique and exotic bath, body and home fragrances.  Since 1973 Molton Brown have been famed for their innovative and memorable scents and are the creators of Britain's first luxury fine liquid hand wash. They are also a proud holder of a royal warrant for the supply of toiletries to her Majesty Queen Elizabeth II.
Ever-curious and led by their noses, they travel the world to discover the rarest, most precious ingredients and bring them back to England to create colourful, complex aromas.  Each and every one is composed just like a fine fragrance, blended in collaboration with some of the world's leading perfumers.  Whether it's meticulously selecting the perfect gourmand notes or giving classical scents an unexpected twist, they experiment until it's just right. A collection of sophisticated, intricately-balanced compositions for her and for him.
With over 25 years of experience partnering with the world's most esteemed hotels, Molton Brown know the ingredients to enhancing your guests' sensorial experiences. As a worldwide leading luxury bath and body brand with an irrepressible love of travel, they enjoy a renowned global presence and customer base. They meticulously craft their blends in-house, with their hotel amenities sharing the same flawless formulas as their retail collections. The brand also offers a skincare, accessories and turndown collections and run a dispensing program featuring its hand collection.
They get their naturally derived ingredients from sustainable sources around the world, often helping to stimulate the economies of developing countries along the way.
They only use preservatives that are safe and legal in cosmetic products all over the world. An independent testing company runs all their skin, eye and SPF tests on volunteers. They have also been awarded the Leaping Bunny stamp of approval by Cruelty Free International, certifying all of their products to be free from animal tests under the international Humane Standards.
All their core bottles from 30ml to 5L are made from recyclable PET material and their pumps and caps are also made from recyclable material.
They recycle 95% of all waste created in the manufacturing process at their plant in England and recycle all their liquid waste from cleaning our manufacturing equipment at the end of each batch using a revolutionary composting process.
Exclusive distributor of Molton Brown in the Maldives, SUNGLOBE PVT LTD has been a supplier of bath amenities and general trades since the early 2000's. The company has presently tapped into the resort market supply business, bringing the luxury amenities brand Molton Brown to various High End & Luxury Resorts in Maldives.