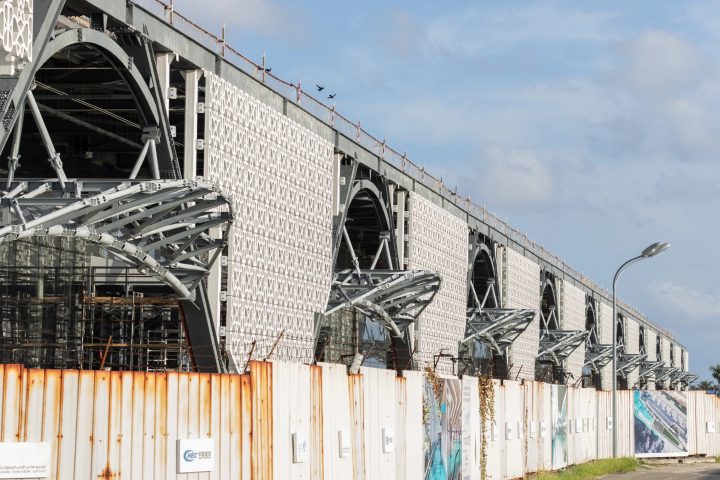 New VIA terminal completion by Sep 2024, says president-elect
President-elect Dr. Mohamed Muizzu expressed his confidence on Sunday that the new terminal of Velana International Airport (VIA) will be completed by September.
He was welcomed by the Maldives National Association of Construction Industry (MACI) and the National Federation of Maldivian Employees (NFME) at Hotel Jen on Sunday evening.
Muizzu highlighted the importance of completing the VIA development project, citing findings from his transition teams which indicated a delay in the airport project. He stated, "After this year and the next, the terminal is supposed to be completed in July 2025. That is too late and unacceptable."
During the Hotelier Maldives GM Forum held on October 19, Muizzu mentioned that the airport's new terminal was expected to be completed by the next year's peak season, without specifying a date. However, he now asserts that the project will be finished by September next year at the latest, eight months ahead of the current schedule.
"We have already started working on it. I am sure we will work with all the parties involved, and with your support, we will succeed," Muizzu affirmed.
The contract to construct the new terminal was awarded to Saudi Arabia's Bin Laden Group, which subcontracted the project to China Harbor Engineering Company (CHEC). Saudi Arabia recently decided to provide an additional USD 100 million loan to expedite the terminal's completion.
Key points about the airport's new terminal:
Handed over to the Saudi Bin Laden Group in May 2016
USD 350 million (MVR 5.3 billion) budget
Designed to serve 7.5 million passengers
Equipped with 40 departure gates and 38 immigration counters
Aero bridges will be installed