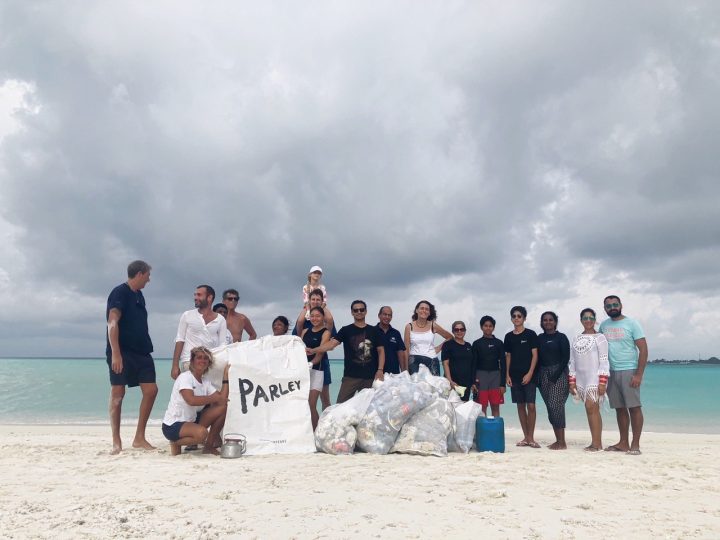 Nika Island and Parley team up to host "Nostalgia" event; The Ocean That Used To Be
"Nostalgia" is an event organized and promoted by Nika where any individual can share a story related to  Maldivian traditions, folklore and heritage. Nostalgia is a platform that gathers together the community of travellers with local artists, thinkers and representatives of the private and public sector.
For the most recent edition of Nostalgia, Nika teamed up with Parley to share detailed presentations and videos about the current situation of plastic pollution in the Ocean and how the issue impacts such a fragile country like the Maldives.
In addition to the various efforts to maintain the 'Maldives that used to be', Nika is also taking up the long-term challenge to eliminate single-use plastics on a broad scale in the island. Edoardo Caccin, External Director at Nika Island commented, "We are working hard and with passion to preserve the authenticity of the country, what we call; the Maldives that used to be."
"The Ocean surrounding the Maldivian islands is a fundamental component of the beauty of the country. We are excited to join Parley's efforts for the interception of plastic and we hope that this collaboration will help to restore the original beauty of the Maldivian Waters, as 'the Ocean that used to be' was not contaminated by plastic."
Shaahina Ali, Country Representative at Parley added, " Education and instilling awarness is a pivotal component of our daily operations. We are visiting the schools of Bodufolhudhoo and Mathiveri, explaining the current status of the Ocean and the emergency related to plastic.We are educating the community to collect plastic and not to throw it in the ocean, and not to abandon it in the island."
The day after Nostalgia, the Team of Parley, along with some workers of Nika, tourists and locals went to a desert island for a clean up.
Parley Maldives' School Program has now added Mathiveri School and Bodufolhudhoo School to their growing number of interception collaborators.
Edoardo Caccin added, "As a support to the communities surrounding Nika Island, we are happy to use our supply Dhoni to transport the plastic intercepted in Mathiveri and Bodufolhudhoo. These precious cargo will be  handed over to Parley, to be redesigned into products that would otherwise use virgin plastic."
With this special edition of Nostalgia, Nika and Parley successfully managed to join together to shed light on the emergency related to plastic pollution in the Ocean and on the importance on establishing a fruitful dialogue between Resorts, Local communities and International Organizations. As far as the preservation of the fragile ecosystem of a Maldivian Atoll is concerned, it's clear that the efforts and passion of Parley and Nika will play an important role.