Nika Island Proclaimed as World's First "Kind Island"
Nika Island Resort is proclaimed the world's first "Kind Island" at a ceremony on April 2, 2023, by signing the Manifesto of the Kind Island. The manifesto consists of ten practices that point the way to kindness.
Nika Island is part of the International Kindness Movement, a worldwide collective of over 300,000 people, organizations, companies and institutions spreading kindness through community impact projects
The manifesto was signed by the founder and inspirer of the movement Daniel Lumera, by the international coordinator and ambassador Felicia Cigorescu, by the owner of the Nika Island Resort Giovanna Bellazzi and by the Honorary Consul of Italy to the Maldives Giorgia Marazzi, representing Italy, in the presence of guests and employees of the resort, tourists and islanders.
"Kindness is that gift that allows us to get in touch with all souls and the natural world. Here at Nika, we have been involved in social projects and the protection of the environment and traditions since 1983, and our membership of the International Kindness Movement is intended to express this concrete commitment, which we will continue to pursue and strengthen," commented Giovanna Bellazzi, the owner of Nika Island Resort.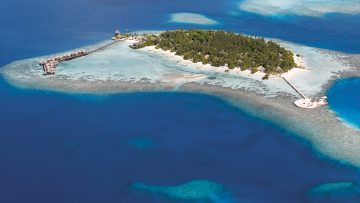 Featured Image: Nika Island Resort
This year Nika Island Resort celebrates its 40th anniversary. The resort's commitment to kindness is evident in the numerous environmental and social impact projects conducted over the past four decades. Nika has preserved the island's biodiversity, there are over 30 different species of local trees and over 1,852 plants scattered across the island. The resort is also committed to persevering and reinvigorating its kaleidoscopic house reef by engaging in a coral garden restoration project. In 2017, the Nika museum opened with an impressive collection of artifacts, prints and specimens to preserve Maldivian cultural heritage.
"No act of kindness, no matter how small, will ever be wasted,' Felicia Cigorescu comments. She continues to discuss the International Kindness Movement, 'We want to bring a new form of tourism to the world: Kind Tourism, based on shared human values and respect for the environment and the ecosystem, which naturally enjoys harmony and balance. We are witnessing the birth of a new era: the era of awareness."
Featured Image: Nika Island Resort