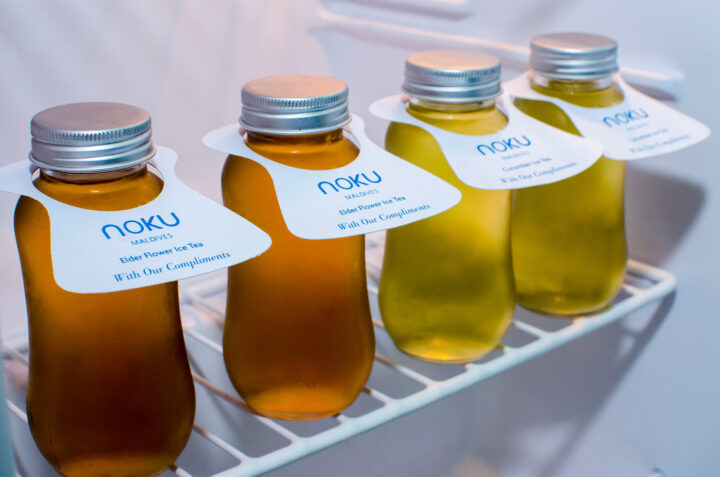 Noku Maldives – a perfect base to explore Maldives' cultural wealth
The island nation of the Maldives is one of the most tranquil countries in Asia, known for its natural beauty and its five-star resorts. For a taste of this, most people head to the Maldivian islands to experience a dream vacation. A 50-minute scenic seaplane transfer between Velana International Airport in Malé City, I found myself in Noku Maldives, a resort offering solitude, privacy and relaxation, and provides travellers with an immersive cultural experience.
Noku Maldives intends to remain proudly traditional, and while there's no denying its place in the Maldives' never-ending tourist trail, it still keeps one foot firmly in the past, having lovingly added authentic cultural experiences such as Boduberu dance and the opportunity to seek local island history. In fact, the recently opened Noku Maldives, built by Singapore's Roxy Pacific Holdings Limited, is a hotel which has been designed to pay tribute to Asian curated and crafted cuisine, and a personalised service culture.
Located in the heart of Noonu Atoll, Noku Maldives offers easy access to a long stretch of pristine beaches and untouched reefs. The atoll is also famous for enormous and unmatched schools of colourful reef fish, which can be enjoyed by snorkelers and divers alike. In addition, Noonu still features healthy coral populations and is home to world-famous dive sites such as the Orimas Thila. The entire dive site is beaming with life and the real stars of the show make an appearance as well. Grey reef sharks frequent the dive site and usually swim in formation over one of the reefs.
Unlike many resorts in the Maldives, Noku is close to a thriving Maldivian community. The resort management places great importance on social responsibilities that can give back to the local community, inclusive of environmental initiatives, children's wellbeing and elderly care. While the sun loungers were tempting, I also got the chance to visit local island Manadhoo, as part of Noku's visit to donate 18 teacher desks to Noonu Atoll School, and see the "real" Maldives, not just the tourist version.
Justin Heng, General Manager of Noku Maldives, commented: "Our CSR initiatives cover a variety of important initiatives that include children's wellbeing. We select our corporate social initiatives by considering our role and capabilities and focusing on areas where we can play our part in making the overall environment a better place for the community."
Justin said that in setting out new projects, Noku Maldives will be looking at the needs of communities within the hotel's immediate geographical proximity – in Noonu Atoll. "We feel very much a part of the local community as we operate our business in the vicinity," he said.
Noku Maldives also supports island councils to run educational environmental projects for the schools. The resort is set to invite council members from nearby Kendhikolhudhoo and Manadhoo to plant trees in its community garden on September 13, with the aim to spread environmental awareness and make green enjoyable. The garden is dedicated for students in the nearby island schools and aims to reverse deforestation trends in Noonu Atoll due to escalating population levels.
Guests are welcome to participate in the green footprint programmes which effectively 'buys' them a tree that will be planted in the community garden. Noku Maldives will also participate in planting trees in schools, communities, and deforested areas with the aim to uplift under-greened communities, and combat climate change.One of which is Noku Maldives' partnership with the local diving and water sports centre "Sub Oceanic" and its objective is to create exhilarating experiences and to educate guests on how effective protection of life underwater.  Through the water sport and diving activities, Noku Maldives aims to increase awareness and knowledge about the marine ecosystem and create positive changes through individual action.
Sub Oceanic is working with international organisations to commence coral restoration programmes at Noku Maldives. With this collaborative effort, Noku Maldives will be able to encourage the growth of corals around Noonu Atoll in the near future.
Noku Maldives has 20 beach villas and 30 over-water villas over nine hectares ensuring privacy and seclusion from other guests. The exterior of the hotel villas indicates refined elegance with its soft hues and dark wood accents with large bay windows and French doors. The cosy yet spacious villas boast open bathrooms with magnificent views and each room is tastefully adorned with personalised décor that exudes the comfort of home. I stayed at the stylishly appointed Noku Beach Pool Villa which comes with a large living area, a free-standing tub and a private extensive deck for sunbathing. The Beach Pool Villa felt like it is designed to provide the ultimate experience of being one with the beach.
Foodies at Noku can look forward to quality dining which includes elements of Thai, Japanese and Singaporean cuisines which brings a flavourful taste of the countries where other Noku properties are located. The two dining options, Palms Restaurant and Thari Restaurant, within the hotel itself provides a relaxing change of pace. Savour the best of Southeast Asia's most loved dishes such as Satay which is prepared as mixed sets of shrimp, chicken, beef and mutton to your preference. There's also an extensive variety of cocktails and wines to sample at the Palms Bar and Thari Bar.
Noku Maldives has successfully eliminated the use of single-use plastic packaging by placing the coffee, tea, sugar in airtight glass containers. The Noku Maldives team plans to source coffee from Meraki Coffee Roasters, the first commercial coffee roaster in the Maldives. The coffee blends from Meraki come from different parts of the world, with the aim of using a seed-to-cup approach in coffee that not only connects the coffee farmers to the consumers but also ensures non-exploitative trade.
Apart from the Zero Waste project, Noku Maldives and Meraki are working alongside with another home-grown brand Island Apothecary using the used coffee grounds for spa recipes at the Noku Spa.
The Noku Maldives team, led by Justin, provides exceptional levels of service. The resort offers a full range of well-managed facilities including a spa with six double treatment wellness suites, a Yoga pavilion, community garden, and a diving and water sports centre and lots more!
Visiting Noku Maldives and Manadhoo Island allowed me to see a totally different side of the Maldives which was unexpected and welcomed. I highly recommend a visit to a local island for a little bit of history. Ultimately, Noku Maldives is a charming, intimate resort which gives you great access to a thriving marine ecosystem. While it does not focus on excessive opulence, the resort is the perfect point from which to explore Noonu Atoll, which has so much to offer, you'll want to spend as much of your time as you can seeing the sights.ROOM TYPES
Beach Villas
175 sqm
Beach Pool Villas
220 sqm
Two-bedroom Beach Pool Retreat
400 sqm
Water Villas
186 sqm
Noku Water Pool Villa
190 sqm
Water Sunset Pool Villa
190 sqmACTIVITIES AND SERVICES
"Nice Things" Gift Shop
Noku Spa
Jet ski, speedboat and catamaran excursions
Snorkelling excursions during the day and night
Excursions: dolphin trip, desert island trip, sunset fishing
F&B OUTLETS
Palms Restaurant
Palms Bar
Thari Restaurant
Thari Bar