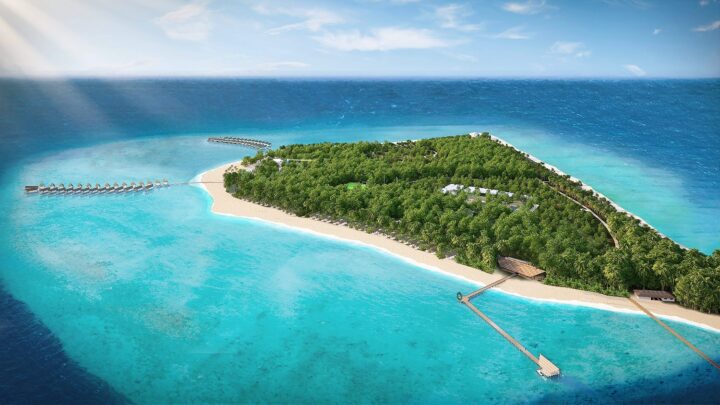 Onyx Hospitality Group announces OZO Maldives
Onyx Hospitality Group has announced the launch of OZO Maldives, with the signing of an agreement with a joint venture company led by Panchshil Realty. Scheduled to open in the third quarter of 2020, the 200-villa private island resort will occupy a secluded island in the Raa Atoll; Onyx Hospitality Group's second property in the Maldives.
Positioned as a family-oriented resort, Ozo Maldives will bear all the signatures which define an OZO including an enhanced sleep experience, smart connectivity of personal devices in both private spaces and public areas, and curated destination and activity tips by enthusiastic and informed team members.
"We are excited to be taking OZO to the Maldives, a destination once reserved exclusively for the ultra-luxury segment," says Douglas Martell, president, Onyx Hospitality Group.
"With the opening of OZO, we look forward to redefining the family-oriented resort experience in the Maldives with a property which combines the best of the three key OZO brand signatures – sleep, connect and explore."
Featuring design elements and experience touch points inspired by a fictitious castaway explorer named Sebastian King III, an artist and amateur sailor who was shipwrecked and lived alone on the island for eight years before allowing himself to be discovered, OZO Maldives will immerse travellers in a reinterpretation of the legacy he left behind through a series of structures, shelters and landmarks Sebastian creatively constructed from island-sourced raw materials and flotsam washed ashore over the years.
Highlights include an upturned Dhoni shipwreck hidden within a jungle which doubles as an activity centre, a crow's nest-style observation tower, an abandoned lighthouse, Sebastian's rustic home located within the kids' club, educational sundial and weather station, and a mangrove discovery walkway.
Of the 200 villas at OZO Maldives, 60 villas will be located overwater while 140 villas will be located on the beach, with 50 beach villas offering larger family-friendly layouts and private plunge pools. Many of the villas will also be either interconnecting or configured with dual key access, to offer flexibility for families and groups of friends travelling together. For more information, visit www.ozohotels.com.