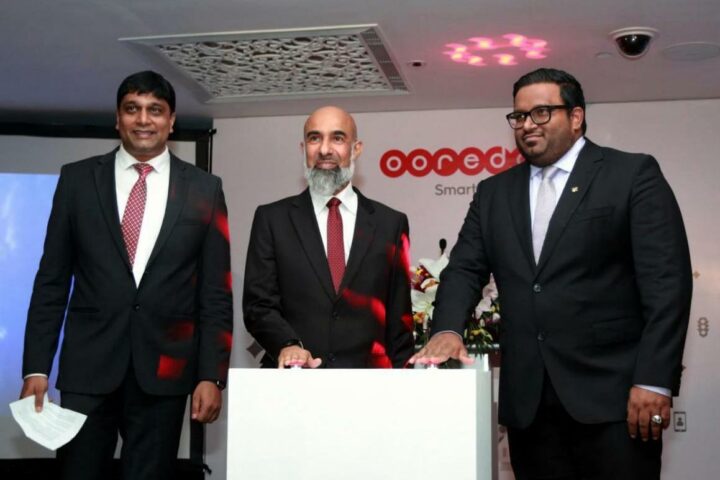 Ooredoo launches Smart City in Maldives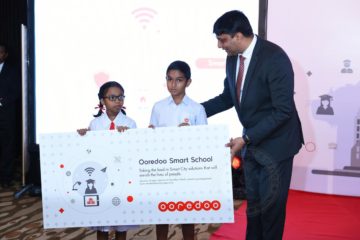 Ooredoo has launched Smart City in the Maldives at a special ceremony held at Hotel Jen Male' on 31st August. Smart City is an initiative aimed at enriching the lives of the population by connecting the nation with smart solutions.
The Smart City initiative was officially inaugurated by Vice President of Maldives, Ahmed Adeeb, and Chairman of the Board of Ooredoo Maldives and Group Chief Officer Small and Medium Business Unit, Khalid Al Mahmoud.
To kick start their Smart City initiative, Ooredoo announced the introduction of Ooredoo Wi-Fi Hangout Areas across prime spots in the capital city including hospitals, ferry terminals, youth centre and cafés. The company is to continue expanding this service across the country, enabling customers with seamless access to a fast, secure and affordable internet connection from wherever they are.
Ooredoo will also be providing Free Wi-Fi access at public utility areas such as IGMH hospital, ferry terminals and the youth centre. Customers can use 50 Mb of data per day within the Free Wi-Fi service, giving them the opportunity to catch up on news websites or connect with friends and family via social media, email, and social chat platforms such as WhatsApp and Viber. They can also watch videos, video chat and download content by subscribing to the available Wi-Fi hotspots.
As a special promotion to celebrate the launch of Ooredoo's Smart City, the company is offering free Wi-Fi access at all Ooredoo Wi-Fi Hangout Areas till the end of September. Ooredoo has also started using smart technologies to support young people. The company has setup a telecentre at Iskandhar School and has enabled free access to a number of educational websites, adding to the interactive learning experience of young students.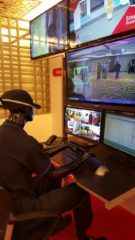 "Ooredoo has played an instrumental role in establishing a world class telecommunication sector in the Maldives. We applaud Ooredoo for their support in bringing our vision of establishing smart cities in the Maldives to life. Connecting our people to smart technologies will instigate innovative solutions that tackles key challenges that are prevalent in an urban society, thus paving the way to a better quality of life," said Vice President Ahmed Adeeb while speaking at the launch event.
Speaking at the ceremony, CEO of Ooredoo Maldives, Vikram Sinha said, "We are committed towards connecting Maldives and its people to a smarter future. The smart cities concept is synonymous with our belief that we can leverage technology to stimulate human growth across our footprint. We look forward to building on Ooredoo's expertise in this area, and providing the Maldivian community with smart solutions that can enrich their lives."
"Globally, Ooredoo is contributing to the development and implementation of smart city solutions and networks, supported by our role as a lead partner in the Smart Cities Council. We believe in the power of emerging smart city technologies to enrich people's lives, and we are eager to offer our expertise to the people of the Maldives in their efforts to build next generation urban environments," said Chairman of the Board of Ooredoo Maldives and Group Chief Officer Small and Medium Business Unit, Khalid Al Mahmoud.
Ooredoo is a leading partner in the Smart Cities Council, a coalition of thought leaders who are collaborating to accelerate the move to smart, sustainable cities. As cities across the world deal with a growing range of issues, including over-population, traffic congestion, pollution and high levels of energy consumption, the world is seeing a rise in the number of smart cities; urban areas which use ICT solutions to address mobile, transport, energy sustainability, infrastructure, governance, and security issues.
The launch event also featured a number of smart solutions that connect Ooredoo customers to Smart Homes, Smart Offices, Smart Schools and Smart Surveillance Systems. Ooredoo also demonstrated the opportunities for growth behind Internet of Things (IoT) and Machine to Machine (M2M) services which allow businesses to connect business assets with each other or a central command centre, thereby enabling the automation of routine tasks and maximizing efficiency with minimum investments in manpower, time and cost.
Ooredoo's IoT portfolio currently includes point to point connectivity for Local Area Network extension as well as Ooredoo Locate – a solution that uses GPS technology to remotely track the location of personal vehicles, sea vessels and even individuals such as snorkelers or young children, in real-time using internet-enabled mobile devices. In line with Ooredoo's commitment to support the development of smart cities in the Maldives, the company is to expand their smart city portfolio over the coming months, empowering people with smart sustainable solutions to prevalent issues across the nation.