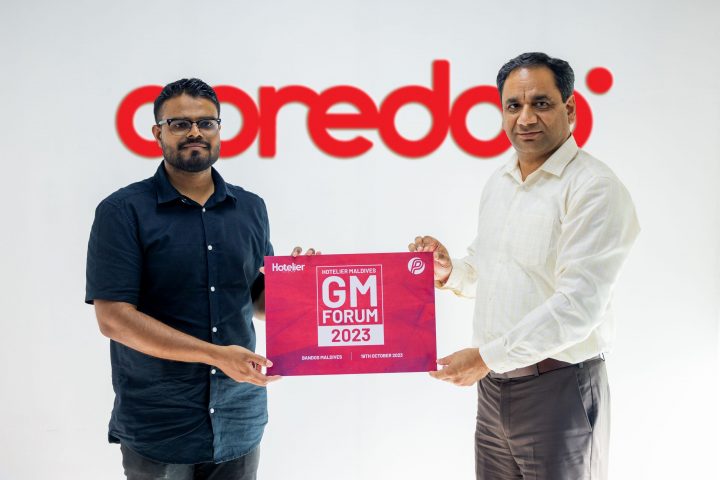 Ooredoo Maldives named as Digital Partner for Hotelier Maldives GM Forum 2023
Hotelier Maldives, the leading tourism and hospitality publication in Maldives, and Ooredoo Maldives, the leading telecommunications service provider in the Maldives, today announced the signing of Ooredoo Maldives as the Digital Partner for the prestigious General Managers (GM) Forum 2023. The event, organised by Hotelier Maldives' publisher Perspective Pvt. Ltd. is set to take place on October 19, 2023, at Bandos Maldives, bringing together industry leaders, experts, and innovators from the global hospitality sector.
As the Digital Partner, Ooredoo Maldives will play a pivotal role in leveraging cutting-edge technologies to ensure the seamless execution of the GM Forum 2023. With a commitment to delivering state-of-the-art digital solutions, Ooredoo Maldives will contribute to enhancing the event experience for attendees and participants, while also showcasing its latest products and services that cater to the evolving needs of the hospitality industry.
"We are honoured to be the Digital Partner for the prestigious 2023 GM Forum. Through this collaboration, Ooredoo Maldives aims to showcase the power of innovative digital solutions in shaping the future of the Maldives' ever vibrant and expanding hospitality sector. We are excited to contribute to the success of this event by providing seamless connectivity and enhancing the digital experience for all participants," Rajesh Mehta, Chief Business Officer at Ooredoo Maldives, said.
The GM Forum, since its inauguration in 2016, has been a dedicated platform for over 100 general managers and hoteliers to gather, discuss industry-related problems, exchange ideas, and propose solutions. Now in its seventh edition, the theme for this year's forum is 'Innovation and Technology for Sustainability'. This theme reflects the rise in new technologies, the fast-paced changes in the world, and the increasing number of eco-conscious travellers. It also aligns with the 'Tourism for Good' concept, emphasising the role of the hospitality industry in promoting sustainable practices.
"As we gear up for this year's GM Forum, we are pleased to have Ooredoo Maldives back with us. Ooredoo Maldives' role as the Digital Partner for the GM Forum 2023 is a testament to their dedication to transforming the hospitality landscape through their unparalleled technologies, products and services. Their expertise will undoubtedly contribute to making this event a memorable and digitally enriched experience for all attendees and the hospitality sector as a whole," Ali Naafiz, Editor of Hotelier Maldives, added.