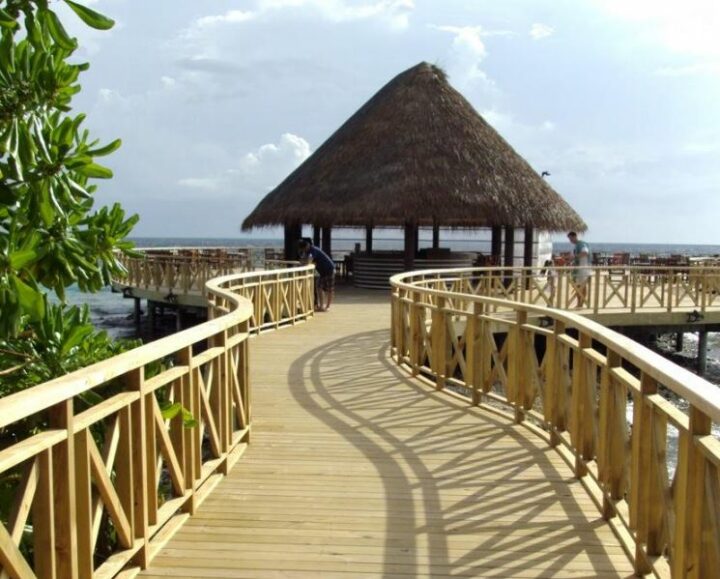 Outdoor FLUIDPine: The Sustainable Hardwood Alternative
Made from renewable New Zealand Radiata Pine, FLUIDPINE DECKING is a premium grade of pine decking which has been utilized in high end developments worldwide. It is guaranteed for 30yrs against decay, rot and insect attack.
Finished to either Premium Clear or Premium Number 1 specifications, FLUIDPine decking has proven to be a quality and now preferred renewable alternative to standard hardwood timber decks. Used in conjunction with FLUIDPine Structural Joists, beams and kitset jetty systems FLUIDPine decking provides an easily worked onsite solution reduces construction time and reduces decking traffic noise.
Fluid Wood Products use only quality FSC certified New Zealand Radiata to produce FLUIDPine Decking. High quality prune logs are used to guarantee impeccable pine grade.
Commercial pine trees in NZ are grown in plantation forests. As trees reach maturity, they are felled and replaced. NZ pine is one of the few sources of quality timber available on the world market that is completely renewable. No tropical rainforests or sensitive ecological systems are harmed during the production of NZ pine.FLUIDPine is treated to strict New Zealand specifications (NZS 3604, NZS 3640) to meet end use requirements. All Fluid Wood Product FLUIDPine decking is treated to a minimum hazard class of H3.2, with H4 being the prefered treatment for tropical locations. Our proven CCA treatments typically last twice as long as hardwood alternativesFLUIDPINE STRUCTURAL MSG NZ RADIATA Pine is extensively grown in New Zealand and is commonly used in structural applications such as residential and commercial building framing. Structural grade pine produced in New Zealand is an engineered timber product that meets strict industry standards and passes frequent verification tests.
FLUIDPine Structural graded pine is dried in high temperature kilns and stress graded. The stress grading process grades individual pieces of timber to ensure each member is fit for purpose.
Advantages of using FLUIDPine Structural grade NZ Pine:
– Machine stress graded for structural assurance.
– High temperature kiln drying reduces moisture content producing a strong light weight product.
– Excellent workability ² nail holding, nail plating, gluing & screwing etc.
– Available in a range of treatments.
– Complies with strict NZ standards 9 Is a renewable and sustainable resource.TIMBERFluid Wood Products is a New Zealand based company set up to export quality New Zealand timber products into offshore projects. They specialize in sourcing the very best timber product directly from New Zealand's largest sawmills and processing them in its facility in Auckland. They offer a range of standard as well as custom timber products and optimize our timber products for the client's project requirements.
Their timber products include: Outdoor Decking, Treated Structural Timber, Un-Treated Non Structural Timber, Glue Laminated Timber,Treated Roundwood Poles, Laminated Veneer Lumber (LVL), Custom Milling and Custom Treating, Finger Jointed Profiled Timber.
Fluid Wood Products negotiate directly with shipping lines and leverage off large export volumes to offer clients the most competitive freight rates. We also offer tailored financial trade solutions such as 360day LC and Vendor Finance options to integrate with the client's cash flow options.