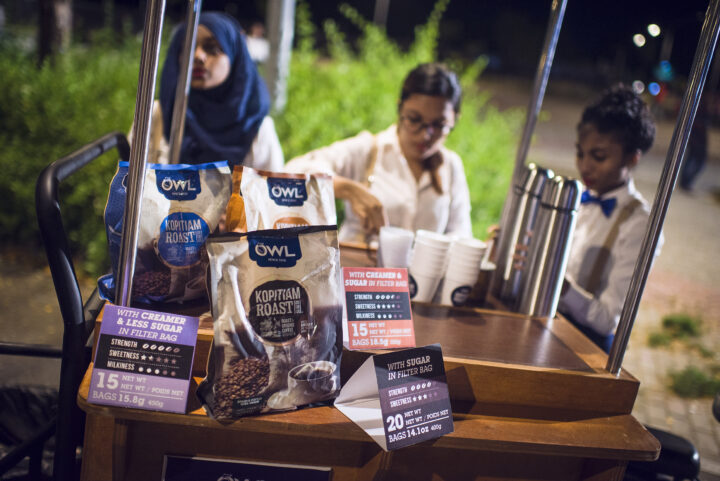 BHM Traders brings new selection of OWL coffee to Maldives
BHM Traders, the exclusive importer and distributor of Singapore's leading coffee brand OWL in the Maldives, has introduced the brand's 'Kopitiam Roast & Ground' selection to the market.
The new selection was unveiled at a sampling event held at the Central Park in Hulhumale'.
"As the exclusive distributor of the OWL coffee products in the Maldives, we are delighted and proud to introduce the filter bag convenience coffee product for the first time to the Maldivian consumers," said Ibrahim Shareef, Marketing Manager at BHM Traders.
"I encourage everyone to try all the flavours and enjoy your own unique Kopitiam coffee experience."
The product is made with freshly ground coffee. The coffee beans, a blend of fresh Arabica and Robusta, are caramelised and roasted using the traditional method of charcoal roasting with sugar.
OWL's Koptiam Roast & Ground coffee selection comes in sealed filter bags, making preparation easy and fast. The selection is available in three types: Kopi – with creamer and sugar, Kopi-O Gao – black coffee with sugar, and Kopi Siew Dai – with creamer and less sugar.
BHM's coffee cart will be going around Male' offering free samples on 6 August from 4-6pm (near the Tsunami Monument), 12 August from 4-6pm (near Villimale' ferry terminal), and 13 August from 8-10pm (near Villa college).
BHM has also launched a social media competition dubbed 'Catch the OWL & Win free Goodies'. Participants can enter by posting photos of the promotional events using the hashtag #OwlCoffeeMV on Facebook and Twitter. The competition will run until 13 August.
Established in 1982, BHM Traders is a sole proprietor business and a driving force in the market, a major distributor and a market leader for several products in the Maldives. Over the last 34 years, the company has expanded to become a leading household name, synonymous with premium quality and affordable food & beverage and other consumer products. BHM's business is based on true and honest relationship with their customers.