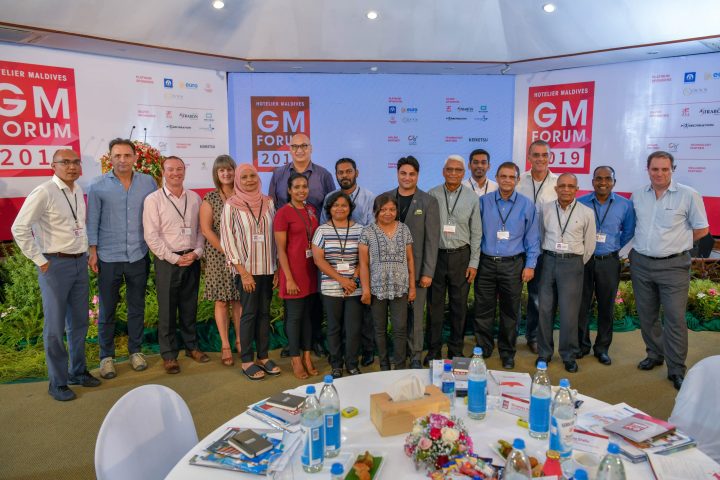 Over 100 Key Hoteliers to Attend GM Forum 2022
GM Forum is an exclusive annual event dedicated to managers of hospitality establishments in the Maldives and industry stakeholders including developers, investors, and hotel suppliers. GM Forum 2022 is expected to be attended by general managers or corporate hoteliers representing over 100 resorts and hotel management brands.
The Forum features speakers from industry leaders and panel discussions on critical topics affecting hotel operations in the country. Themes that will be featured in this year's GM Forum include Post-pandemic Wellness & Wellbeing, Hotel Investment, Conservation Tourism, and Training & Development.
Sponsors
JLL: The Hospitality Asset Management, Investment and Advisory Partner for GM Forum 2022. Julien Naouri, Vice President, Investment Sales Asia, Hotels & Hospitality Group will present on the latest Hospitality Investment Trends in Indian Ocean.
Manta Air: Aviation Partner for GM Forum 2022, Manta Air is among the leading domestic airlines currently serving in the Maldives. Manta Air operates a fixed schedule operation to over 30 hotel destinations, providing coverage to 6 regional atolls and 3 key airports across the country with its seaplane and ATR domestic service.
SEARA Sports: Sports Engineering And Recreation Asia Ltd. (SEARA) partnered with Hotelier Maldives as the Wellness Partner of GM Forum 2022. SEARA is the regional leader specializing in the design, development, equipment supply and installation of international standard sports, recreation, and fitness facilities in Southeast Asia and beyond.
Male' Aerated Water Co. Pvt Ltd (MAWC): Gold Sponsor for this year's event, MAWC is the first beverage company established in the Maldives. For the past 32 years, MAWC has been serving the country with world-class norms and quality products.
Development Interplan Ceylon Pvt Ltd (DICL): DICL, Gold Sponsor for this year's event is a Sri Lankan company. DICL is an export solutions provider active in Maldives, Seychelles and Middle East. From ethically sourced fresh produce to superior quality hotel amenities, DICL is geared to enhance the supply chain efficiencies of the hospitality industry.
Euro Marketing: Euro Marketing Pvt Ltd once again partnered with Hotelier Maldives as a Platinum Sponsor of GM Forum 2022. This is the third consecutive forum the company has sponsored in the platinum category. For over two decades, Euro Marketing has been delivering daily merchantable non-alcoholic beverages and snacks to the tourism industry of the Maldives and the local general trade.
Villa Hakatha: A subsidiary of Villa Shipping and Trading Company Pvt. Ltd., one of the largest conglomerates in Maldives, Villa Hakatha partnered for GM Forum as a Silver Sponsor. The company had also partnered for GM Forum 2021 as a Platinum Sponsor.
Heathergrey Collective: GM Forum Silver Sponsor, Heathergrey Collective is an integrated product manufacturing company that designs, develops, manufactures, and distributes uniforms, linens, and merchandise for the hospitality industry. Based in India, the company services brands across sixty-five international markets.
Oaky: Coming on board as a Silver Sponsor for GM Forum, Oaky is the #1 hotel upselling software that automates upselling efforts and boosts revenue through the enriched guest experience and branding. Oaky is among the fastest-growing hotel-tech startups in the world, with 2000+ clients worldwide.
Panel Discussion
GM Forum 2022, scheduled for 15 September 2022 at Kurumba Maldives, will feature a panel discussing post-pandemic wellbeing. Panelists include Özgür Cengiz, General Manager, JOALI BEING; and Heidi Grimwood, Vice President, ELE I NA Spa by Atmosphere Hotels & Resorts.
Presentations
STR: A World View into Hospitality Performance and Recovery through the eyes of the world's favorite travel bubble
GM Forum 2022 will see a presentation by Karan Mahesh, account manager, Central & South Asia, STR. The presentation – A World View into Hospitality Performance and Recovery through the eyes of the world's favorite travel bubble – will focus on key trends in hotel performance and updates from across the globe with a deep dive into the Maldives, providing insights into progress since the pandemic and way forward. The presentation will comprise of compelling stories driven by data collected and analysed by STR, a CoStar Group company .
JLL: .Julien Naouri, Vice President, Investment Sales Asia, Hotels & Hospitality Group will present the latest Hospitality Investment Trends in the Indian Ocean at GM Forum 2022. JLL's Hotels & Hospitality Group has sold 20 resorts in the Maldives since 2012, taking the group's resort sales in the Indian Ocean to more than USD 1.46 billion to date. JLL Hotels & Hospitality Group has completed more transactions than any other hotels and hospitality real estate advisor over the last five years, totaling USD 83 billion worldwide. The group's 350-strong global team in over 20 countries also closed more than 7,350 advisory, valuation and asset management assignments.
Sponsorship for GM Forum 2022 is open in the following categories: Title Sponsor, Platinum Sponsor, Gold Sponsor, Silver Sponsor, and Bespoke Partnerships. Interested parties may download the Sponsorship Media Kit here.
To attend the event register here. For more information, contact 7910858 or email sales@hoteliermaldives.com
Featured cover image: Delegates from GM Forum 2021, Paradise Island Resort