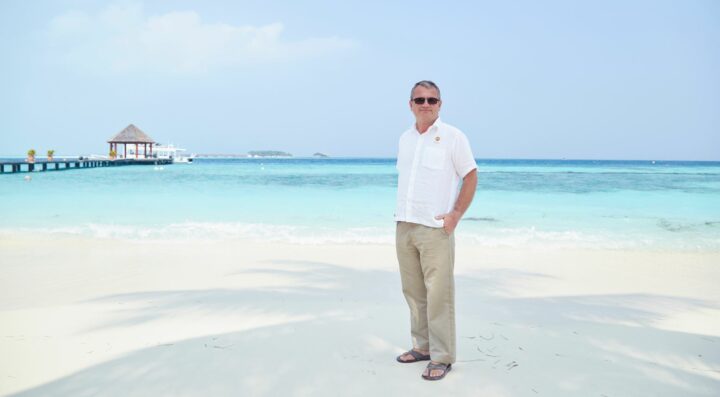 GM's View: Owen Ealden, General Manager, Komandoo Maldives
Prior to accepting the offer to lead the passionate team at Komandoo, Owen acquired a wealth of experience in his role as Executive Chef at Kuredu Island Resort and was instrumental in both the pre-opening phase and the operation of Hurawalhi to date as Director of Food and Beverage. The success of Hurawalhi's 5.8, the world's largest all-glass undersea restaurant, can in many ways be attributed to Owen's perfectionism and hard work.
Owen brings to Komandoo a strong food and beverage background, as well as enthusiasm, excellent management skills and a deeply woven desire to keep guest satisfaction high and to constantly improve the service provided.
Owen's professional career, which spans 10 countries over five continents, together with his pleasant personality are some of the reasons Komandoo said it is certain that transferring Owen Ealden to the role of General Manager is an outstanding choice; one that both the team and the resort's guests will inevitably benefit from.1. How did you first venture into the hospitality industry?
Having resided in various countries and locations through most of my youth, I never had a "base" or a nation I would call home, making the transient nature of the hospitality industry very appealing. Travel has been a passion for as long as I can remember. From a young age I was also a food lover. This introduced me to the culinary world. I started my career as a Chef.
2. You've lived in 10 countries, spanning five continents around the world. Can you mention where you've worked at? Of all the different challenges are there any experiences that stand out?
I was born in Leicester, England and at a very young age moved to South Korea due to my fathers work. From there, my family would move every 3 years or so. Countries I grew up in include Brazil, Yugoslavia (Croatia), Philippines and USA. I completed my studies in the UK. After starting my career in hotels, I moved to Australia and from there Papua New Guinea and of course, now in the Maldives. This varied travel and experience of different locations is something I am most grateful for. The most challenging location to work was Papua New Guinea, due to its infrastructure limitations and cultural dynamics.
3. You come from being Director of an F&B department to being the GM of a beach resort. What challenges and advantages does this present to you?
I am extremely proud to have been given these opportunities by our owners and CCR.  The biggest challenge is to maintain and build upon the fantastic reputation Komandoo Island Resort has earned over the last 20 years.Having worked in large F&B departments gives me the advantage of being experienced in managing large teams and making key decisions to focus on the guest experience and pay attention to the detail.4. Komandoo Island Resort is going to be 20 years old and has staff serving at Komandoo for several years. How do you motivate your staff?
My way of motivating the team is leading by example, being empathetic and effectively communicating that we are all working toward the common goal of providing the best possible experience for our guests. We provide all the tools to achieve this by offering comprehensive training programs and of course rewarding great performances. I am always available for all team members should they have questions or suggestions and meet each department regularly. This is vital in a boutique resort of this size.
5. How would you describe the island experience at Komandoo, and what steps are taken in creating a unique experience for guests in translating this to the Maldivian island experience?
The Komandoo experience is defined by personal service and its unique adult only concept providing guests the ultimate in intimate and relaxing "us time". Komandoo Island Resort provides an authentic Maldivian paradise island feel, with award-winning Dive and Spa facilities. All of this, enhanced with great food, drink, and activities. Komandoo has won multiple travel awards for the most romantic destination.
6. What would you say is one of the biggest strengths of Komandoo Island Resort?
The biggest strength is the friendly and hospitable team who work tirelessly at providing a memorable stay for all guests.This ethos of fantastic and personal service has created a family of loyal repeat guests who choose to come back year after year. The unique niche we offer as the Maldives only 18+ adults only resort also compliments the boutique paradise island concept for first-time visitors.7. Share with us how a typical day starts and ends for you?
A typical day will start by saying goodbye to our first departures. It is always a good time to get feedback from guests and wish them a safe trip home. After some administration tasks I meet with all managers to discuss the previous days operation and the day ahead. Through the morning I will do a walk around the island. I always try and meet as many arriving guests as possible throughout the day. The days ends after checking all is well with the restaurant and kitchen for dinner.
8. How has it been like to adjust to the Maldives and the island life?
Life in the Maldives is amazing. Having the opportunity to work in such a stunning environment on a resort island is a highlight for anyone in the hospitality industry. My hobby is running and training for distance runs which I try and do 4 or 5 times through the year. There is not a more beautiful location in the world to run and unwind, especially at sunset!
9. What advice do you have for someone who aspires for a career like yours?
Winston Churchill said "If you find a job you love, you will never work again". Any vocation in the Tourism sector offers this opportunity. People, cultures, food, drink and life experiences are the driving force. To succeed does not take years of study or qualifications but can be realized by a positive and can-do attitude alone, learning from experiences. Keep an open mind at all times and be prepared to leave your comfort zone!