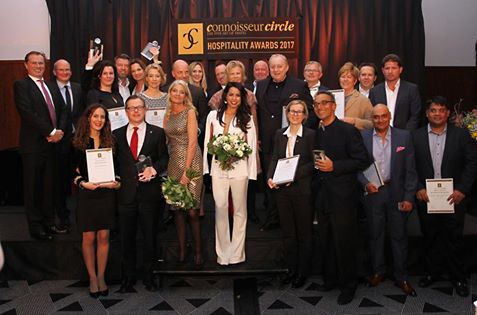 OZEN by Atmosphere and Soneva Jani wins "Best Hospitality Indian Ocean Hotel – 2017" at Connoisseur Circle Awards
Connoisseur Circle, a leading Luxury Lifestyle Magazine with the German speaking markets has awarded OZEN by Atmosphere at Maadhoo and Soneva Jani "Best Hospitality Indian Ocean Hotel at its annual awards ceremony during the ITB 2017, in Berlin, Germany.
During the Awards Ceremony, OZEN by Atmosphere at Maadhoo was awarded the "Best Hospitality Indian Ocean Hotel" for 2017, as a recognition for the fantastic positioning the resort has been successful in achieving since opening in July 2017.
Sonu Shivdasani was honoured for his work and the new Soneva Jani, with the highest award in the category.
The selection committee acknowledged the wonderful positioning and consistency in service delivery that OZEN has been able to achieve within such a short span of time since opening. OZEN by Atmosphere is the first "Luxury All-Inclusive" resort in the Maldives and has been receiving strong sales support from key Luxury Tour Operators worldwide.
Venkata Giri, General Manager who accepted the Award on behalf of OZEN, said "It is just an absolutely fantastic recognition for the wonderful work, done consistently by the OZEN team, and a great compliment indeed to be recognised so quickly within the German travel fraternity! We are truly swimming with the big Luxury boys now!"
Simone Dressler, chief editor of the Connoisseur Circle said, "We are very proud that the Connoisseur Circle Hospitality Awards have developed over the past five years to a fixed size among the events at ITB Berlin. With our commitment to service and hospitality, we reward the hotels and resorts with innovation and continuity again."
Both Soneva Jani and OZEN by Atmosphere at Maadhoo are new luxury properties that entered the Maldivian market in 2016.