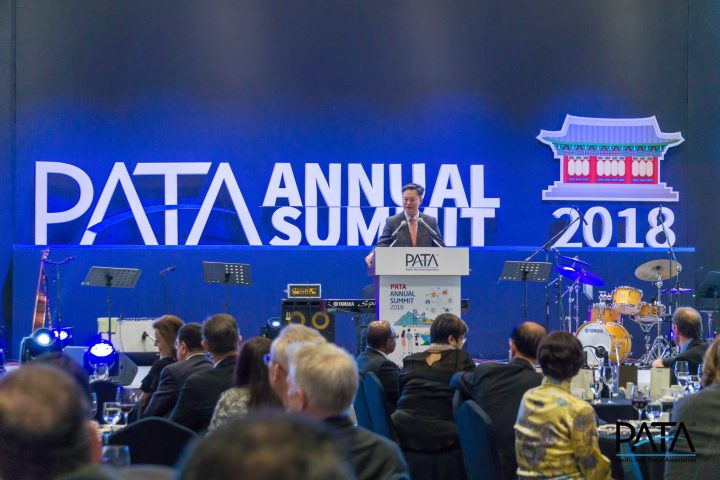 PATA elects new Executive Board for 2018
The Pacific Asia Travel Association (PATA) has announced the election of Dr Chris Bottrill, Director, International and Dean of the Faculty of Fine and Applied Arts at Capilano University in North Vancouver, Canada as Chairman of the Association's Executive Board. The appointment was made during the PATA Annual Summit 2018 held in Korea.
Dr Bottrill replaces Sarah Mathews, Head of Destination Marketing APAC – TripAdvisor, Hong Kong SAR, who was elected Chairman in May 2017 and remains a member of the Executive Board as Immediate Past Chairperson. "I am deeply honoured to be elected to the role of Chair of PATA and to work with a team of highly talented and accomplished Executive Board members from throughout the Asia Pacific region," said Dr Bottrill, commenting on his new appointment.
"We have just completed our annual summit in the beautiful town of Gangneung in the Republic of Korea and were reminded by H.E. Ban Ki-moon, Dr Taleb Rifai, and others just how important tourism can be for fostering peace and prosperity on our planet. We were also reminded of the responsibility we have to tread carefully on the environment, maintain cultural diversity, and embrace the rights of all individuals, which is not a simple task."At the PATA Annual Summit, the organisation also elected a new Executive Board comprising Dato Haji Azizan Noordin, Chief Executive Officer – Langkawi Development Authority (LADA), Malaysia; Maria Helena de Senna Fernandes, Director – Macao Government Tourism Office, Macao, China; Bill Calderwood, Managing Director – The Ayre Group Consulting, Australia; and Jon Nathan Denight, President & CEO – Guam Visitors Bureau, Guam, USA, etc.
Other members elected to the PATA Executive Board include Shahid Hamid, Executive Director- Dhaka Regency Hotel & Resort, Bangladesh; Luzi Matzig, Chairman – Asian Trails Ltd. Thailand; Benjamin Liao, Chairman – Forte Hotel Group, Chinese Taipei; Deepak Raj Joshi, CEO – Nepal Tourism Board, Nepal; Mohamed Sallauddin H.j. Mat Sah, General Manager Marketing – Malaysia Airports Holdings Bhd, Malaysia, and Gerald Perez, Managing Director – Leading Edge, Guam, USA.
Abdulla Ghiyas, President of Maldives Association of Travel Agents and Tour Operators (MATATO), was also appointed as a non-voting member and observer of the Executive Board of PATA. Ghiyas, who was recently named the PATA Face of the Future 2018, was appointed to the post for a one-year term at the invitation of the PATA Chairman.
Founded in 1951, PATA is a not-for-profit membership association that acts as a catalyst for the responsible development of travel and tourism to, from and within the Asia Pacific region. The Association provides aligned advocacy, insightful research and innovative events to its member organisations, comprising 95 government, state and city tourism bodies, 25 international airlines and airports, 108 hospitality organisations, 72 educational institutions, and hundreds of travel industry companies in the Asia Pacific and beyond.
Editor's Note: Featured image courtesy of Pacific Asia Travel Association (PATA)