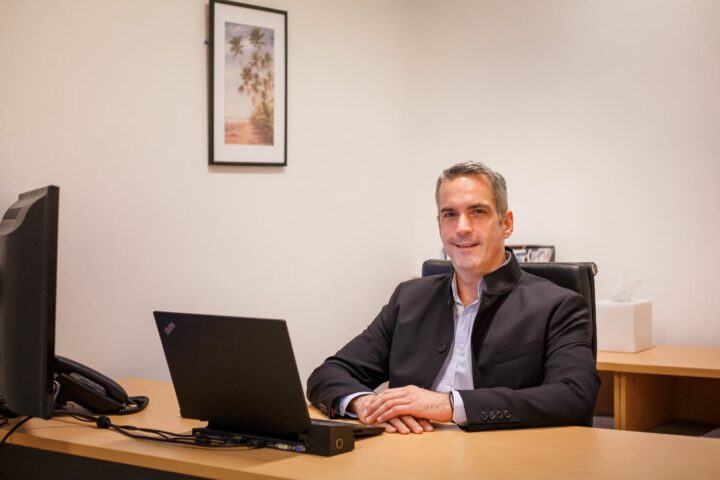 Pietro Addis, General Manager, COMO Maalifushi
Pietro Addis' journey into hospitality is quite different to most hoteliers. Hailing from the UK, he graduated with a degree in history and initially went on to become an investment banker. After three years of doing equity research, he decided not to spend the rest of his life in an office but rather follow in his parents' footsteps to pursue a career in hospitality.
Hotelier Maldives: Can you tell us how you started out in the hospitality industry?
Pietro Addis: I have always been passionate about travel and travelled to over a hundred countries by the time I was 30. I'm fascinated by other cultures and decided to quit my banking job to explore a career in travel. I started to work with luxury tour operator Scott Dunn who provided me with the opportunity to go on familiarisation trips to exotic destinations around the world such as the Maldives.
After a two-and-a-half-year stint, I moved to Cazenove & Loyd where I set up the Asia market. After just six months with the company, I was offered to manage Shakti Himalaya in India. It was a unique luxury travel concept whereby old Himalayan village houses were converted into guest accommodation.
I managed the company for two years and then moved to Sri Lanka to become the Hotel Manager for Aman's Amanwella property. In 2013, I was promoted to Area Manager looking after Amanwella and Amangalla and in 2016 I joined COMO Hotels and Resorts and started at COMO Maalifushi as General Manager.
HM: Have you noticed any specific difficulties in managing in the Maldives?
PA: One of the challenges we experience is staffing and managing a team of employees who are living on a small remote island together. However, compared to other locations I've worked in, the local talent available in the Maldives is of a high calibre. The open-minded culture also provides great opportunities for foreign talent.
We have team members from all over the world and I think it makes it easier to manage a team consisting of different nationalities. It's positive for all of us working with other cultures and understanding the differences and I think it's a very rewarding experience.
HM: What differentiates COMO Maalifushi from other resorts?
PA: COMO Maalifushi was developed to recapture that essence of why our founders fell in love with the Maldives in the first place. There are some amazing new resorts in the Maldives designed by world-class architects, they can, however, feel like they could be anywhere. The aim for COMO Maalifushi was to provide intuitive service and a simple yet luxurious design that has a sense of place.
We try to maintain service that is not robotic or in-your-face, but always there when you need it while being genuine and charming. I often receive feedback from guests about how lovely our staff is. That comes from our founders, we are a family-run company and this positive experience of interacting with each other and learning from each other shines through.
HM: What would you say are the problems the Maldives is facing currently?
PA: The biggest challenge is the number of new resorts opening versus the capacity of air travel. I hope that with the opening of the new airport and runway, we will see improvement in this area. I think we also need to be conscious about the environmental impact new resorts have on the destination and that it doesn't become too overcrowded.
HM: Environmentally where do you think the Maldives is heading? Quite a bit of damage has been done already. Do you think we can come back from that?
PA: I think one of the biggest issues is the amount of rubbish and how to deal with it in the most effective way. ­There are a lot of great things happening here but we all need to do more. At COMO Maalifushi, we separate all of our garbage and dispose of it accordingly. We're currently looking into setting up a recycling system on our neighbouring island as well.
We have banned all plastic bottles from the island and ­ have changed the ones on our boats to aluminium bottles. Personally, it's been a really interesting journey for me, because, for years, I was buying plastic water bottles whilst abroad without realising what impact they had on the environment. Every day a lot of bottles wash up on shores around the world and seeing it first hand, I won't buy plastic bottles anymore. We need more awareness to get more people to care about the environment.
HM: So what advice would you give to aspiring hoteliers?
PA: If you believe in yourself and have confidence, you can achieve anything you set your mind to. I was an investment banker who went to be a high-end tour operator and then hotelier, without specific training. I believe that skills are transferable and if you're confident and capable you can, within reason, do anything.
It's perfectly possible for people to change careers and get into doing something they are passionate about. In the hotel industry, there are so many skills applicable from other things and I'm a firm believer of following your dreams.