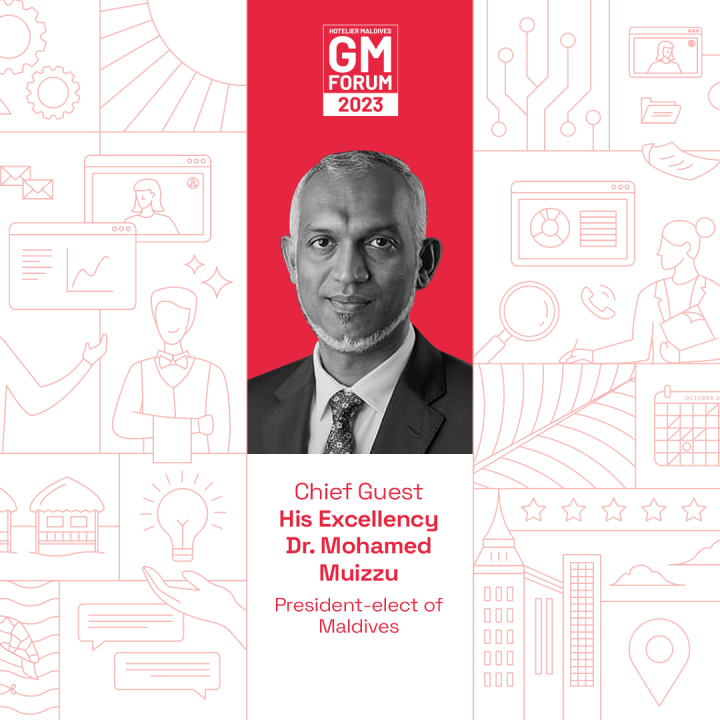 President-elect Dr Mohamed Muizzu to grace GM Forum 2023 as chief guest
His Excellency Dr Mohamed Muizzu, President-elect of Maldives, will be the chief guest at the Hotelier Maldives General Managers (GM) Forum 2023, which is scheduled to be held at Bandos Maldives on October 19, 2023. This is the first tourism industry event attended by the president-elect since his victory in the September presidential election.
The GM Forum, since its inauguration in 2016, has been a dedicated platform for over 100 general managers and hoteliers to gather, discuss industry-related problems, exchange ideas, and propose solutions. Now in its seventh edition, the overall theme for this year's forum is 'Innovation and Technology for Sustainability'. This theme reflects the rise in new technologies, the fast-paced changes in the world, and the increasing number of eco-conscious travellers. It also aligns with the 'Tourism for Good' concept, emphasising the role of the hospitality industry in promoting sustainable practices.
As the chief guest, the president-elect will deliver a special address outlining his vision for the tourism industry as he prepares to take the oath of office on November 17. The president-elect has pledged to boost tourism development, diversify the product offerings, and enhance social and environmental sustainability in his electoral manifesto.
The GM Forum 2023 will also feature speeches and presentations by prominent speakers from various fields, such as Ashwin Handa, Senior Vice President – Operations at Atmosphere Core; Katarzyna 'Kash' Izydorczyk, Director of Operations and Community Engagement for Soneva Namoona; Martin Putschek, the Managing Director of Swimsol; Rajesh Mehta, the Chief Business Officer at Ooredoo Maldives; and, Moosa Zameer, former Minister of Tourism and a renowned tourism expert. In addition, there will be panel discussions, breakout sessions, and networking opportunities for the participants.
The Hotelier Maldives GM Forum 2023 is expected to attract over 100 hoteliers from various resorts and hotels in the Maldives. This year's forum is sponsored by several leading companies in the hospitality sector, such as Ooredoo Maldives, Fuel Supplies Maldives, Far Horizon, Bestbuy Maldives, Manta Air, Coca-Cola Maldives, Alia Investments, Villa Hakatha, Swimsol, Souvenir Marine, Print Lab Creative, and more.