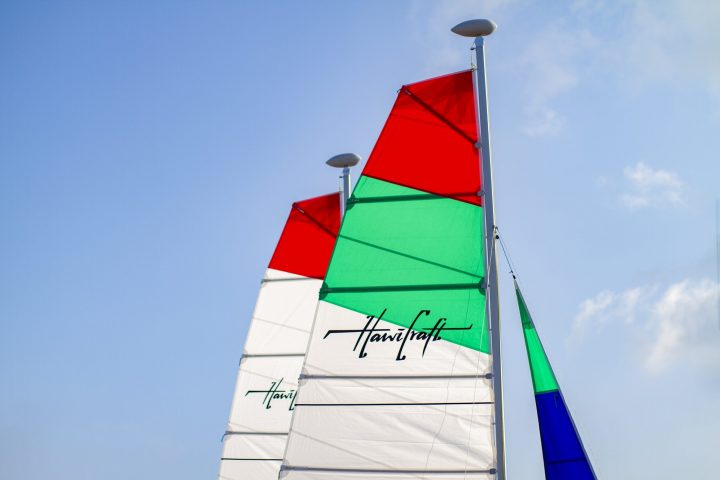 Product Review: ​​HawiCraft Sailing Catamarans
Sail swiftly across the Maldives' turquoise lagoons on a HawiCraft Sailing Catamaran. Be in command while out at sea with the HawiCraft's efficient sailing system. The contemporary sail system catches the wind easily with a rotating mast and automated roll jib. The catamaran's hull is buoyant and swiftly cuts waves for a smooth sailing experience.
Hawicraft Sailing Catamarans come in three different sizes: 14, 16 and 19 feet. The catamarans can accommodate 4, 6 and 8 people, respectively. All sailing catamarans have ample storage, a furlar to quickly scroll the jib and liftable double-link rudders. The 14 and 16 foot catamarans have front and back trampolines to lounge in the equatorial sun. The two largest sizes allow for an optional outboard engine, a removable bimini tow, a bow extender, and a larger jib.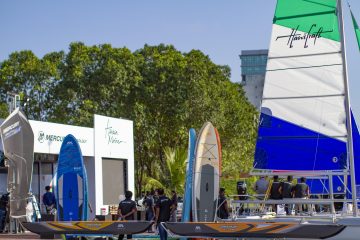 Featured Image: Marine Expo 2023
HawiCraft is a brand of vessels and boats by Hassan Marine. The sailing catamarans, along with other products, were on display at the 2023 Marine Expo. Last year, HawiCraft introduced a line of pontoon boats.
Contact sales@hassanmarine.com for more information.