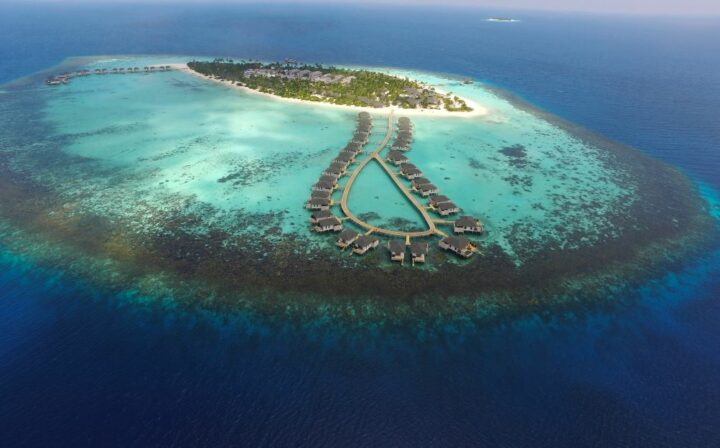 Amari Havodda Maldives – An Asian-inspired Maldivian take on a resort
I'm at the Thari Bar at Amari Havodda Maldives, Gaafu Dhaalu's newest tourist offering. Around me, the bar's high ceiling slopes down like the wings of some great avian creature. It's hot; not surprising for an atoll that lies on the equator, and contrary to the weather forecast, the day is clear, the sky, cerulean.
The drink I'm nursing, a concoction crafted by Lakmal, the Sri Lankan bartender, is refreshingly crisp; it's not on the menu and was made especially for me when I told him I'd like something sour with a bit of a bite. It's mostly passion fruit, but there are hints of other elements, fruits, perhaps honey, but Lakman is evasive and offers only a smile when I ask.Mine's a great spot at the end of the bar, away from the sun; to my left is the deck and swimming pool but there aren't any people around just yet. Not in this heat. None, except my friend Ahmed who's taking pictures with his little Lego people.
"The bar area is where things happen," Amari's communication's manager Daphne Sim was saying."We have movie screenings, and over on the deck beyond, live music." Local talent Mezzo Mohamed is popular here as is his son Mahran Majid. Daphne loves them both.
A while ago the three of us were at the Amaya Food Gallery, Amari's signature restaurant. I ate fresh Grilled Reef Fish, a Green Salad, Vegetable Lasagne, Hoisin Chicken, and Kimchi. An odd mix, perhaps. But who can resist Kimchi at lunch? Tangy, spicy; it complemented the fish without usurping its flavour.
Amaya's Kimchi can be served anywhere without shame. And the choice of a proper vegetarian main was a thoughtful touch. Dessert: Peach Crumble Cake, and Blueberry Pudding. Amaya's approach to dining is centred on Asian cuisine, highlighting local flavours.Later that afternoon I go back to my room to have a shower and relax before the cocktail hour with the management. My room is a beach garden pool villa, but, instead of being laid out on the deck, the pool is tucked away inside, in the garden/shower area.The rain shower pelts my body with water, the pressure is beyond reproach. Bath products are generic; this isn't that kind of resort. A beautiful bathtub beckons, it will be savoured later, perhaps after a visit to the spa.
Then it's time have a lie-down and flip the channels on the Samsung TV. Amari has a good portfolio of films and TV programmes with a language select option. A Hollywood sci-fi flick in Russian? Why not? I look up some titles on IMDB using the Wi-Fi, complimentary, and most importantly, fast.
A couple of notes about my room; it's similar in style to many recent properties but perhaps where Amari differs is in terms of the décor. Its colour scheme is made up of turquoises, greens, browns and blues, the natural colours of our islands and sea.
The villa gives you the impression of being in an upturned boat, a concept that's been tried elsewhere. But the painting of a tuna vortex against a deep blue background, the turquoise tangled-rope sculpture on the wall, the weaves of the closet doors, these are inspired Maldivian touches."It's part of the Amari promise to guests," says General Manager Christoph Leonhard, later. "We don't want our guests to wake up to something generic. We want them to know where they are, that they're on a beautiful paradisiacal island in the Maldives."Cocktail hour is here. Select guests and hotel management sip fantastical drinks devised again by Lakmal and his colleague at the Iru Bar. The sun sinks beyond the horizon studded with clouds and they acquire those hues that sunset junkies lust after; orange, salmon, and later, crimson. Some have been busy snapping pictures all this time.
"A guest who's visited the Maldives fourteen times said he's never seen a sunset without a cloud covering over the horizon," Daphne tells me.
"It happens," I say to her. "Just not very often."
"There's a game we used to play," says Ahmed. "We'd hold our breath when the sun touched the horizon and see who can hold it in till the sun's completely gone under."
"Oh, dear," laughs Daphne. "You'd kill yourself."
"It's not that long actually," I tell her.
"Yeah, takes under a minute," says Ahmed.
"So, do you get a wish at the end?" Daphne asks.
"Yes, of course," Ahmed replies.
"I've got mine already," says Daphne indicating the surroundings with her hand.
That night we dine at Ember Robatayaki, the resort's Japanese restaurant. I have the Tokyo set menu and while away the time watching the chefs do their work in the open kitchen.Starters: salmon and tuna Sashimi, Mixed Sushi. Then, a savoury, tangy Plum Sorbet to cleanse the palate. Followed by the main: Grilled Lamb Chops. For dessert, a delicious green tea tempura ice-cream.
The next morning, we go snorkelling. It's something I've been itching to do for a while; to see the reefs this far south of Malé Atoll.Together with our female guide Masha, we jump in and head to the house reef. Don't go expecting flashy corals, you'll be let down. But keep an open mind and you'll find that the reef here is captivating in its own way; the corals are huge, masses of them cluster together, providing homes for innumerable fish, particularly parrotfish, butterflyfish, surgeonfish and angelfish.
Towards the end, I spot a tawny blacktip shark in the distance, but it's in no mood for company and swims swiftly into the blue. Shark, manta ray and turtle sightings are common in the waters around the island.
In the evening, we are entertained by Daphne and the Director of Sales & Marketing, Rodolphe Bonnemie, over dinner at the reflecting pool, where we'd waded to our table in shin-deep water. There are stars above and tiny led lights in the water emulating their heavenly counterparts.
We talk about Maldivian identity; how each island, though superficially similar, contains unique aspects, from the way they construct their homes to their dialects to the way they tie knots of a joli. We feast on scallops, Lobster Thermidor, and finish off with a lava cake.
On the last day, I visit the Breeze Spa, Amari's own brand. They have an interesting take on wellness. I'm asked how I'm feeling, and how I would like to feel after the massage. There's a range of options: serene, dreamy, invigorated and rejuvenated. Each has techniques and products specific to it (the spa products are tailor-made in Thailand). I tell them I'm relaxed and I choose 'serene'.My therapist, Nipa, leads me to the treatment room set in the island's rich vegetation; it's like strolling through a small, silent garden. Prior to the massage, she washes my feet in warm water and scrubs them with salt.While I'm prone on the massaging table, she makes me inhale the fragrant oil; sandalwood, geranium and rose; three long breaths that immediately affect the senses, mellowing me out. Then her expert hands begin to unravel the knots in my muscles. There is rhythm, a flow to her movements and I lose my train of thought to the delightful mist that now enshrouds my mind.
Afterwards, as I sip a cool tea at the spa's reception, I start to notice the change. My body sings; it's as if I'd spent an hour swimming, but there's no fatigue, only the elation, only the joy. A sublime wholesomeness engulfs me like a bird draping her luxurious wings over her offspring, and I can think of no better way to cap off the stay at Amari.