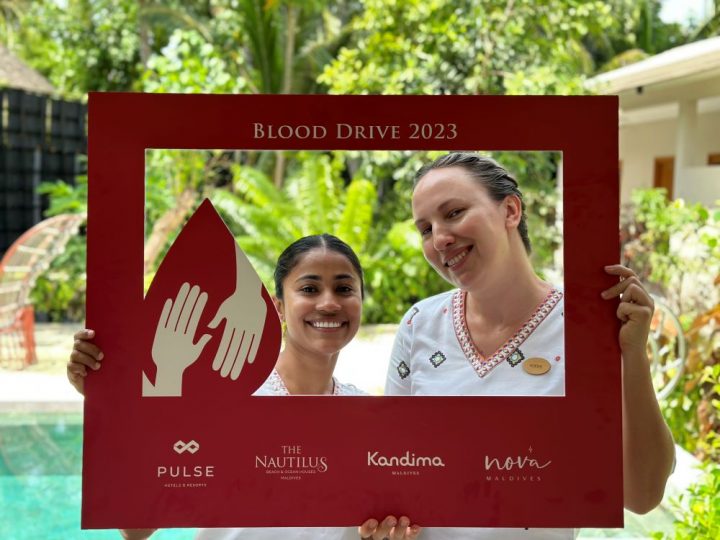 Pulse Hotels & Resorts leads lifesaving initiative with a major blood drive across its resorts
Pulse Hotels & Resorts, an innovative hospitality development company in the Maldives known for its world-class properties including Kandima Maldives, The Nautilus Maldives, and Nova Maldives, has successfully conducted an extensive blood drive across its three resorts. This social responsibility initiative took place at the beginning of November, uniting its staff in a powerful community response to the urgent need for blood donations in the Maldives.
Thalassemia, a genetic blood disorder with a prevalence of over 18% of Maldivians carrying the thalassemia trait, remains a major public health concern in the country, with one in six Maldivians being affected by it. This initiative by Pulse Hotels & Resorts marks a critical step towards ensuring an available and sufficient blood supply to treat individuals living with this condition.
The disorder, characterised by the body's inability to produce enough haemoglobin, requires many patients to undergo frequent blood transfusions throughout their lives. These treatments are vital for their survival and well-being, hence the importance of robust blood reserves.
"We are immensely proud to contribute to our community in a way that aligns with our core values "human" and "responsible"," said Althaf Mohamed Ali, Chief Operating Officer at Pulse Hotels & Resorts. "By hosting this blood drive, we are not only aiding those with thalassemia but also elevating awareness about the importance of regular blood donations."
Through the collective efforts of its team members from diverse nationalities, Pulse Hotels & Resorts collected over 150 bags of blood. This achievement represents a substantial boost to the national blood bank and provides a lifeline for those affected by thalassemia and other medical emergencies.
"As a responsible business and a compassionate member of the Maldivian community, we believe it is our duty to support such causes," Althaf Mohamed Ali added. "It is more than a corporate social responsibility activity; it's about being part of a larger cause that has the power to change lives."
The blood drive is just one aspect of the company's long-standing commitment to corporate responsibility and reflects the spirit of giving that Pulse Hotels & Resorts embodies. It serves as an invitation for others in the hospitality industry and beyond to partake in such initiatives that can make a significant difference.
The success of the blood drive across the Pulse Hotels & Resorts properties has been a testament to the power of collective action in tackling health challenges and supporting the well-being of the Maldivian people.
For more information about Pulse Hotels & Resorts, please visit their website.