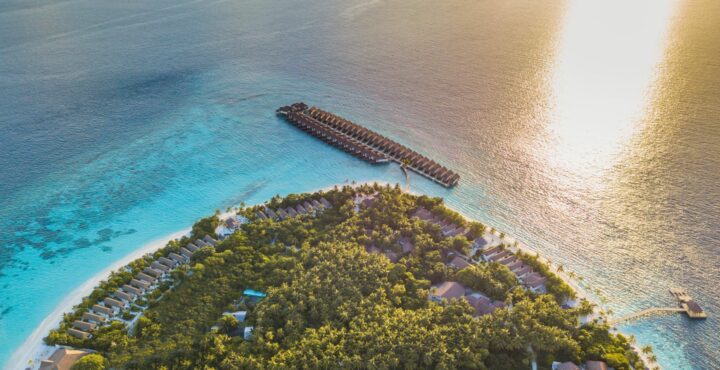 Reethi Faru – Encompassing the Green Dream
An Insight to the Work of Riddian Davies – Group General Manager & Commercial Director – Reethi Faru
Reethi Faru, is a 4 star plus bio- luxury resort situated at a private island of Raa Atoll and is a member of Preferred Hotels & Resorts – the world's largest independent hotel brand with more than 750 hotels, resorts, and residences in over 85 countries. This stunning tropical island makes it a perfect paradise not only for its picturesque lagoon, beaches and natural beauty but also for its impressive green initiatives, sustainability and pro-active conservation programs. The resort consists of 150 villas and has 370 staff members residing within the island. Reethi Faru, opened in late  December 2017 is operated under Mahogany Pvt. Ltd along with its well renowned sister resort Reethi Beach.
Reethi Faru Team is highly devoted in reducing their carbon footprint and the negative impact on the marine and terrestrial environment by engaging in various eco- friendly and sustainable practices. Even though the resort is less than two years old, they have achieved to implement several sustainability projects throughout the island within this short period of time committing to operate their resort in a greener, cleaner way. From installing solar panels, to produce their own biogas and using wastewater for irrigation the resort has proved that creating fully sustainable islands in Maldives is achievable with hard work.
Hotelier Maldives visited Reethi Faru resort to catch a glimpse of their remarkable projects and spent some time with their team to understand the in-depth efforts that they are creating a fully sustainable island environment for both their guests and team members.
Aligning the Owners' Green Dream with Riddian Davies
The company Mahogany Private Limited was incorporated in 2005 and is driven by their strong passion towards saving our fragile environment. Their core values, mission and vision itself is built around ensuring eco-friendliness and sustainability embedded right at the heart of the company's philosophy. Their belief is that they are all guardians of the island and as a team, they should all strive to protect their surrounding ecosystems.
"I never wish to be a free rider where nature & environment are concerned. I consider it our first obligation to look after and contribute to our physical environment. This will always remain our motto." Vir Chopra, Managing Director Mahogany Pvt. Ltd.
In October 2017, Riddian Davies, an accomplished British Hotelier was appointed as the Group General Manager and Commercial Director for Reethi Resorts. With an impressive hospitality career spanning over two decades working mostly within the United Kingdom but also in Asia and Fiji, getting the opportunity to work in Maldives was an incredible experience for him.
"To be honest my involvement in the workplace, in my previous establishments that I had worked before coming to the Maldives never even amounted closely to the belief and values that I have acquired today. I feel my eyes have been opened within the last two years and I firmly believe that all our actions and decisions which we make should revolve around our relationship at working and living in a fully sustainable environment." Riddian Davies.
When Riddian joined Mahogany, his focus and main obligation apart from being the Group General Manager and Commercial Director itself was to ensure that he delivers all the sustainability initiatives that were already pipelined and visualised by the owners themselves and additionally execute further projects to align as part of their core brand pillars and overall branding concept.
"As we all are very aware of today's crisis with global warming and climate change, to me it is imperative and vital that we do whatever we can to reduce the impact on the environment. I see us all as stakeholders on our planet and we all play a role and have a duty to act now before it becomes too late. Hence, as an organisation, we are consciously making efforts to be as sustainable as possible and to reduce our overall footprint. We are all dedicated, focused, actively involved and constantly looking at new and improved ways to protect the natural environment that is surrounding us." Riddian Davies.
The biggest challenges faced by Riddian and his team to meet their sustainability goals, maintain improve the standards which have already been implemented whilst continuing to operate a huge resort which not only has high occupancies but also has many repeater guests, some of them already are on their sixth visit within just two years. Therefore, maintaining their brand promise is crucial in having strong foundations especially as the company has more resorts in the pipeline.
The culture of Reethi Faru and their ethics revolve around one common denominator which their owners communicates beautifully. According to Riddian, the owners say "we all are stakeholders on this island and we all need to see this not only as our place of work but also as our home, as the island grows and develops so will all that live on the island".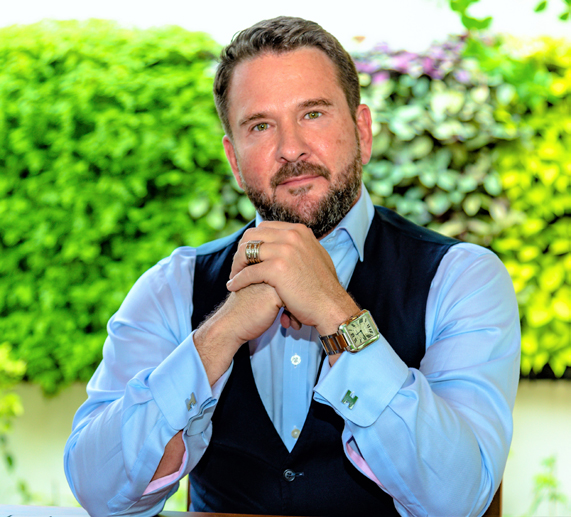 Riddian explained that one of their main goals is to improve on what they have already established and to ensure that their organisation is fit for growth and expansion. This year they have already increased their solar consumption from 40 percent to 80 percent on the island. Furthermore, by gaining more worldwide recognition and certifications through various green initiatives, they are also developing hydroponic gardens in order to be fully self-sufficient and produce their own for fruits, vegetables and herbs. Riddian and his team are constantly evolving and researching. As sustainability is one of their top three brand pillars, their aim is to become a carbon neutral island by the end of 2020.
Reethi Faru has been recognized for their green initiatives and other hospitality efforts. They have been awarded Green pearls – unique places, Travelife Gold Certification, World Travel Awards-Indian Ocean's Leading Green Resort; 2019, LUX-Global Luxury Hotel And Spa Award and Outstanding Luxury Beach Resort; and Conde Nast Johansens Award-2019 along with several other awards. They have also been nominated for the World Travel Awards-World's Leading Green Resort 2019, among several hotels from all over the world.
Sustainability & Conservation Efforts
Reethi Faru has an Eco-Committee with four designated core members to overlook the green initiatives and sustainability programs implemented within the island as well as to create awareness among team members, guests, local community and potential customers for Reethi Faru. The Eco- Committee consists of Riddian, Kasi Rao; Chief Engineer, Smrutica Jithendranath; Resident Marine Biologist and Stuti Sharma; Marketing Executive. Reethi Faru has already reached a lot of their targets just within eighteen months of opening the property in terms of sustainable energy, water and waste management.
Reethi Faru was designed and built with deep consideration to the fragile environment where it is situated and with great appreciation for the natural beauty and resources surrounded by it. While setting up the beams for jetties and water villas, the corals around these areas were safely removed and relocated within the house reef. The same technique was used while placing the water breaks. Mobilization of machinery which may harm their coral lagoons were avoided. The team abstained cutting down trees during the development phase and the trees which had to be removed making space for structures were carefully moved relocated to a safe location.
Solar Energy- To operate on sustainable energy, the resort installed solar panels above staff accommodation blocks as well as other back of house buildings. The solar panels were installed upon phases and as of right now the resort has the capacity of 1 Megawatt, which is currently the highest in Maldives. The electrical energy generated is connected to the grid and 80 percent of the resort load is run on solar energy during the day and since July 2017, more than 200,000 Litres of diesel has been saved because of solar power.
Heat Exchangers– The island is equipped with two 500 kilowatt generators and two 1000 kilowatt generators. Heat exchangers are tagged with the generators to provide enough heat to generate hot water. This hot water is distributed through the island by an intricately designed distribution system that aims to conserve most heat in transportation. The total percentage of hot water used within island is generated from these heat exchange units and heaters and boilers are not used in the island. The island is reducing their carbon footprint by minimising the use of fossil fuels.
RO Plant– The Reverse Osmosis (RO) plant is used for desalination of seawater. Reethi Faru is equipped with four RO plants with the capacity of producing 150 cubic meter per day, which is used for general purposes within the island and one unit of 50 cubic meter per day used as drinking water. They also have an energy recovery system which is inbuilt in the plants to reduce energy consumption. This provides a cost-effective way to provide fresh water. Their sparkling and still bottled water is also produced in-house through these plants. On average, 250 kilolitres of water are expected to be consumed within the island including the staff population and inhouse guests.
STP Plant– All the wastewater produced by the island is treated on the island in their state-of-the-art sewage treatment plant (STP), a system which uses MBR technology which is based on membranes. The wastewater is treated organically, reused as greywater within the island mainly for drip irrigation and gardening. The rest is recycled back into the plant resulting in saving more water and nutrients available naturally within this water. Around 180 kilolitres of treated water is produced every day. Because of this plant, there is zero discharge to the ocean from the island, creating a safer, cleaner environment.
Bio-Gas Plant– Biogas is a renewable energy source that is produced as a by-product of organic waste. The island has three digesters in total, two mainly for food waste and one specifically for garden waste like leaves. All of the food and horticulture waste is segregated from other waste and disposed of in the biogas plant. The total percentage of this organic waste is treated in the plant and biogas is produced as a result of anaerobic decomposition of materials. The fuel produced is used for cooking purposes in the staff area kitchen. This caters to three meals for 350 staff every day. About 30 kilograms of fuel is produced daily, on an average.
Waste and Recycling – Reethi Faru Resort works closely with Parley for oceans to manager plastic waste. However, their primary goal is to minimise the use of single-use plastic and look for environmentally friendly solutions. The island is equipped with a glass crusher, and all glass waste is crushed and incorporated in construction projects for bricks. Apart from these projects, the resort has a paper compactor, can crusher and the bio-waste which is hazardous are carefully segregated and sent to Thilafushi, a waste management island near the capital city. All the green waste like dried leaves are ground and used as mulch for soil stabilisation.
Sustainable Farming – In order to become a fully sustainable island, Reethi faru also need to produce its own food. Organic and sustainable farming concepts are adopted within the resort. Recently they began mushroom cultivation and farming, and within twenty-five days time they would be able to harvest their first batch. Currently they are working with three types of mushrooms, which they are experimenting to see which types grow best in Maldivian weather conditions. Once the testing phase is completed, they will fully start the function. Reethi Faru has also established their own hydroponic greenhouse to vertically grow cucumbers, tomatoes and other greens needed daily. Their greenhouse is weather controlled, temperature controlled with mist technology and properly sealed to avoid any sort of contamination.
Sustainable Building – Building with environmentally friendly and sustainable materials is another key goal of Reethi Faru. During the construction phase, some of their service buildings incorporated these methods to achieve a long lasting, sustainable building. Earth walls are considered to be sustainable material for their low embodied energy. Construction of general architectural designs, providing adequate stabilization as well as adequate overhangs in buildings are cost intensive. While developing their back-office building, to find a sustainable solution, Reethi Faru team decided to go with Shelled compressed Earth Block (SCEB) evolved in an effort to meet the factor of adequacy of cement stabilization for a durable earth wall with less cement. Hence they used only 3-5 percent of cement for making these Earth blocks when compared to 20-25 percent for standard concrete blocks. Also due to the higher load bearing capacity of the earth blocks we had avoided the beams for the back-office structures resulting further less usage of cement, sand and iron.
Marine Conservation – Reef restoration programs are conducted with the help of resident marine biologist. Fragments of corals are tied into metal frames. The resort also has the rope nursery where the corals grow and they are transferred and planted back in the reef. After the 2016 El Nino, coral reefs around the Maldives have been severely affected, coral regeneration is occurring naturally since the conditions have improved and also because of the efforts of placing artificial reefs. The purpose of creating artificial reefs is to create hotspots for coral spawning. The most common sightings around the house reef are some curious turtles, eagle rays, sharks, schooling fish all around. Other conservation efforts for certain megafauna species include collaborations with Manta Trust for mantas and Olive Ridley Project for and turtles. The resort's latest project is to study the movement patterns of spinner dolphins around Raa Atoll. These studies help in monitoring the dolphins' behavior, injuries, breeding, survival and other traits in order to understand them better to find the best methods of conservation.
Apart from their main initiatives, all refrigerators, cold storages and air conditioners in the island use an environmentally friendly refrigerant, R134A, which is a non-cfc compound gas, free of carbon. Once a month, "Reethi Day" is organized along with guests and team members, doing different activities like reef clean-ups, coral planting or tree planting which is mindful of the environment. Reethi Day helps create awareness as well as provides an open learning experience.
Recently a delegation from the Ministry of Environment, Maldives visited Reethi-Faru to study their sustainability efforts and build a relationship with Reethi Faru for future opportunities in knowledge transfer among the resort and the ministry in developing better sustainable island communities in Maldives.
"After my recent visit to Reethi Faru, I was amazed at how advanced and forward thinking Riddian and his team at the resort were, especially when it comes to the importance of sustainability. This resort certainly stands out amongst the rest and will become a benchmark for future resorts. They are certainly an example to other resorts in the Maldives, in leading a sustainable eco environment."- Ahmed Nizam, Project Manager – Maldives Clean Environment Project, Ministry of Environment.
Reethi Faru is an exceptional success story, a great model island for sustainable communities. According to Riddian, the secret behind their success is none other than the belief and vision of the owners which emulates into their people. These are due to the commitment of their incredible management team, eco-committee as well as line staff assisting each other in achieving their goals.
"Our owners' values, the team's dedication and awareness, along with our most important asset that we have, which is our guest, all help us achieve our goals and aspirations which firmly solidify our roots as becoming pioneers and one of the most sustainable resorts in the Indian Ocean" Riddian Davies.