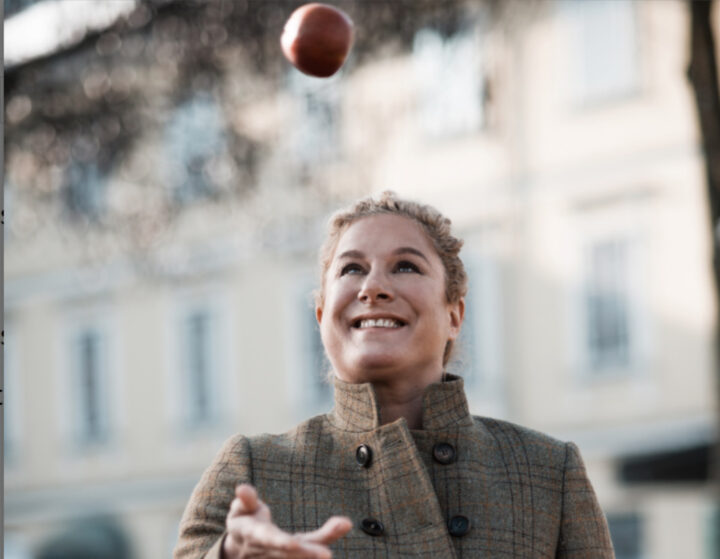 Ana Roš: The story of a self-taught master
Named World's Best Female Chef for 2017, the Slovenian culinary phenomenon, Ana Roš, is a striking personality, exuding an air of confidence that is almost infectious. And when you talk to her, you realise that it comes, to an extent, from her incredible journey. Throughout our conversation, her wit and intelligence – she is conversant in five languages – flash like sunlight on a crinkly sea.
"In Slovenia, at least when I started out, culinary arts weren't held in high esteem, as they are in other parts of Europe, like France," she says. "It wasn't 'intellectual', it wasn't 'proper work'." You can hear the scare-quotes in her enunciation.
Born in an idyllic Alpine town, Soca, she was a champion skier and a ballet dancer before injury sidelined her from her passions. But those weren't her only fortes; she was also an excellent student. Yet, unlike most, Ana recalls almost wistfully that she wasn't one to dream.
"Maybe growing up in an ambitious family didn't give you the space to dream so much," she says. "I just did what was expected of me." And so, Ana found herself in Italy studying diplomatic science.
Upon completing her degree, she applied for a job at Brussels, which she got but never took up, for she met her soon-to-be husband Valter Kramar, a sommelier. Although she knew she wasn't going to be a career diplomat even while in university, this encounter would alter the course of her life dramatically.
Valter's parents operated Hisa Franko, a restaurant in Kobarid, Slovenia, and the young couple took over the family business in 1999, two years after Ana's graduation.
"I was trying to figure out what to do with myself when Valter's parents decided to give him the place. My family went into a crisis," she laughs. Her parents were understandably aghast that she would throw out the prospect of a promising diplomatic career for something in which she had no background, and possibly no aptitude. They needn't have worried, however, for if there was anything that Ana excelled at, it was at picking up things; she did so with languages, and she did it at Hisa Franko.
Ana didn't rush to the kitchen; for a long time, she worked with people and managed the restaurant. She and her husband also devoted significant time to travel, drawing inspiration from different places.
"We understood that to make an interesting restaurant, you had to understand yourself and your environment," she explains. "Through our journeys, we were growing theoretically, in terms of knowledge, but not practically as none of us were in the kitchen."
Finally, Ana had discussions with the team at Hisa Franko. "I wanted things to be different; to delve a bit deeper, and be more conscious of where the product comes from," she says. "But if your team is not travelling, and is not experiencing new things, they won't understand why things should not remain as they were."
It was a chaotic situation, and there came a moment when a pregnant Ana decided it was time for her to step in. "I went into the kitchen, closed the doors, and worked morning to morning, with my children eating and playing there," she recalls. "I had a library full of books. You know, when you're motivated like I was, and you have the means, you feel like you can work miracles."
Lacking a professional culinary background did nothing to dampen Ana's spirit; on the contrary, it seems to have emboldened her. "You have certain advantages when you do it on your own," she says.
"You have unbridled freedom of expression; you're free to come up with something unique that doesn't have that old-school influence." Given the remoteness of the restaurant's location, Ana had to improvise and look for what could be sourced locally. "The distributors and suppliers were so far away that they wouldn't come just for one restaurant," she points out. "So, we had to look around us and understand what we could get from farmers, fishermen, peasants, from the meadows."
So, long before it was in vogue, Ana had been slowly constructing the restaurant's narrative, one that was centred around the local community and locally sourced ingredients.
"Somebody might have sunchokes in their garden," she says by way of example. "Another might be specialized in berries, someone else might have mushrooms. So, each person forms part of a long chain that helps us be local, and also original, because these products can't be found anywhere else." This is what lies at the heart of the restaurant's success.
Years later, winning the coveted best female chef award is something she takes in her stride. She has won a number of accolades prior to this, and success seems almost second nature to her; she doesn't let it go to her head. Moreover, an award that specifically picks out a female in a male-dominated field is sorely needed, she believes. "In the kitchen, in a way, there's no difference between genders," she says.
"But recently, an English chef said that there is no woman in the world with enough passion to cook as well as men. So, the presence of this kind of sexism in the industry is partly why we need awards like these."
"Also, you have to consider that women with children make greater sacrifices. For the most part, we live in a society where mothers still perform traditional roles; they look after their children, and they cannot leave them without a heavy conscience."
She does have men she looks up to in the culinary world, however. There's her friend Rene Redzepi, the idiosyncratic Dane, whose Copenhagen restaurant, Noma, has been voted the best restaurant in the world four times since 2010, by the influential British magazine 'Restaurant'.
"He is probably the most intelligent chef in recent history," says Ana. "He's not one to rest on his laurels; he's still experimenting, coming up with new concepts. He has outstanding discipline, and he's extremely motivated. I'm completely taken with his indomitable spirit."
She also admires Chilean chef Rodolfo Guzman, whom she describes as a kindred soul from a remote area, who put his restaurant, Borago, on the map with his personal, innovative take on traditional South American cuisine. In a nutshell, Ana loves those who think for themselves. Those who are afraid to play it safe.
In her spectacular rise, Ana has received the Golden Apple (a motivational award for young people) from the Slovenian President, starred in a hit Netflix show, Chef's Table, and she's been trotting the globe, learning and showcasing her talents.
Where does she see herself in the next five years? "In the kitchen," she grins mischievously. "But in all seriousness, there's a lot to do, especially with Slovenian gastronomy, which is still underexposed. I get a lot of questions about what's going to happen and I always say that I honestly don't know. What I do know is that it can't be just a one-horse race. There should be more