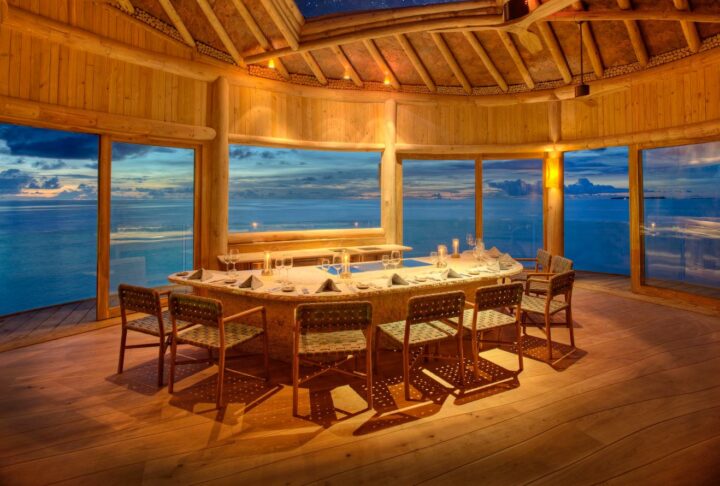 Resort News Weekly Roundup
Soneva Resorts, Michelin Guide partner for 20 events in Maldives
Soneva has announced a unique partnership with the Michelin Guide for 20 dinner events which will be hosted at its resorts in the Maldives and Thailand. The dinners, which run from August 2018 until mid-2019, are part of Soneva's Festival of Colour, a celebration of Soneva's diverse array of visiting experts and designed to offer unique guest experiences.
Throughout the festival, some of the world's most celebrated and decorated chefs, all of whom have come from Michelin starred restaurants, will be hosting highly exclusive dinner events at Soneva properties, each for a maximum of eight resort guests at a time. Under the terms of the collaboration, Soneva and the Michelin Guide will be jointly promoting the following chef events, most of which feature chefs from restaurants worldwide with two or three Michelin stars:
Kiko Moya, from two-starred Spanish restaurant L'Escaletta,
Gert de Mangeleer, from-three starred Belgium restaurant Hertog Jan,
Bruno Oger, from two-starred French restaurant La Villa Archange,
Yoann Conte, from two-starred French restaurant Bord du Lac,
Pere Planaguma, from two-starred Spanish restaurant Les Cols,
Tim Raue, from two-starred German Restaurant Tim Raue,
Ronan Kevarrec, from two-starred French restaurant La Table de Plaisance,
Tom Aikens, from two-starred UK restaurant Toms Kitchen,
Guillaume Bracaval, from two-starred French restaurant Michel Troisgros, and,
Maxime Meilleur, from three-starred French restaurant La Bouitte. For more information, visit festivalofcolour.soneva.com.
Anantara Hotels, Resorts & Spas' new private jet experience takes flight
Anantara Hotels, Resorts & Spas has launched the Anantara Private Jet Experience; an incredible voyage of discovery around the Maldives, Sri Lanka and Thailand. Guests can now seamlessly combine luxurious stays at Anantara properties with the ease and convenience of private jet transportation. Signature hotels, Anantara Kihavah Maldives Villas and Anantara Peace Haven Tangalle Resort, have been intrinsically linked for the first time, offering a marvellous way to discover the hidden treasure of this breath-taking corner of the world.
Elevating the Anantara concept of luxury travel to new heights thanks to a partnership with MJets, the bespoke aviation airline, discerning travellers can now curate the ultimate tour of the Indian Ocean. Embarking in the fabled city of Bangkok, known for its vibrant street life and elaborate shrines, guests can soar between the luscious jungle and coconut fringed shores of Sri Lanka to the myriad blue tones of the spectacular Maldives.
Larger groups are easily accommodated in the Gulfstream V, with a three-zone cabin environment for working, dining, entertaining and resting, the GV is the natural choice for ultimate luxury travel. The Cessna Citation X is perfect for more intimate groups accommodating up to eight passengers in utmost comfort. For more information, visit anantara.com.
Kandima Maldives sponsors 'Unveiling Visions' by Maldivian Artist Community (MAC)
Kandima Maldives has announced its sponsorship of the contemporary art exhibition 'Unveiling Visions', which will be held at the National Art Gallery and hosted by the Maldivian Artist Community (MAC) from September 3 to 7, 2018. The exhibition will feature works by 50 Maldivian artists of ages 18-35; under six main categories – painting, drawing, calligraphy art, 3D installation, digital installation and sculpture. Launched in 2017, 'Unveiling Visions' offers live art sessions, workshops, artist talks and fun-filled events for children.
As part of the sponsorship, Kandima Maldives will invite the top 15 artists to participate in its annual KULA Art Festival to be held on December 28, 2018. The festival is a perfect marketing platform for showcasing the Maldivian talent to the international audience and will be held for the second time since the resort opening in 2017. All of the inspiring art pieces created during the event will be available for purchase at the in-house KULA Art Studio at Kandima Maldives.
"We want to create extraordinary and innovative experiences for our guests which in turn will positively impact our local communities. This seems like the perfect match," said Mohamed Shafraz Hafiz, Deputy Director Digital Marketing & Social Media of Kandima Maldives, commenting on the KULA Art Festival. "There are hundreds of talented artists that come from the local Maldivian islands, but their work is not seen or appreciated because they do not have a platform to showcase their talent across. Thus, it is our vision to change that. We want KULA initiative to promote and nurture local artistic talent and essentially open up new horizons for the local art community like never before." For more information, visit kandima.com.
Carpe Diem Cruises adds four surf safari weeks in 2019
Carpe Diem Cruises has announced the addition of four surf safari weeks in 2019, answering to the rise in demand from independent surfers to explore the Maldives' waves. For the past decade, Carpe Diem Cruises in the Maldives has been offering week-long and 10-day dive safaris across the atolls on three luxury liveaboard yachts. In recent years, an increased number of private charters from Australian tour operators have brought a kite surfing and Stand Up Paddleboard (SUP) community into the mix, and the experience has begun to catch on.
"Previously we have received individual enquiries and occasional requests from kite surfers and surfers for a safari across the atolls, which are difficult to accommodate on an isolated case-by-case scenario when the specific cruise focus is diving and snorkelling. In the last year, we've seen a sharp rise in requests for specific kite surfing and paddleboard safaris, showing a clear rising demand and new niche market that we are ideally positioned to cater to, with three dedicated cruise yachts designed for that specific leisure market," said Agnes van Linden, Assistant Managing Director of Carpe Diem Maldives.
Carpe Diem Cruises attracts like-minded travellers with their adventure cruises, inviting guests to embrace opportunity with a seize-the-day approach to travel. The new (Kite) Surf and SUP Safaris in 2019 are allocated to four weeks in May and July on the award-winning Carpe Vita vessel. Voted in 2017 as one of the Top 10 Liveaboards in the World, the Carpe Diem Cruises surf safari weeks will cater to 12 surfers, with 10 en-suite cabins. For more information, visit carpediemmaldives.com.