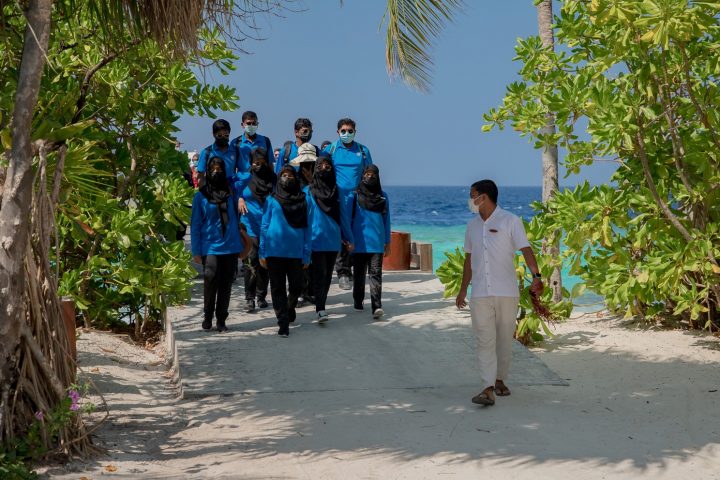 Resort News Weekly Roundup
Park Hyatt Maldives Hadahaa Hosts Educational Trip for Students of Gemanafushi School
Park Hyatt Maldives Hadahaa welcomed students and teachers from the Gemanafushi School for an educational field trip and tour of the front of the house.
The purpose of the school visit was to develop an interest in the hospitality industry and present them with the various areas where employment options for young professionals exist. Park Hyatt Maldives Hadahaa already is a home from home for many local hospitality workers, mainly from the nearby Gemanafushi Island.
The tour was led by Adam Zameel, Security and Training Manager, who gave a tour of the hotel, starting at the resort's iconic upside-down Dhoni and continuing at the villas, spa, dive and activity centre, kitchen, chef's garden and restaurants.
The management team welcomed the visiting students and teachers and ran a series of valuable information sessions, led by the relevant departments. General Manager Nikolaus Priesnitz gave an inspiring speech and said to have been fortunate himself to be given the opportunity to share his knowledge and at the same time provide insights into the hospitality industry and the resort's day-to-day operations.
JW Marriott Maldives Resort & Spa Supports Lhaimagu School's Digitalization Program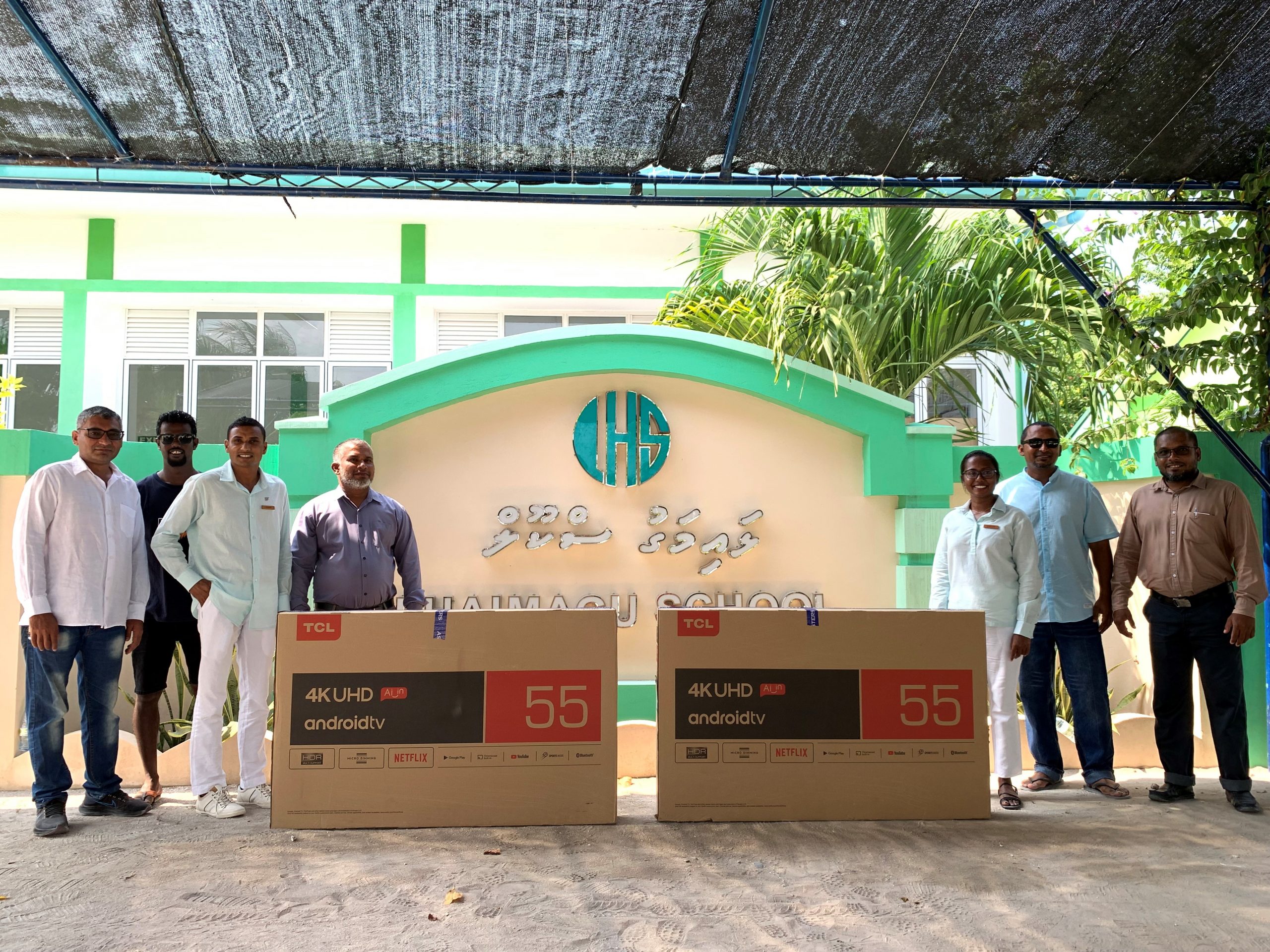 On March 20, 2022, the team from JW Marriott Maldives Resort & Spa visited Lhaimagu School to support the school's digitalization program. The project involves installation of smart TV's in the class rooms to enhance the learning experience of the children in the local community. JW Marriott Maldives Resort & Spa contributed towards the initiative by donating two 55 inch TV's to the school.
The visit was accompanied by the resort's Director of Human Resources; Ahmed Adam, Director of Finance; Adeeb Afzal and few others. Expressing their sentiments during the visit, Ahmed Adam, Director of Human Resources, JW Marriott Maldives Resort & Spa said," I'm thrilled to represent JW Marriott Maldives Resort & Spa Team in supporting to Take Care of our community. This project at Lhaimagu School will definitely give the students an opportunity to enhance their learning experiences and I congratulate Principal Mohamed Fayaz for this fabulous initiative." He also added, "Serving our community is a key priority and one of the most beautiful things we do at Marriott International.
The Nautilus Maldives Launches 'The Manta Ray Symposium'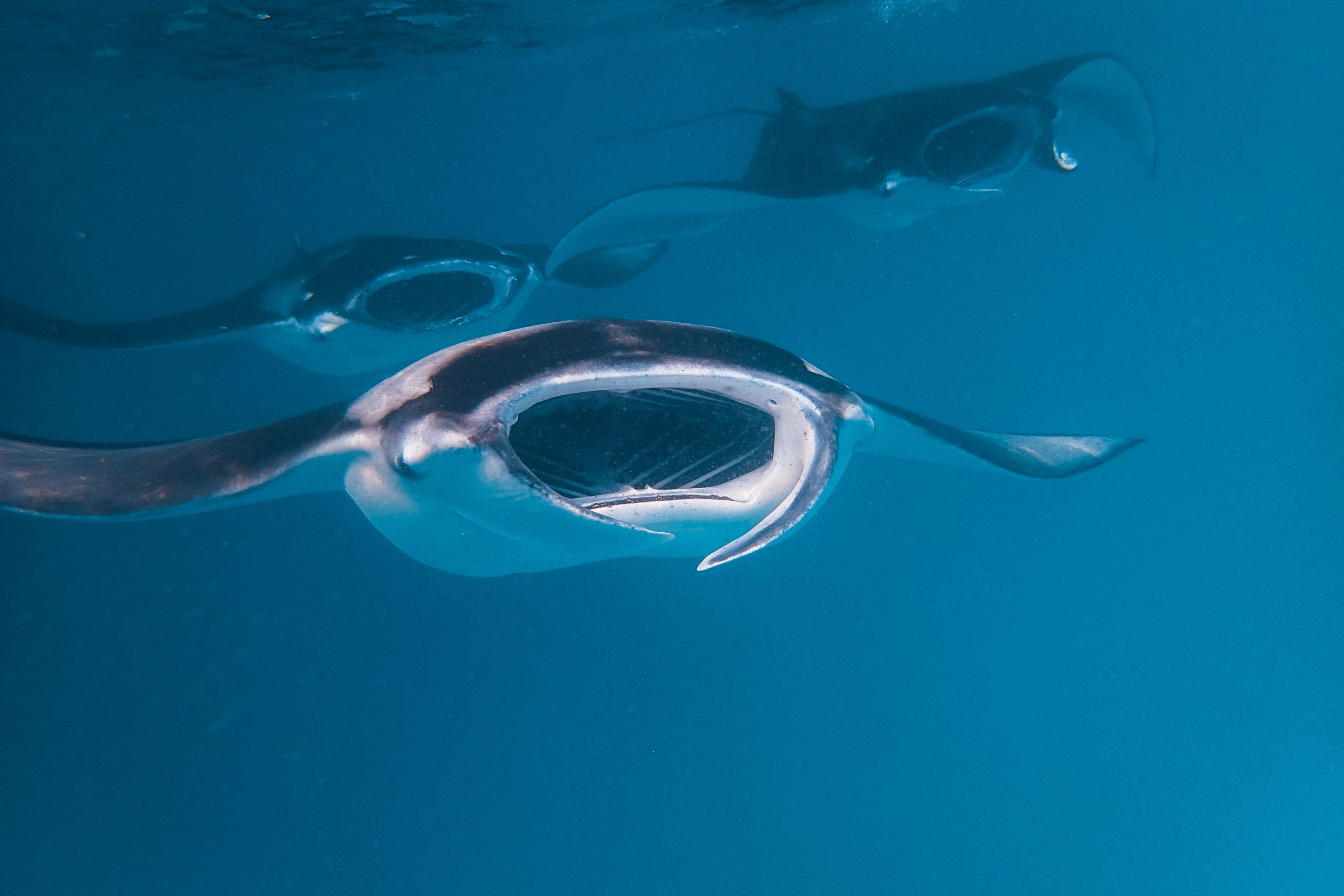 World renowned Hanifaru Bay, the UNESCO Biosphere Reserve in Maldives located in the stunning Baa Atoll is known to be one of the largest mantas feeding hotspots in the world. More than 1600 individual species have been identified in Baa Atoll in the last manta season alone.
The Nautilus Maldives has crafted "The Manta Ray Symposium" together with the resident marine biologist expert and AquaNautica team, from May to November 2022. During The Manta Ray Symposium, the marine biologist will share valuable knowledge with The Nautilus' guests in a casual and free-spirited atmosphere as well as accompany and guide The Nautilus guests on private excursions within Hanifaru Bay's waters and coordinate with the Hanifaru Bay park rangers, who are experts in ensuring guests enjoy the most rewarding sighting opportunities.
The resident marine biologist expert will also share in-depth knowledge about these beautiful, captivating, and mysterious creatures, different species, breeding and feeding habits and about Hanifaru Bay itself. Guests can learn about interesting facts, such as Mantas are born into a life of everlasting motion and that they can never stop moving and need the flowing of water over their gills to breathe or share important guidelines on how to snorkel with Mantas sustainably and respectfully; or how to best capture a photo of this one-of-a-kind experience without disturbing these gentle giants. In close interaction, the marine biologist and AquaNautica team will ensure that guests leave with an enriching experience and unforgettable moments spent amongst the corals and sea life of the UNESCO Biosphere Reserve.
Claude Bosi Residency Launches Chef's Table Concept at Siyam World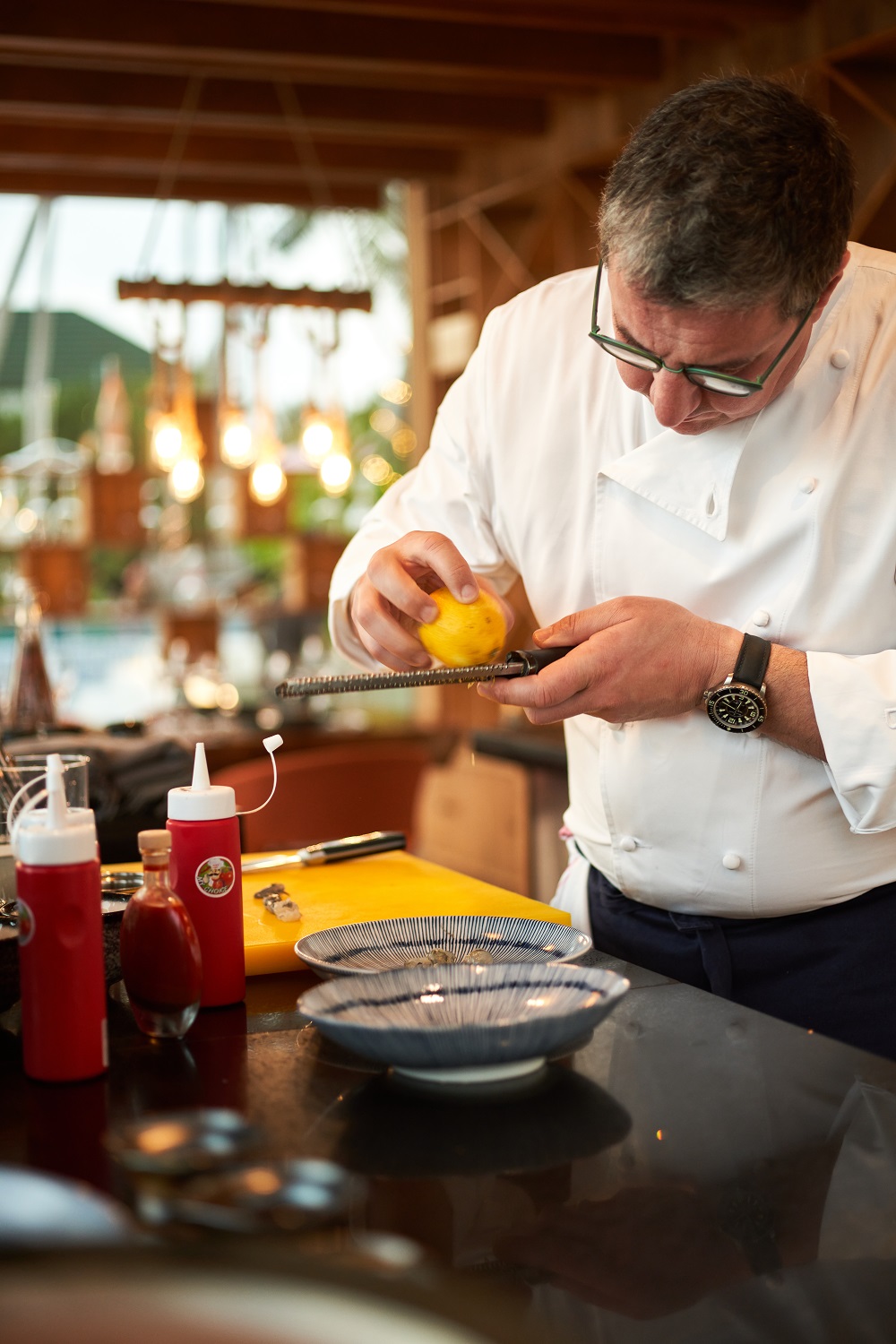 On 30th March 2022, Siyam World, Maldives sprinkled a double helping of Michelin stardust over the official opening of its new chef's table restaurant, The Cube, with an inaugural residency by culinary legend, Claude Bosi – Chef-patron of Bibendum. An intimate live cooking concept, The Cube will invite the world's most talented chefs to showcase their passion and skill to a maximum of just eight diners per service as part of its ambitious programme of regular chef residencies.
For the inaugural chef's table residency, Chef Bosi treated guests to a menu of canapes and small plates inspired by fresh local, seasonal produce: Tarama and ponzu croquette; deep sea local prawns, smoked curry and toasted prawn consommé; green jobfish Grenobloise style; new season morel, Morteau sausage and Palo Cortado dry sherry; local lobster Singaporean style; foie gras crème caramel with Last of the Black Truffles Season; Meyer lemon, coconut and kaffir lime; and Yorkshire rhubarb with black cardamom and green pistachio.
Featured Image: Park Hyatt Maldives Hadahaa