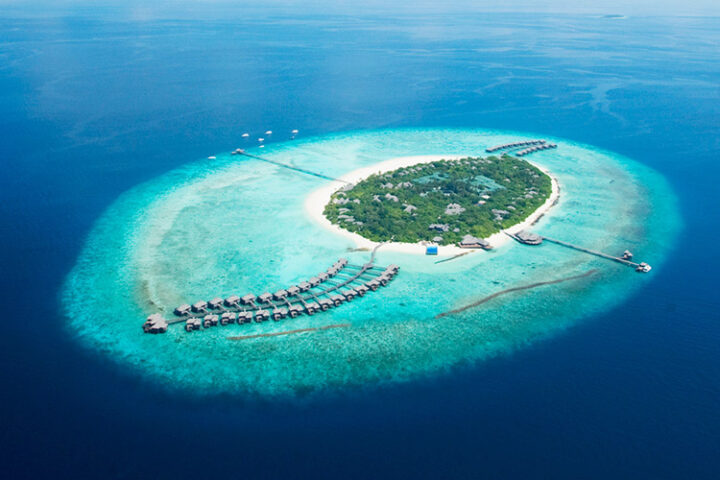 Resort News Weekly Roundup
JA Manafaru becomes a member of Preferred Hotels & Resorts
Nearly two dozen new properties have been added to the Preferred Hotels & Resorts global portfolio including JA Manafaru, a 35-acre private island luxury resort in the Maldives. Located on a private island on the northern Haa Alif Atoll of the Maldives, this luxury resort is the epitome of bucket list travel offering unparalleled accommodations ranging from beachfront bungalows to over-water villas with infinity pools.
Surrounded by crystal clear blue waters and perfectly white sandy beaches, the resort's exclusive locale is ideal for outdoor activities such as Maldivian fishing excursions, guided snorkelling safaris, diving expeditions, local cooking classes, sunrise beach yoga and diving sessions. The resort also offers a variety of local and international cuisine across seven restaurants, including 'The Cellar' – a unique underground stone cave stocked with hand-selected vintage wines.
The world's largest independent hotel brand, Preferred Hotels & Resorts is a curated collection of more than 700 properties worldwide. Other new additions range from a new opening in Paris and the brand's first-ever hotels in Quebec City; Apulia, Italy and Malaga, Spain. For more information about JA Manafaru, please visit jaresortshotels.com/maldives/ja-manafaru.
Javvu Spa at Amilla Fushi named 2018 Luxury Beach Resort Spa
Amilla Fushi has managed to secure recognition for the third time in the Luxury Spa Awards, being named the 2018 Luxury Beach Resort Spa for their world-renowned spa Javvu Spa. The 2018 World Luxury Spa and Restaurant Awards held annually are a celebration of exceptional service in the luxury, wellness and fine dining industries around the world.
Amilla Fushi has previously secured numerous awards including the best Luxury Waterside Restaurant Award and best Japanese Cuisine in the 2018 World Luxury Restaurant Awards, as well as bagging the Conde Nast Middle East Hot List award for 2015. With this number of wins under their belt, the beachside paradise is focused on producing luxury experiences for their visitor's year-after-year.
In addition to the beautiful surroundings, the award-winning Spa chooses to work with select partners to help deliver an undeniably relaxing experience. The Bodyism Café at Javvu is dedicated to providing dishes which help soothe your body and mind, creating delicious and clean meals which are sugar refined and gluten-free. For more information about Amilla Fushi, please visit amilla.com.
Kandima Maldives launches lifestyle app
Kandima Maldives launches an all-new lifestyle app, a state-of-the-art software that caters to all kinds of guest needs! According to Kandima Maldives, the new K'App is the new Kool that unleashes a completely new take on Maldives travel and allows guests to find out all about their stay on the island even before their arrival at the country.
The Kool K'App allows guests to check-in and check-out, book or extend their stay, order food and drinks from any of the resort's ten restaurants and bars during their opening hours, make dining reservations, identify daily activities happening on the island, interact with the Kandima Buddies for a range of services such as Home Delivery, room cleaning, laundry pick-up, luggage collection and minibar top-up, get promotional offers that are relevant and intuitive.
"Pioneering the way, Kandima is at the forefront of hospitality technology, changing the global trend for day to day operations as hoteliers, as well as achieving total guest satisfaction in the 21st century," says Mohamed Shafraz, resort's Deputy Director Digital Marketing & Social Media. Fast and easy to use, the K' App is available for both iPhone and Android platforms as well as via QR Code that is accessible from the resort booking confirmation as well online at kandima.com.
Triple success for TSMIC at the world luxury restaurant awards 2018
Two resorts operated by The Small Maldives Island Co. (TSMIC), luxury maverick Amilla Fushi and retro-chic sister resort Finolhu, have claimed a trio of prestigious accolades at the annual World Luxury Restaurant Awards. Amilla Fushi's signature over-water restaurant Feeling Koi was presented with the regional awards for Best Luxury Waterside Restaurant and Best Japanese Cuisine in the Indian Ocean, while Finolhu's award-winning restaurant Kanusan was crowned the Maldives' Best Asian Fusion Restaurant.
Feeling Koi, the breathtaking overwater signature restaurant at Amilla Fushi offers authentic modern Japanese dining presented in a playful, Latin-influenced style. Bringing informal, laid-back Izakaya-style dining to the Indian Ocean archipelago, Feeling Koi infuses the Japanese gastro-pub concept with warm service and a generous pinch of signature Amilla pizzazz.
Finolhu's premium dining venue Kanusan spans two areas: a relaxed indoor dining space, and an open lower deck which encapsulates the archetypal Maldivian experience of being surrounded by the sights and sounds of the sea. Centred around a stunning duck oven, Kanusan's open kitchen puts its cuisine centre stage, embracing the theatricality of its Asian spirit. For more information about TSMIC, please visit tsmic.mv.