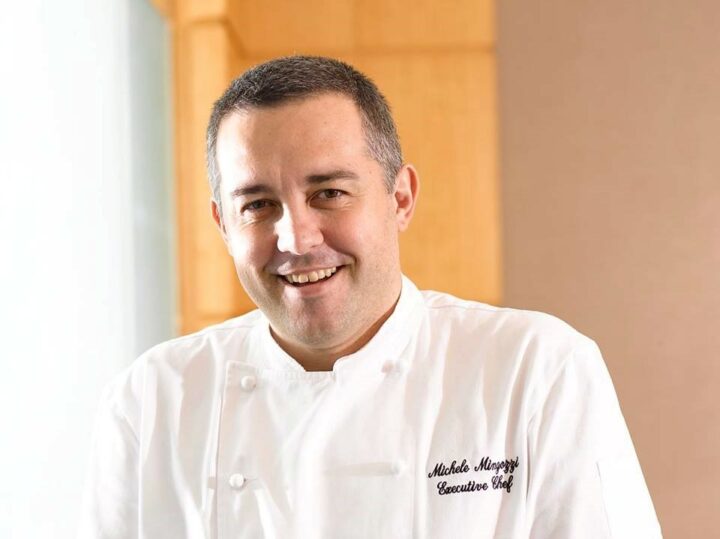 Resort News Weekly Roundup
Chef Michele Mingozzi appointed Executive Chef at Kanuhura Maldives, unveils new Sushi Swing Bar at IRU Beach
Chef Michele Mingozzi has been appointed as the new Executive Chef at Kanuhura Maldives. Chef Michele will be responsible for the resort's eight dining outlets as well as numerous destination and special dining locations and experiences. He will focus on high-quality, fresh food blended with Maldivian food culture with worldwide food traditions.
Chef Michele joins Kanuhura Maldives with strong international experience and reputation, having worked in numerous remarkable fine-dining establishments around the world, including two and three Michelin star restaurants in Italy, Germany and London. His incredible passion for food and flavour took him to the Philippines, the Middle East, Singapore and Fiji, where he headed the kitchen for the celebrated Laucala Island Resort.
The latest addition to Kanuhura's unique dining experiences is a Sushi Swing Bar at IRU Beach. This boho chic beach bar, made of gypset-style teepees, trademark beaded swing chairs and low-level seating is perfect to watch one of nature' finest sunsets over the sparkling lagoon accompanied by a fine cocktail or glass of wine before dinner. For more information about Kanuhura Maldives, please visit kanuhura.com.
Aurora secures Indian Ocean hospitality brand, Atmosphere Hotels & Resorts
Aurora The Agency, an integrated communication and marketing solutions provider based in the UAE, has announced the newest addition to its lifestyle portfolio – Atmosphere Hotels & Resorts. With four unique stand-alone properties located in the heart of the Indian Ocean, this home-grown Maldivian hotel group is wholly committed to offering true tranquillity and a hassle-free beach holiday experience to all of its visitors.
Aurora has been mandated with handling all Public Relations (PR) communications across the group's properties in the GCC region. The Agency will create brand awareness for the group's properties and engage with relevant target audiences across the region to familiarise them with a state-of-the-art, unforgettable travel destination in the Maldives.
Atmosphere Hotels & Resorts has four properties in the Maldives with plans to expand across the Indian Ocean;  OZEN By Atmosphere at Maadhoo Island, Atmosphere Kanifushi, OBLU by Atmosphere at Helengeli and OBLU SELECT at Sangeli. The four resorts boast a sensory and hospitality experience unlike any other. Spread across the serene Maldives, blessed with natural and cultural splendour, each property offers unique tropical beach holiday experiences. For more information, please visit atmospherehotelsandresorts.com.
Six Senses Laamu scores more awards for its community outreach
Six Senses Laamu has been honoured to be named the 2018 Winner of Green Hotelier's Community Award, in addition to being the Highly Commended Runner-up for Responsible Hotel of the Year. The 2018 Green Hotelier Award Winners represent the world's leaders in environmentally and socially responsible hotels. The awards were based on the United Nations' Sustainable Development Goals (SDGs), also called the Global Goals for 2030.
The 17 SDGs cover issues of energy use, water conservation, waste management, human rights, partnerships and more. Six Senses Laamu strives to align its operations with these goals in order to lead the way in the sustainable tourism industry and encourage others to follow suit, according to the resort. Protecting the ocean and its coral reefs, onsite production to reduce imports together with staff members and community development are all critically important to the Six Senses brand concept.
The Community Award focused on ways the resort provides financial and educational support to the local communities in order to drive sustainable development. Six Senses Laamu's Sustainability Fund allocates 0.5 per cent of total revenues towards projects that conserve the marine environment, ensure clean drinking water, reduce the use of plastics, or improve public infrastructure. However, the resort is most well-known for resources allocated towards its community outreach and education programmes. For more information about Six Senses Laamu, please visit sixsenses.com/resorts/laamu.
Cocoon Maldives's Manta Restaurant wins prestigious award at World Luxury Restaurant Awards
Cocoon Maldives' Manta Restaurant has won a continental award at the recently concluded World Luxury Restaurant Awards. At the gala ceremony of World Luxury Restaurant Awards, the Manta Restaurant at Cocoon Maldives was named Leading Luxury Resort Restaurant in the Indian Ocean.
Cocoon Resort Maldives is located on the southern east tip of the island over the lagoon, and Manta Restaurant is a short walk away from the resort's many numbered water villas and beach villas located on the southern end. Guests are treated with views that can only be deemed as pure grandeur.
The restaurant is five-star rated and serves customers with a huge array of fine dining dishes ranging from different kinds of cuisines and a wine collection from throughout the world. The restaurant can serve 29 guests simultaneously and still maintain the perfect and comforting atmosphere that it is acclaimed for. For more information about Cocoon Maldives, please visit cocoonmaldives.com.
AySpa at Ayada Maldives wins at the World Luxury Spa Awards
AySpa at Ayada Maldives has won two awards at the World Luxury Spa Awards. AySpa walked away with the awards for Luxury Beach Resort Spa and Luxury Resort Spa in the Indian Ocean Islands category.
Ayada Maldives' expansive AySpa has been exclusively designed to rejuvenate the body, mind and spirit. Centrally located, AySpa is a 3500 sqm haven and forms an enclave within the island vegetation and other resort facilities. Using the natural surroundings as inspiration, the spa showcases terrazzo floors with marble and timber hues to reinforce an indigenous feel to your spa experience.
AySpa includes eight spacious and tranquil treatment villas some with their own hydrotherapy baths, a segregated steam and sauna area, a cold plunge pool, a warm vitality pool, hairdresser, manicure, pedicure salons, Maldives' first Vichy room and private Turkish Hammam including an elaborate marble plinth, plus an elegant boutique provides a wide variety of ESPA products. For more information about Ayada Maldives, please visit ayadamaldives.com.