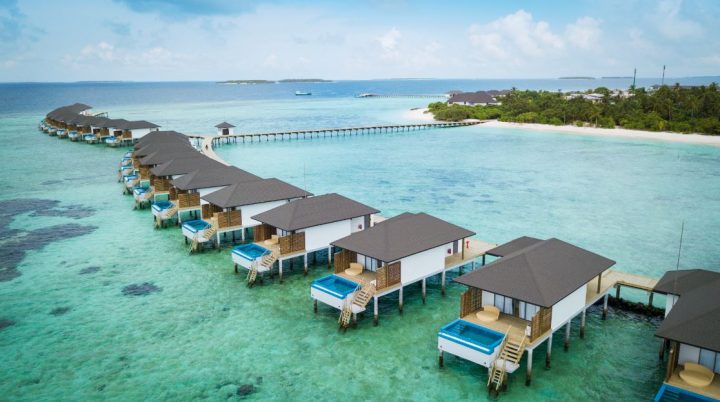 Experience Maldives in a whole new light at ROBINSON Club Noonu
A 45-minute scenic seaplane ride will take you to the jewel of ROBINSON Club Noonu, located in Noonu Atoll. Whether you're a family, a couple on your honeymoon, or travelling alone, ROBINSON Club Noonu has everything you want from a ROBINSON holiday.The peaceful and tranquil island of ROBINSON Club Noonu is nestled on the island of Orivaru, located 200 km north of Malé City. You can also fly to Ifuru Airport from Velana International Airport and take a thrilling 45-minute speedboat ride to get to the island.A part of the ROBINSON FeelGood® Club brand, ROBINSON Club Noonu is the second property by ROBINSON Club to open in the Maldives. Its sister property, ROBINSON Club Maldives – located on Funamadua Island – is one of ROBINSON Club's 23 properties across the globe.The heavenly escape of ROBINSON Club Noonu features 60 water villas, 50 beach villas and 40 duplex villas, from which you can choose to stay in double rooms, family rooms, bungalows or suites. Accommodation at the five-star property is designed to provide premium club resort holidays.The luxury property also invites you to indulge in trendy gastronomic experiences at its three restaurants and two bars. The main restaurant is open during all meal times, offering all-inclusive options, while the speciality restaurant offers you the chance to try something different. It also offers a Tepanyaki Restaurant, offering Japanese cuisines.The main bar is near the infinity pool, offering spectacular views of the Indian Ocean, while the Sundown Bar – as its namesake – offers you breath-taking views as the sun paints the sky in vivid hues as it goes down.For those of you seeking special dietary requirements, ROBINSON Club Noonu offers WellFood; healthy dishes designed with the latest diet trends in mind for breakfast, lunch and dinner.
It's not all laidback and chill at ROBINSON Club Noonu, as it also offers an array of "sportstainment" facilities including a wide range of water sports, WellFit programmes and excellent entertainment options for all age groups. Then it's time to relax again at the WellFit Spa, which offers a variety of sauna options in addition to rejuvenating massages and beautification treatments. To learn more about ROBINSON Club Noonu, please visit robinson.com/en/en/resort-holiday/maldives/noonu.