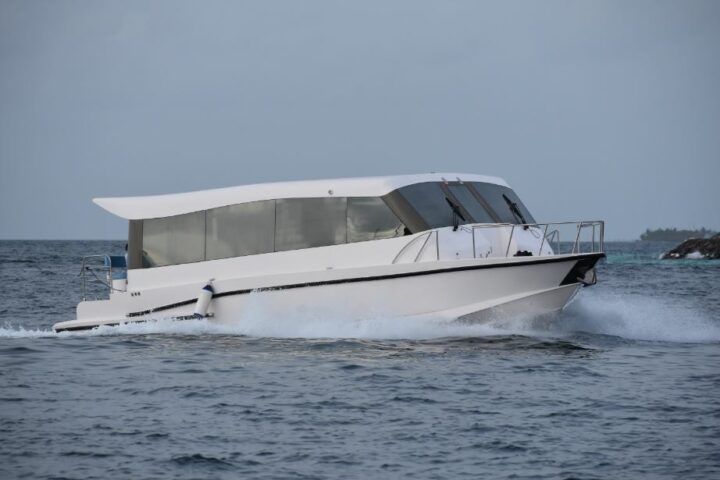 If it's related to marine transport, Al Shaali Marine has it all!
Al Shaali Marine Maldives, one of the largest boat builders in the country, has geared up to launch the AS47 Passenger Launch, an all-new passenger vessel designed for luxury and comfort. The new speedboat is a 47-foot vessel dedicated to the resort market and local transport sector.
The new vessel has a capacity of 50 passengers and comes with three outboard engines delivering an average cruising speed of 35 to 40 knots. The fully-enclosed vessel which features separate seating comes with a number of customisable options including redesigning the seating arrangement, accommodating four engines, air conditioning, interior designing, etc.The AS47 Passenger Launch, offering luxury and comfort, also comes with a separate luggage storage compartment. "We are always working to improve our reliability, the quality of our products and services and the delivery time," says Ismail Shareef, Operations Manager, Al Shaali Marine Maldives."Our first 47-foot transport boat, the AS47 Passenger Launch is a new addition to our portfolio which will further strengthen our status as one of the top boatbuilders in the country, especially catering to the hospitality industry."
Based in Thilafushi, Al Shaali builds a range of speedboats to suit the Maldivian waters and also offers a range of dhonis designed to suit the varying needs of its customers; designed to be used as diving boats, passenger transport and even for sports fishing. The factory also offers the complete range of maintenance services.Other popular products by Al Shaali include the award-winning 25-passenger 37-foot speedboat designed for passenger transport, and the award-winning Island Hopper 50 designed for diving and excursions; customisable to three options, diving and excursions, diving and recreation, and big game fishing."While our boat yard has the capacity to concurrently work on 20 to 30 vessels at the same time, we guarantee to deliver all new orders, including the AS47 Passenger Launch, within four to five months from order date," Shareef adds. Al Shaali, a total marine solutions provider, supplies to all sectors of the hotel industry, from everything required to develop a fleet of vessels for a resort or guesthouse.The company is also gearing up for some exciting new developments. "We are currently in the different phases of development for new and exciting vessels including a speedboat designed for parasailing and other water sports, and an all-new luxury vessel designed for internal transfers which we believe will be very useful for luxury resorts," Shareef adds.Al Shaali has served in the industry for more than 36 years with its top-quality fibreglass boats and providing other services such as boat design & manufacturing, haulage, repair & refurbishment, semi & fully customised solutions, fabricating & welding works, engine servicing & rebuilding and complete boat fit-out. To learn more about Al Shaali Marine Maldives, please visit www.asmarinemaldives.com.