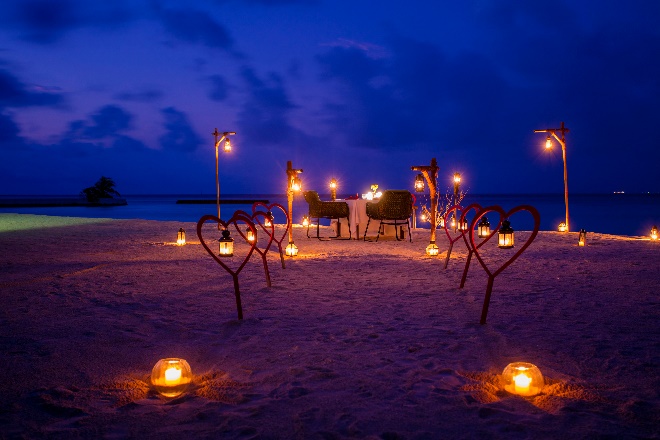 Romance in Maldives at Jumeirah Vittaveli
Jumeirah Vittaveli is inviting couples to celebrate their love in front of the island's romantic backdrop of palm trees swaying in the wind with the ocean gently whispering love poems to guests strolling down the powder soft beach. According to Jumeirah Vittaveli, it has dreamed up a selection of extraordinary experiences for guests to indulge in, ranging from a romantic feast set up on the beach, to dinner on a private yacht, to an intimate evening at newly opened overwater lounge Cyan, all coming with roses and gifts for the ladies.
The epitome of romance, though, will be the Yes, I'm in Love package, including a private submarine trip to explore the fascinating underwater world around the resort, and a beach dinner where guests are serenaded by a saxophone & flute duet, and entertained by a breath-taking Art of Poi fire dance, according to the resort.
This package also includes a private champagne breakfast in the overwater VIP suite at Talise Spa, as well as a couple's spa treatment, afternoon tea in the privacy of their own villa, a flower bouquet and surprise gift for the lady, Jumeirah Vittaveli says in a statement. As an indulgent end to the dream escape, guests will leave the island on their own private yacht when it is time to say goodbye to Jumeirah Vittaveli – for this time.
Aside from these indulgent Valentine's Day Destination Dining options, the resort's intimate overwater restaurant Fenesse will offer a dedicated a-la-carte menu created with romance-inducing ingredients such as oysters and dark chocolate. To commemorate their love for each other, the resident artist at the Fihi Art Lounge will customise a red heart for guests, that can then be added to the resort's picturesque Lovers' Lane, a lush pathway through the jungle, decorated with hearts hung by romantic guests from all across the world.
"The Maldives is the ultimate destination to celebrate your love for each other. At Jumeirah Vittaveli, we provide the matching backdrop to our guests' love stories, ensuring they will make memories that last a lifetime," comments Amit Majumder, General Manager for Jumeirah Vittaveli.
"My team delights in providing the extra little touches, in addition to the selection of grand experiences on offer, so that each and every guest will have their own personal dream come true."
For lovebirds who'd like to celebrate their union throughout the year, Jumeirah Vittaveli also offers a package curated for romance – the Romance in Maldives offer includes daily in-villa breakfast, a romantic beach dinner, couple's massage, in-villa spa bath, and a 30-minute photo shoot to capture these precious moments for eternity.
Jumeirah Vittaveli has been voted Most Romantic Resort in Asia by the South Asian Travel Awards and offers intimate escapes as well as a host of land- and water-based activities, including a PADI Dive base, water sports centre, four restaurants and two bars, and a Talise Spa with overwater and garden treatment rooms.
The newly opened Private Ocean Retreats offer the utmost in indulgence, with all resort services offered in the privacy of your own villa. With its focus on cultural connection and organic experiences in a luxurious setting, Jumeirah Vittaveli offers guests a true Maldivian island experience. To learn more about Jumeirah Vittaveli, please visit jumeirah.com/en/hotels-resorts/maldives/jumeirah-vittaveli