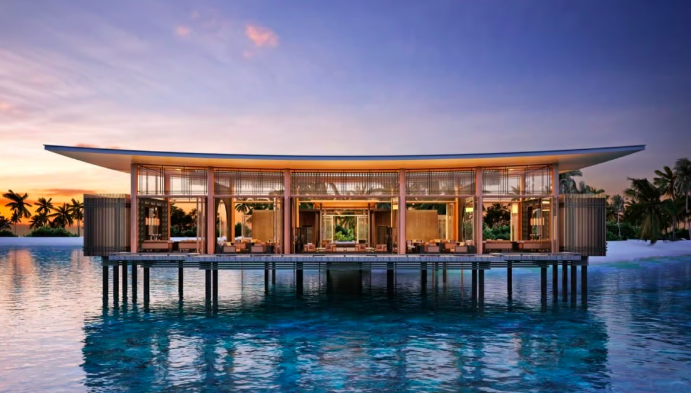 Rosewood Ranfaru Resort to Open in 2025
Estithmar Holdings, a Qatari investment company, announced the development of Rosewood Ranfaru Resort in Maldives. The resort is projected to be one of the world's most luxurious resorts and will be developed by Royal Resorts, a subsidiary of Estithmar Holdings. Rosewood Ranfaru Resort is anticipated to open in the first quarter of 2025. This will be Rosewood Hotels & Resorts' first property in Maldives.
Estithmar Holdings will invest $343 million into the development of the ultra-luxury resort. It is projected the property will be home to 94 one-bedroom villas, 26 two-bedroom villas, 6 three-bedroom villas, 2 four-bedroom villas, and 5 luxury private islands. The resort will also have world-class restaurants, a wellness center, water park and beach club.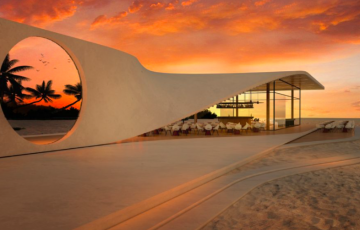 Featured Image: Rendering of Rosewood Ranfaru Resort
Mr. Moataz Al-Khayyat, Chairman of the Board of Directors of Istithmar Holding noted that investment opportunities in Maldives are very flexible, stating, "Investment opportunities in the Maldives are highly flexible, and the investment environment is encouraging and plays an active role in stimulating the global private sector to innovate a number of projects that enhance tourism and entertainment programs."
The President of Rosewood Hotel Group, Mr. Rodha Arora remarked on the property's development, "We are very pleased to cooperate with Istithmar Holding Company to launch a luxury resort with the highest luxury specifications, and the Rosewood Group is very excited to work on this project and put the Rosewood name in the Maldives. This project is part of our global plan to expand and create new architectural masterpieces and tourism experiences that are the first and best of their kind."
Rosewood Ranfaru Resort is one of the many new resort openings in Maldives in the upcoming years. View Hotelier Maldives' upcoming properties list.