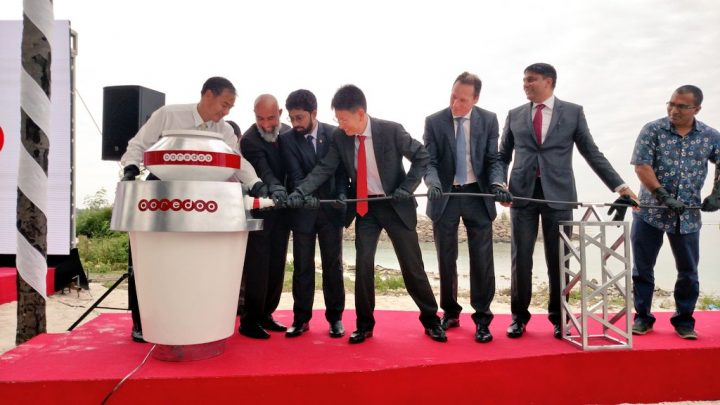 Ooredoo's Nationwide Submarine Cable paves the way to 4G+ Network across Maldives
Ooredoo on Thursday inaugurated its Nationwide Submarine Cable, an important investment by the company to strengthen its networks, as part of its commitment to power a Digital Maldives.
The multimillion dollar fiber upgrade will allow Ooredoo to provide 4G+ connectivity across the Maldives before the end of 2016, paving the way to greater digital inclusion and socioeconomic opportunities. The company has already initiated the roll-out of 4G+ with successful upgrades completed in a number of atolls.
The company also announced an ambitious project to provide high speed broadband services to all islands and resorts in the Maldives, to cater for rising communication needs across local communities and business.
Minister of Home Affairs, Azleen Ahmed said: "Ooredoo's network upgrade support the government's vision of making Maldives one of the best connected countries across South East Asia, and will contribute to taking the ICT industry of the Maldives to the next level. Ooredoo continues to demonstrate the power of investment in bringing socioeconomic development to the nation, and we thank them for their continuous service to the Maldives."
Group Chief Officer SMBU and Chairman of Ooredoo Maldives Board, Khalid Ibrahim Al Mahmoud said: "The government of Maldives has a strong vision to build a digital nation and connect people to a digital economy. A strong and resilient infrastructure foundation is crucial for the development of a knowledge-based economy, in order to ensure digital and financial inclusion across the nation. Ooredoo's investment in the nationwide submarine cable project is part of our commitment to digital Maldives, and we are humbled to be a partner in bringing this vision to life. We thank the government for their support in driving this project forward. Ooredoo will continue to invest in the Maldives, working to connect local communities and businesses to the benefits of the digital age"
Chief Executive Officer of Ooredoo Maldives, Vikram Sinha said: "At Ooredoo, we strongly believe in the power of ICT technologies, especially broadband services, in connecting communities to new and life enhancing opportunities for socio-economic development. With fiber being the backbone of digital nations across the world, we want ensure that we utilize the full potential of our submarine cable immediately. Powered by our multimillion dollar network upgrade, Ooredoo is excited to soon launch the first 100% 4G+ network in South East Asia."
Global research highlights the fundamental role of the digital economy in driving national development. As such, Ooredoo's substantial investment in a nationwide fiber was driven by its commitment to Digital Maldives. The launch of its 100% 4G+ network and subsequent roll-out of high speed broadband services will open up important new opportunities for growth in areas such as telemedicine, teleworking, online education, and e-government services.
Ooredoo will continue to invest in the latest innovations and services in order to meet the needs of its customers.