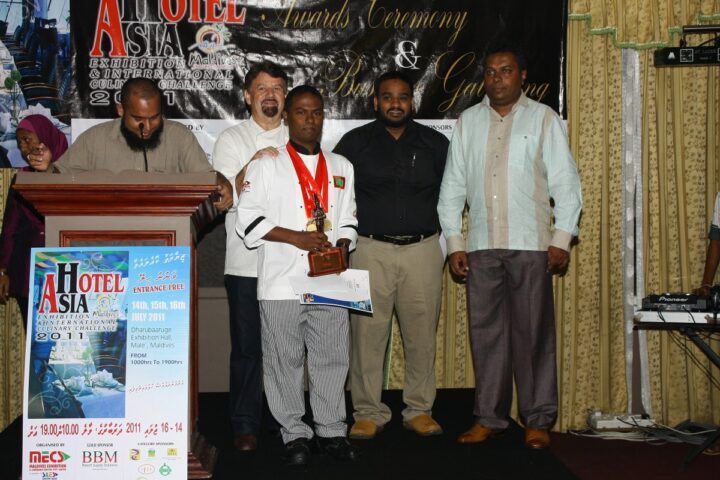 Saeed Mohamed – A Chef to Treasure
Chef Saeed Mohamed from Hulhule' Island Hotel in Maldives is well known for his award winning culinary skills and his unique approach towards food. His passion for cooking has created some of the most interesting culinary projects in Maldivian Cuisine.
Born in the small island of Komandoo in Shaviyani atoll in the north of Maldives, Saeed comes from a traditional Maldivian family. He was brought up in the island with six siblings, three sisters and three brothers. Back in the 80's, youngsters did not have much opportunities in the Islands, and Saeed moved to Male' to complete his schooling and pursue a career.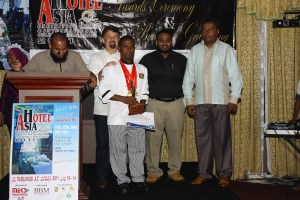 In the year 1995, after completion of a hotel and catering diploma at the Maldives Hotel School, Chef Saeed began his first career steps at Bandos Island Resort.
18 years ago, it all began with a Chicken Sandwich. However, today Chef Saeed is adept at preparing food from different parts of the world. He is quite familiar with Indian, Sri Lankan, Thai, Chinese, Italian, Far Eastern, Mediterranean and European Cuisine.
Maldives is well known around the world for its great collection of luxurious boutique resorts, providing extravagant dining experiences. Our Hospitality industry is filled with international chefs from different parts of the world. Every year, these talented food lovers look forward to showing off their magical skills at the Hotel Asia Exhibition, to prepare food for its Culinary Challenge. This event is the biggest festival for professional chefs working in the Maldives.
In the year 2002, while working at Meedhuparu Island Resort & Spa, Saeed was introduced to the interesting world of culinary challenges by the Sri Lankan executive chef of Meedhuparu Island Resort & Spa, Mr Sri LaalBasanayeke.
"Chef Sri Laal was my biggest inspiration, he trained me, supported me, closely guided me through the whole process of the culinary challenge and he is one of the biggest reason for my success today. He saw a vision and had high hopes for me," said Chef Saeed.
According to Chef Saeed, the most memorable dish in his life was the dish he prepared for the Hotel Asia Exhibition, Culinary Challenge 2002, the Seafood Neptune. To prepare this dish, a lemongrass stick was used as a skewer for the Salmon Kebab, presented with savory couscous and curried vegetables. He won a Gold Medal for this dish and it served as an eye opener to the world of Culinary Arts.
Since 2002, Chef Saeed has participated in several Hotel Asia Exhibitions and won 20 different awards, competing in the Maldives and Singapore.
Saeed is well known for his creativity and innovative ideas in creating brand new dishes. Today Hulhule' Island Hotel proudly presents some of his dishes in their restaurant menus.
One of his favorite creations are the hot appetizers; minced kebab, pan fried with sweet corn kernel, chicken, coriander, chili, onion seasoned with a touch of garlic, salt and pepper and served with tomato-lemon gravy. He also admires his award-winning dish; white reef fish coated on Parmesan cheese, breadcrumbs, powdered corn flakes, chilli flakes, fried and served with spicy mayonnaise lemon sauce.
Maldives is well known for its unique geography of small islands scattered across the Indian Ocean. The biggest challenges faced by professional chefs are the issues followed by logistical obstacles. Since most of the resorts are on separate, individual islands, getting their hands on fresh ingredients has always been a challenge.
"Back in the year 2002, for the very first time I participated in the Hotel Asia Exhibition, I had to personally carry all my ingredients from Meedhuparu Island Resort & Spa to the capital city Male',
where the exhibition took place. Hardest part for me was keeping the ingredients, especially raw meat fresh inside a basic hotel room," says Chef Saeed.
Even though Saeed had to face grave challenges in proving himself as a great chef, he has overcome the obstacles and managed to win several awards within his career.
As a professional chef, Saeed also loves the best of the best ingredients. Today, at Hulhule' Island Hotel, most of his ingredients are purchased and imported from Singapore and Dubai. However, seasonal ingredients such as breadfruit, pumpkin, banana flower, eggplant and many more are purchased locally.
"Cooking should come from the heart, you have to be truly committed to it, it has to be a passion not a job," adds Chef Saeed. Out of all the food preparation techniques, Saeed enjoys grilling and roasting the most.
According to Chef Saeed, the most important things to consider while working in a professional kitchen are punctuality, discipline, following good hygiene practices, working with a good speed and most of all, the interest and passion in cooking. He also strongly believes in creating more awareness among youngsters to introduce them to the interesting world of culinary arts and professional cooking.
"I have many people to thank, because they truly believed in me. Chef Sri Laal opened my eyes to this world. He inspired me. Hulhule Island Hotel & Spa's management team, specially the executive chef Ravi, and general manager has been a constant support in further developing my skills. They have provided me with opportunities, which I could have never dreamt of, mentored me, guided me step by step towards the achievements I have today. I also have my wife to thank, for standing proud with me for the past 12 years, supporting me to achieve my dreams. I definitely couldn't have done this without their support," said Chef Saeed.
To own his own fine dining restaurant, to have his own innovative creative menu, to be able to bring a smile upon everyone who taste his food is Chef Saeed's biggest dream. He believes in hard work, meeting deadlines, working with passion, team effort, listening to suggestions by helpful colleagues and most of all, appreciating the art of cooking. It has to come from within one's own heart and soul.
Top Maldivian Chef in Hotel Asia 2009 in Culinary Challenge
Top Maldivian Chef in Hotel Asia 2011 Culinary Challenge
Most Outstanding Chef in Hotel Asia 2011 Culinary Challenge
Best Maldivian Chef in Hotel Asia 2013 Culinary Challenge