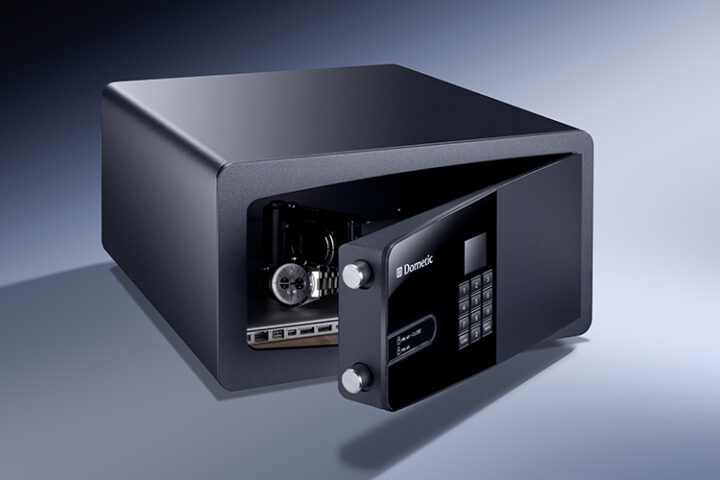 Dometic Middle East
Dometic Group is a premier supplier of mobile comfort products for the lodging, RV, marine, automotive and retail markets. The group employs 6700 people, operating 23 factories across USA, Europe and Asia.
The well-known Dometic miniBars and safes are found in hotels all over the world. Since its start in 1970, Dometic has provided over 5 million miniBars, initially as part of Electrolux, and as an independent company from 2002.
"We emphasise the importance of long- term partnerships with our customers. Working together, we spend time on understanding each property's design, operational and budget needs, so the future miniBar operation will serve both guests and the property well," Mohammed Muwafi, Regional Sales Manager explained.
To facilitate this service there are Dometic subsidiaries and distributors in over 100 countries. Our regional office in Dubai, established in 1991 by Göran Anninger, Regional Director, is one example along with the distributor network throughout Middle East and North Africa. They offer support across the region, as operators and owning companies expand into new markets.
The company's success is based on a unique combination of know-how, state-of-the-art technology, a pioneering spirit and innovative design. Decades of experience and continuous customer feedback has enabled Dometic to perfect the absorption miniBar. Today, more than 90 years after absorption cooling was invented, Dometic miniBars are still setting the trend when it comes to quality, technology and design. The German factory in Siegen is home to the world's largest and most modern production site for absorption refrigerators, a very impressive operation said a group of MENA distributors who recently visited, accompanied by Mrs Elsy Jacob, Sales Coordinator at Dometic's Dubai office.
At Dometic, thinking and acting ecologically is an all-embracing process that extends to all levels. In addition to the environmentally sustainable pro duction, this also includes special recycling measures and resource saving products, and in Particular the design of energy-efficient miniBars. For instance, the Dometic HiPro 3000 is the most economical absorption miniBar in the world, Muwafi underlined.
Our miniBar range offers you innovative technology, silent operation, elegant design and low operating cost. A choice of front opening and drawer miniBars as well as an automatic miniBar system ensures there is a solution appropriate for your hotel, be it a luxury property or a budget hotel.
Investing in Dometic's miniBars and safes is cost effective and profitable because, as explained by Jacob, research and development, design, production, quality control, after-sales service – everything from a single source and supported by the global Dometic network, protects the life time of your investment.
Dometic proSafes are as suitable for a cosy Riad as in larger properties, and are approved by leading operators. Jacob explains the range includes front opening drawer safes in several sizes, a wall mounted safe and a top opening model for installation inside furniture drawers. Easy to use for the guest and reliable and secure for the hotel, through advanced technological features such as REOS remote emergency opening system, an anti-tamper system and laser cut doors.
Wine connoisseurs agree: for wines to develop to their full potential the storage conditions have to be right. Jacob explains that Dometic has developed a comprehensive wine cellar range devoted to maturing and storing wines, named MaCave. Features include one or two temperature zones, vibration free operation and tinted glass doors to protect the wine from UV rays. Care has been taken to ensure constant temperature and high humidity level.
All Dometic production plants are certified according to ISO 9001 and ISO 14001 as well as to the Eco-Management and Audit Scheme. Our products fulfil the requirements of the European Union's ROHS directive and energy consumption labels correspond to the requirements of the EC regulation 1060/2010.