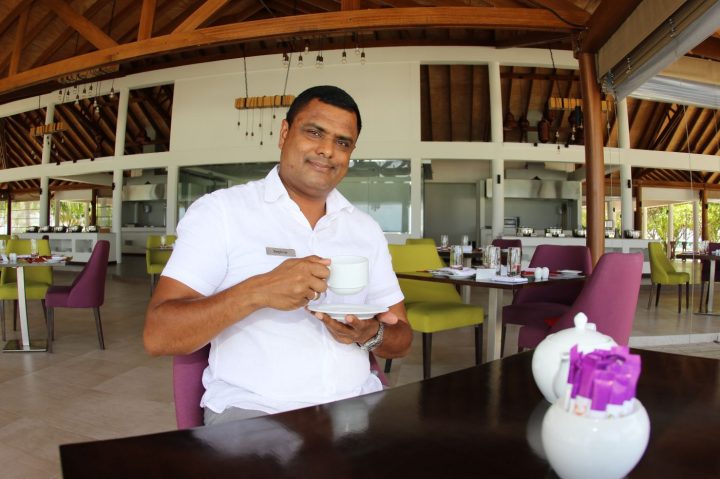 Sanjeeva Perera, General Manager of Cinnamon Dhonveli Maldives
Sanjeeva Perera has seen many changes during his long and celebrated career in the hospitality industry, and he didn't hold back in relaying to us at Hotelier Maldives just how much the industry has flourished over the years. Currently, he is the General Manager of Cinnamon Dhonveli Maldives ever since its major comeback. A well-founded product of John Keells Group, Sanjeeva talks about his numerous experiences in the industry.
Hotelier Maldives: How did you get into the hospitality industry?
Sanjeeva Perera: After finishing my college education, I had few options to join other trades. But then, my father influenced me to select this career. So, I started as a Management Trainee at John Keells and initially I was there for two years. Then I left JKH to join 'Ceylon Hotel School' to pursue my formal studies in the hospitality industry. During this time, I was at Colombo Hilton where I worked for couple of years and got the opportunity to experience few other properties as well.
I got trained in the Kitchen and Front Office departments at Colombo Hilton. Subsequently I was in Dubai and Australia as well getting exposed to various elements of hospitality management in different stages. After the stint at Hilton, John Keells offered to hire me back. I was working in a beach resort called Ceysands and got the opportunity to come to the Maldives, where I was offered the Front Office Manager position at Velidhu Island Resort.
I did my turn there for two years, before going back to Sri Lanka. I worked in several other reputed resorts afterwards, all under John Keells' different holdings. I was then offered to come back to Maldives as the Resort Manager to Velidhu Island Resort since that was where I thrived the most. After Velidhu, I got the opportunity to lead iconic Bentota Beach Hotel, Sri Lanka for several years and my fresh tenure in Maldives started at Cinnamon Dhonveli Maldives having completed Masters in University of Wolverhampton, United Kingdom.
HM: The Cinnamon brand is known for its staff training programmes. What are your thoughts on the training programmes offered at Cinnamon's resorts in the Maldives?
SP: We have a systematic approach for L&D been guided by the centre in Colombo. Also, each property has a qualified Training and Development Manager. We have custom made programmes on offer for different layers. For an example, for the Associate level, there is a programme called STEP available, assisting them to come up to the supervisor level on a fast track.
We use the 'Hoshin Kanri' evaluation system to identify capabilities of different staff at different levels. Based on the recommendation made by HODs, the Management annually selects a bunch of associates to take it to the next level by steering them through a skill development programme called TAP and therein whoever who is successful will get more chances to be promoted as Executives and beyond.
Executives have another programme called MAP, which is the Management Acceleration Programme, where they can get on to the HOD or Assistant Manager level. From AM level onwards, they will be guided through a series of leadership programmes to enhance various skills and competency development, and people who fair well will be sorted into different management positions. We believe "only thing worse than training your employees and having them leave, is NOT training them and having them stay…"
HM: You've had the experience of working at a number of properties before your time here in the Maldives. How is it different to work in a city-based hotel compared to an island-based resort?
SP: I'm yet to experience it because Cinnamon Dhonveli is also closer to the capital city Malé. However, in both scenarios, the expectation of a client is different – You almost always get the business type of clientele, who mostly stay for about one or two days, and what matters to them most is the fast and efficient service with global connectivity.
They require plenty of uninterrupted space to hold their business meetings and conferences, as well as ample personal space to chill out. Whereas in the resorts, people stay for a longer duration, so they will have more common spaces compared to city properties. In the city it's always a battle against time and we must be quick to make the most of it.
In resorts it's a different challenge, because when a person stays for more than a week, to get away from that boredom of staying stagnant hoteliers must organise and oversee a lot of different things for them to do. All in all, the main difference here is the destination branding verses property branding.HM: The fourth edition of the Hotelier Maldives GM Forum feature discussions on safety and security, amongst other topics. What is Cinnamon Dhonveli Maldives' stand on the safety and security of its guests?
SP: A brilliant initiative by Hotelier Maldives I must say! People who come to the Maldives expect guaranteed security and safety. In this aspect, the Maldives is heavily vulnerable. Security is an area that we pay less attention in this country but nowadays I see the tendency of having security breach incidents are on the rise.
We have a major responsibility lies upon us because the expectation of guests is always a total hassle-free holiday. In an island of this nature sticking to the required security and safety measures is continually challenging. For that one must map out a comprehensive contingency plan to combat such situations.
Of course, CCTV's are a much needy requirement, but visitors do not expect to see a lot of cameras to be around them whilst holidaying. So as hoteliers we have to introduce many indirect ways and systems of taking security measures, especially in the remote islands of Maldives, which has a significant impact than if it had happened in any other place in the world.
HM: Another major concern for resorts in the Maldives is fire safety. While we cannot say fire incidents are uncommon, what are some of the precautionary measures undertaken at Cinnamon Dhonveli Maldives?
SP: One thing we can do is to get rid of these thatch roofs, since it is a fire hazard. It is a better alternative to use the synthetic fire proof thatch roofing which looks like the original ones. Our target is also to train each staff member in the resort on workplace fire safety training and emergency response. Well, there is a famous saying in the hotel industry; Cooking food's hot, so don't touch the pot! So, we go by the saying.
We have trained about 80% staff now and we even increased the number of mock drills by seeing recent damages caused to some other resorts by fire. We also have 24×7 emergency response team who are even capable of handling a complete evacuation. Similarly, we should increase the number of portable fire pumps and early detection systems. Our resort buzz word on fire safety is "Know fire safety, no pain, no fire safety, know pain".