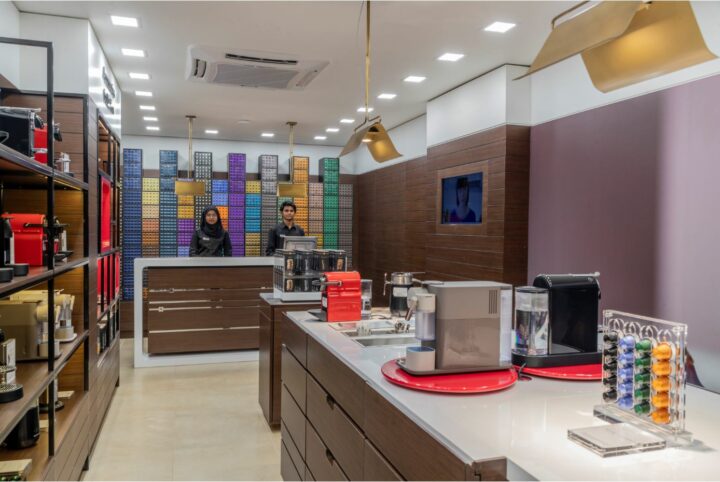 Liquid Pvt Ltd unveils Maldives' first Nespresso showroom
Liquid Pvt Ltd has unveiled Maldives' first Nespresso showroom. The outlet, located at M. Dhoores, Orchid Magu in Malé City, welcomed its first customers on June 15. Since 2009, Nespresso products are exclusively marketed and distributed in the Maldives by Liquid Pvt Ltd.
The new Nespresso showroom offers a layout and design that intensifies the customer shopping experience by enabling them to engage easily with everything the showroom has to offer. With a careful selection of Nespresso Classic Range stylish coffee machines, accessories and Nespresso Original Classic Range Coffee Capsules, the space is solely designed to provide customers with personalised and unique customer experience.
Besides the showroom opening, as a new approach to milky coffee, Nespresso also introduced 'The Barista Creations' Coffee Capsules and Nespresso Cookies for the first time in the Maldives. A total of 28 aromatic flavours in Nespresso Original Capsules Range will be available at the showroom. The Nespresso coffee machines are sold with warranty and guaranteed aftersales services at its Aftersales Service Centre.
An approach to sustainability is also established for the market with a recycling bin placed at the Nespresso showroom to collect the used Nespresso coffee capsules.
Headquartered in Switzerland, Nestlé Nespresso brand is the pioneer of the highest-quality portioned coffee present in 76 countries across the globe. Playing an essential role in sustainability, the brand ensures a supply of high-quality coffee whilst also improving the livelihoods of their farmers and communities, through its AAA Sustainable Quality™ Programme.
For more information, email sales@liquid.com.mv or call (960) 330 0773.