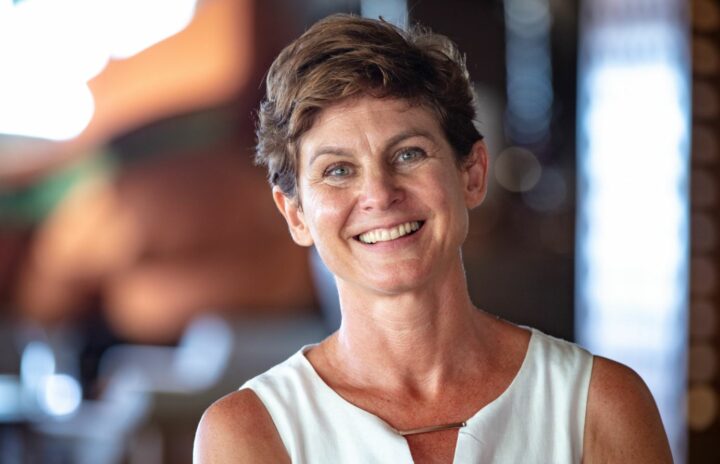 Sasha Tyas, General Manager, Constance Moofushi Maldives
Sasha Tyas is the General Manager at Constance Moofushi. A multilingual go-getter, Sasha has twenty years of experience in the industry and has managed properties in three continents. Born in England and raised in France, Sasha has been a globetrotter from an early age. Hotelier Maldives sat down with her to take a peek into her journey in the industry and get her opinion on the state of hospitality in the Maldives.
Hotelier Maldives: Tell us a little bit about your journey in the hospitality industry.
Sasha Tyas: I didn't plan it. I didn't set out to be a hotelier; I love to travel and enjoy the interaction with people and it just sort of happened. I was studying in Germany for my master's degree and I needed a job so I asked around. Sometimes you just need to be straightforward and brave. That's how I have got through in life. Things never go as planned, as you expect or the "normal way"; you need to take chances and opportunities, every opening no matter how small the doors and windows may seem.
The job was working in a hotel in Germany. I worked there for a year and felt that I wasn't doing enough, so I went to hand over my resignation and was offered a job working in another hotel of the same group in Portugal. The amazing VILA VITA Parc Resort & Spa in Portugal was my hotel school. There I learned everything about the industry thanks to some fantastic colleagues who became my mentors and friends and was able to advance quickly to Guest Service and Public Relations Manager.
After eight years there, I moved to Brazil as General Manager at the small Nookta Beach Hotel. I received the offer whilst assisting in the organisation of a kitesurfing competition, and at this beach hotel, all my guests were water sports enthusiasts, a passion I now also share. The staff was not trained there and I had to train them all from the housekeepers to the restaurant staff to the receptionist. It was a small team and that's where I picked up my nickname of 'mamãe' which means mom, and ever since, in all the hotels I have worked in, I have been considered as 'mom'.
After Brazil, I moved back to Portugal and was offered Front of House, Guest Relations & Leisure Manager position at Martinhal Beach Resort & Hotel. I worked there for two years then was offered Rooms Division Manager position at Canouan Resort in St Vincent & the Grenadines. I was Resort Manager there when I received the offer to join Constance as Resident Manager at Constance Seychelles Ephelia Resort.HM: You joined Moofushi in February of this year. How did that come about?
ST: I was working at Constance Seychelles Ephelia Resort when the position opened. I was eager to be considered for the position as I enjoy new challenges, experiencing new cultures and meeting new people.
HM: You have worked in the industry in several continents… How does the Maldives differ? Any specific challenges or difficulties in managing a property in the Maldives?ST: Each property and country is of course unique. Although I had never worked in the Maldives previously, my experience in a remote part of Brazil, the Caribbean and Seychelles prepared me for island life. They were all relatively remote locations with independent power and water systems set up. Supplies were also similar in that there would be weekly deliveries of produce and other supplies.HM: How would you describe your management style?
ST: It is probably better to ask my team…! I consider myself straightforward, perhaps a little tough but fair and human at the same time. I believe respect is the key. I think I'm a 'people person', I do my best to relate to and interact with everybody. It is important to remain true to who we are, to be humble and thankful. My friends sometimes jokingly say that I'm the Queen of the island, but I'm still Sasha who has the responsibility and privilege of being the General Manager. I believe that it's not the title that garners people's respect and loyalty but what you do each day; it can't and should not be taken for granted.
HM: What would you say are the challenges the Maldives is facing as a destination and how do you believe they would be best tackled?
ST: I would say the most pressing matter the Maldives faces is to protect the environment. The existence of trash in our oceans is a big issue that cannot be solved until we all work together. We have regular beach clean-ups to maintain the pristine beaches expected by the guests. One island alone though cannot make a difference. The Maldives as a whole needs to get together and find long-term solutions, as do all the countries of the world. We need more awareness in this regard.
Some of the Maldives' reef systems are damaged, bleached. I believe each and every one of us needs to see the damage first hand in order to care about it. You need to go down there and see for yourselves. We need to realise that the Maldivian tourism industry is dependent on the beauty of the marine life which is the key selling point.
Additionally, I believe that the Maldives has reached a saturation point in terms of the number of operating resorts. We need to focus on sustainable tourism.
HM: What would your advice be for aspiring hoteliers?
ST: I recommend to travel and experience life elsewhere, international experience is essential. It is not easy, but it is so important to get away from "home" and your comfort zone. You need to be uncomfortable. If you're not uncomfortable you're not growing. You need to learn about different cultures first-hand to care and to understand people from different walks of life.