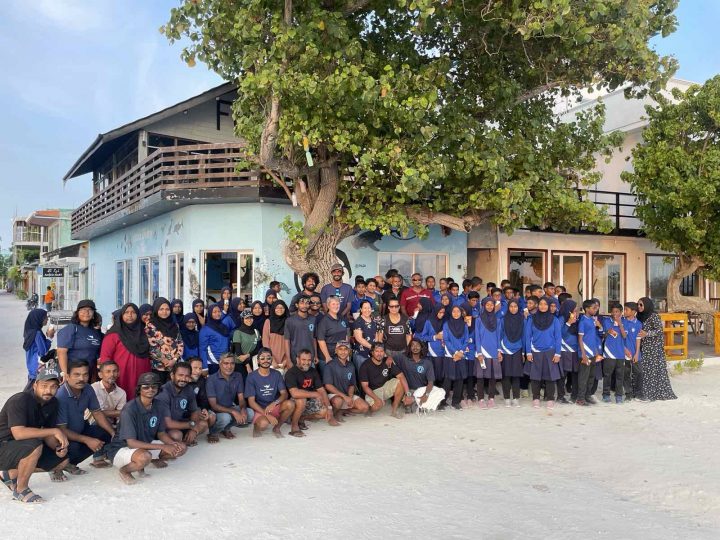 Secret Paradise Joins Forces with K. Guraidhoo for World Clean-Up Day
Local tour company Secret Paradise, joined forces with the community of K Guraidhoo to recognise World Clean-Up Day.
World Clean-Up Day is a global social action program that is held annually to tackle the global solid waste problem. Each year on the 17th of September volunteers from across the world in over 191 countries come together to clean up litter and mismanaged waste from beaches, rivers, forests and streets.
This year the Secret Paradise participated in the event along with Guraidhoo community members, which consisted of children from 8 and 9 years from Guraidhoo School, led by Principal: Mr Mohamed Siraj.
Notably, several members of Guraidhoo Island Council, Guraidhoo Police Service officers and ocean enthusiasts such as Dive Point members, Manta Divers, Olive Ridley Project and Secret Paradise guests also joined forces to clean the shoreline and east beach area of K. Guraidhoo.
Speaking at the beginning of the event, Secret Paradise Co-Founder, Ruth Franklin stated, 'while clean-up events support the protection of the environment and assist in reducing ocean plastic pollution, it is also vitally important to remind friends and families on how to dispose of rubbish safely in order to keep both our communities and the natural world clean and safe'.
Environmental and social responsibility has always formed part of the core values of Secret Paradise and they aim to reflect this in their guided tours. Every tour is a learning experience for travellers and guests who partake in it, and their local guide team disclose information on corals, marine life, seagrass, mangroves and what happens to plastic waste, through conversation, presentations and hands-on experiences.
Beach cleans have been an integral part of the Secret Paradise Tour, and their guides and guests have completed 30 individual beach cleans in the past three months alone.
Featured Image: Secret Paradise