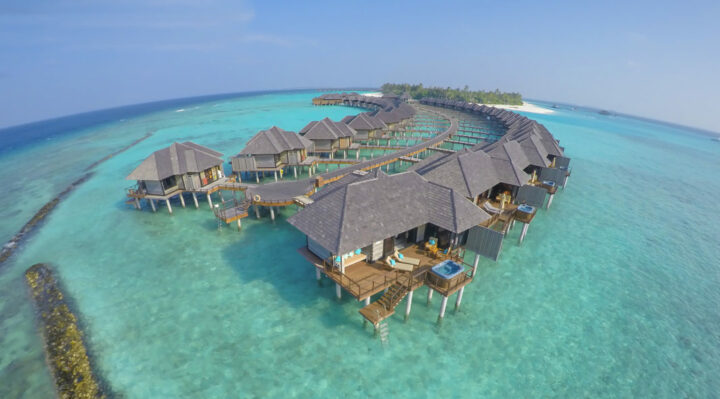 All set for the festive season at The Sun Siyam Resorts
With just a few more days till the festive season kicks in, the Sun Siyam Resorts are all set to welcome our guests for an unforgettable experience at our properties. The Christmas and New Year period is a season of generosity and goodwill, laughter and happiness and a time to share all things enjoyable with those close to you.
At The Sun Siyam Iru Fushi, we have put together the best of our culinary expertise; the oceanic Iru Fushi Christmas's village comes along with themed food and activity market to suit all ages, Festive Wine Pairing Dinner and the Grand Seafood Buffet.
For the property that has won the Indian Ocean's Leading Family Resort 2016 from World Travel Awards and Indian Ocean's Best Resort Spa by World Spa Awards 2016, these will always be at the forefront. We will have fun-filled festive activities for younger guests, and for the spa enthusiasts we have the Limited Edition Festive Rituals available at our Spa by Thalgo.
And as the year comes to an end, the countdown to New Year begins on the beach, complete with fly board show and many more surprises.
An extensive program is on offer at Olhuveli Beach & Spa, which includes live cooking sessions, cocktail promotions, theme dinner nights to private dinner promotions and special excursions scheduled for the week.
If you are travelling with kids, Sun Aqua Vilu Reef has that many activities planned throughout for joyous festive break, from Local Arts & Crafts, Face Painting, Treasure Hunt, Cookie Making etc. that will have the kids enthralled. We even have a special kids menu at the spa for them to enjoy.
The sumptuous grand buffet for Christmas and New Year will be grand as ever.
Santa will be arriving at all three properties! For our younger guests, this has always been a highlight for them.
There is something about each property, unique qualities and an amazing festive program, all just for our valuable guests. For those who are yet to book their holiday to the Maldives, this is one of the busiest period, so book early! For those who have already made plans, hope to see you next year.
Sun Siyam Resorts
A collection of hotel & resort brands born from the inspiration of Ahmed Siyam Mohamed. Led by his passion for creating a difference in the Maldives Tourism Industry that redefine the luxury hospitality experience. Sun Siyam Resorts has an esteemed portfolio of boutique luxury resorts operating in the Maldives, including:
The Sun Siyam Iru Fushi Maldives
Olhuveli Beach & Spa Maldives
Sun Aqua Vilu Reef Maldives
Sun Aqua Pasikudah
For more information: www.sunsiyam.com