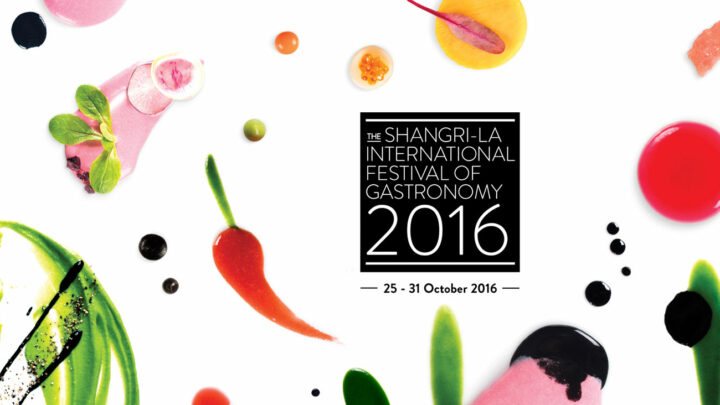 Shangri- La International Festival of Gastronomy to return with acclaimed chefs in ten cities
The second edition of the Shangri-La International Festival of Gastronomy will be simultaneously launched at 11 of its hotels in October.
The culinary festival will run from 25 October to 1 November at Shangri-La properties in Beijing, Hong Kong, Jakarta, London, Manila, Paris, Taipei, Tokyo, Shanghai and Singapore.
The festival, co-sponsored by evian and BADOIT, will spotlight 12 world-renowned chefs and their remarkable talents and techniques as they elevate guests' dining experiences through culinary artistry and excellence.
Frédéric Anton will make his first Hong Kong appearance at Island Shangri-La's Restaurant Petrus.  Since 2000, Anton has been working at the three Michelin-starred Le Pré Catelan in Bois de Boulogne, France.   Anton's dishes resemble contemporary masterpieces that are interpretations of classic dishes and reflect the best use of ingredients.
Stefano Baiocco will headline the festival at the Angelini in Kowloon Shangri-La, Hong Kong. His dedication to the craft hits all the right culinary notes with diners at the two Michelin-starred Villa Feltrinelli overlooking Lake Garda in Italy. Known for his fondness of incorporating fresh herbs and edible flowers in his creations, he once used 140 different plants in one dish.
Returning to the gastronomy festival is Enrico Bartolini who will travel from the two Michelin-starred Devero Restaurant in Italy to be at Shangri-La Hotel, Jakarta's Rosso Italian restaurant.  Bartolini does not disappoint with flawlessly executed and contemporary classic cuisine that is inspired from the past and present.
Another world renowned maestro making a return appearance at Shangri-La's culinary festival is Mauro Colagreco whose two Michelin-starred Mirazur restaurant moved up to sixth place on this year's World's 50 Best Restaurants list.  Colagreco will be at AZUR – his recently opened restaurant at Shangri-La Hotel, Beijing – to present creations that reflect his Argentinian-Italian heritage and play to his love for colour and boldness.
Ip Chi Cheung, the head chef at the two Michelin-starred Summer Palace at Island Shangri-La, will serve his award-winning specialities at Summer Palace in Jing An Shangri-La, West Shanghai.  He is a favourite on the Hong Kong food scene for traditional Cantonese cuisine and his timeless approach to cooking that preserves the refinement and flavours of classic dishes.
Samuel Lee Sum will present a special menu that is beautifully balanced in colour and texture at Shangri-La Hotel, Paris' Shang Palace – the only Michelin-starred Chinese restaurant in France. The young chef, who was inspired by his mother's family to cook, proves age is but a number when it comes to expressing the subtleties and distinct styles of Chinese cooking.
Peruvian chef and restauranteur Virgilio Martinez who is gaining attention for his Central restaurant in Lima– ranked fourth on 2016's World's 50 Best Restaurants and Latin America's Best Restaurant – is headed to the foodie city of Singapore. He will create incredible dishes to highlight Lima's vibrant food scene and share his modern take on traditional Peruvian specialities at BLU.
Excellent Cantonese cuisine has made Shang Palace at Kowloon Shangri-La, Hong Kong the recipient of two Michelin stars for eight consecutive years.  Mok Kit Keung, chef at the establishment, fascinates regulars with his rendition of classic dishes, which he playfully updates and innovates.  During the festival, Shang Palace guests can expect more of Mok's surprising flavours that will excite both the palate and the imagination.
Shangri-La Hotel, Paris' Christophe Moret draws a crowd to the two Michelin-starred L'Abeille.  While guest appearing at Shangri-La Hotel, Tokyo's Piacere, he will create flavours that Parisians love with a menu that is rich with locally sourced produce. Moret's creations are a feast for both the eyes and the palate.
Giancarlo Perbellini – world class artisan and owner of two Michelin-star Casa Perbellini in Italy – is returning to the global festival.  He is a legend whose cuisine can be characterised by the Italian region in which he was born.  Precise and with an emphasis on home-made, Perbellini's standout dishes will match the stellar view from TĪNG Restaurant at Shangri-La Hotel, At The Shard.
Debuting at Marco Polo restaurant at Shangri-La's Far Eastern Plaza Hotel, Taipei is Gaetano Trovato, chef and owner of the two Michelin-starred Arnolfo restaurant in Tuscany. He uses only using fresh and seasonal produce. His respect for traditions and eye for detail coupled with perfect portions and unusual pairings leaves diners spoiled.
Mitsuharu Tsumura, born in Peru, is chef at Maido – number 13 on this year's World's 50 Best Restaurants.  Gifted at magically merging Peruvian and Japanese influences, Tsumura is a perfectionist at heart and applies a contemporary approach to traditional food.  Guests at Samba in Shangri-La At The Fort, Manila will be intrigued with Tsumura's Nikkei cuisine, which shows amazing diversity even though it has only been around for 60 years.
Bottled since 1826, evian® Natural Mineral Water is the world's #1 brand of premium natural mineral water.  Every drop of evian® takes more than 15 years to filter through mineral rich glacial sands in the pristine French Alps.  Bottled at the source in a state-of-the-art facility, evian® comes from the Cachat Spring located on the Southern shore of Lake Geneva, in the town of Evian-les Bains
BADOIT® is a premium and delicate water sourced from the underground.  The water is protected and is enriched by every layer of the local terroir of the Loire region in France.  It emerges from its source naturally sparkling, with light bubbles that will tickle the palate.
Hong Kong-based Shangri-La Hotels and Resorts, one of the world's premier hotel companies, currently owns and/or manages 98 hotels under the Shangri-La brand with a room inventory of over 40,000.  Over four decades the group has established its brand hallmark of 'hospitality from the heart.' The group has a substantial development pipeline with upcoming projects in mainland China, Cambodia, Hong Kong, India, Myanmar, Philippines, Saudi Arabia and Sri Lanka.
Visit www.shangri-la.com  or www.ShangriLaLovesFood.com for more information.