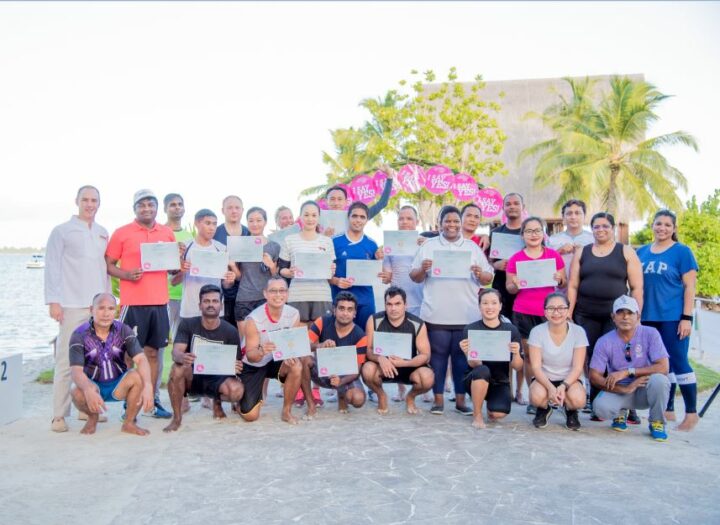 Shangri-La's Villingili marks Global Wellness Day with triathlon
Shangri-La's Villingili Resort & Spa has hosted a six-kilometre triathlon as part of activities to mark Global Wellness Day (GWD). Global Wellness Day was marked across the globe on June 10 under the special banner "Encourage Kindness, Gratitude, Mindfulness and Happiness!"
Guests and employees of Shangri-La's Villingili participated in the triathlon, which was based on running, cycling and swimming. The activities began with a warm-up session overseen by the resort's recreation manager.The first leg of the triathlon began at the arrival pier from where the triathletes ran towards the Water Villas at Whispering Palms, the northernmost tip of Villingili Island, followed by a jungle crossing towards the Golf course where the participants picked up their bicycles.The second leg and cycling stage consisted of an ascent to Mount Villingili, the highest peak in the Maldives with a total elevation of 5.1 meters, followed by a race around the 9-hole Golf course until they reach the southernmost tip of the Island.The triathletes continued the third leg running to the main beach and swam in the lagoon for the final leg, towards the finish line. The triathletes were then treated to a well-deserved fruit infused refreshments to hydrate and refuel their bodies, says the resort.Allwyn Drego, the general manager at Shangri-La's Villingili believes that the Maldives is a wellness haven. "People come to the Maldives for the therapeutic experience on offer here. Everything about the Maldives is related to health and wellbeing," he says.
"The air here is fresh. The sun shines brightly. The food is fresh, especially the seafood. The beautiful sea provides salt therapy, which is very relaxing to the mind and body. Simply, visiting the Maldives is a wellness retreat in itself," he observes.
With a mantra of "One Day Can Change Your Whole Life", GWD was founded in Turkey six years ago, and this is the third time the celebrations are held on a global scale. GWD activities were held across 4,000 locations in over 100 counties this year.