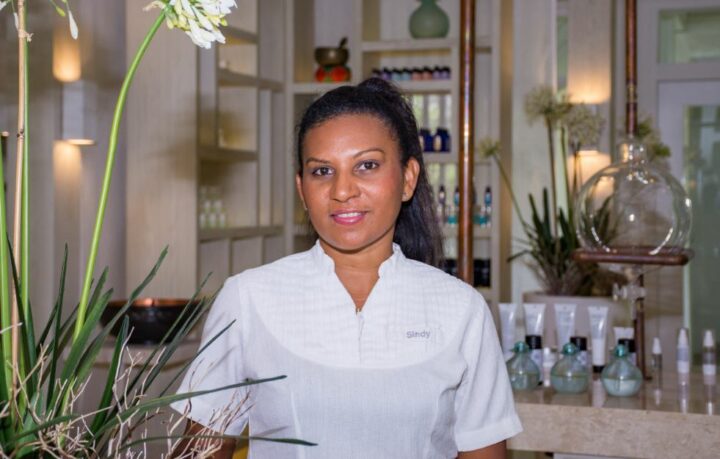 Sindy Lagare, Spa and Wellness Manager at LUX* South Ari Atoll
Marie Laura Sindy Lagare (Sindy), is the Wellness and Spa Manager at LUX* South Ari Atoll. Originally from Mauritius, Sindy delved into the hospitality industry as a secretary, and her fascination and intrigue into the abundance of cultures she was exposed to, led to a long career in the industry.
She notes that it was her fascination of meeting new people from all over the world and the cultural knowledge she absorbed from these interactions is what rooted her in the industry. "It was a wonderful experience, and an education as well," she says.
Sindy has always been attracted to the world of wellness and beauty. In fact, apart from studying to be a secretary, she also took up Beautician and Nutrition study back in Mauritius with the aspiration of learning something different.
"I have always been prompt to take care of others, and always willing to enjoy healthy lifestyle; in eating healthy and exercising. Additionally, Wellness has specific complementary health approaches – Nutrition, Yoga, Fitness and Spinal manipulation which bring the most positive health benefits. I believe it's always good to try and to learn something different," she says.Sindy describes wellness as the harmony of the body, mind and spirit. She says, to look good, one must also feel good inside and out while trying to keep things simple. She translates this mantra into her approach in running the spa at LUX* South Ari Atoll."We are always on the search for new and innovative ideas, trendy therapy practices and fresh challenges. At LUX* South Ari Atoll, we are always encouraged to take greater challenges and the greater the challenge is, the better I performed. The experience really moulded me. I love it," she adds.
And of course, like a true hospitality professional, Sindy's greatest reward is guest satisfaction which she says is the "golden token" she takes home after a day of busy work. This according to her, is the service culture that has been instilled in her working with LUX* Resorts and Hotels.
Having worked with the property in Mauritius too, Sindy says that delivering and adapting the unique LUX* ME brand provided in all properties around the world can be challenging in Maldives. Not in terms of service, but the extra planning and logistics required to be proactive in running a spa in a secluded self-sustaining island resort.
"It is challenging at times," Sindy notes, "but adapting it to the idyllic and authentic Maldivian environment is joyful. Service delivery, precision and personalised approach (interaction), is important to build the relationship with our guests. I try to incorporate new things and be more creative in the way of delivering the service."
Sindy notes that providing wellness services to guests on holiday is about making a mark for their overall betterment. She says people are more aware of their self-well-being and also how wellness promotes health, vitality and relaxation. "With fitness, yoga and nutrition, we are helping guests to adapt skills learnt on their holidays to their everyday life in a more sustainable way," she says.Running a spa in Maldives means incorporating the Maldivian culture and traditions into the services offered as well. Sindy says what she admires most in the Maldives is the altruistic nature of its people. This with the strong bond Maldivians have with nature and the sea is something she tries to incorporate into the service."We have begun to integrate a more tranquil approach in the services offered to our guests. In keeping with the Maldivian tradition of the strong bonds with nature, taking roots from the serenity of the azure ocean and the deep blue skies, we try to create a meditative, relaxing and calm atmosphere," Sindy adds.
Comparing the number of foreign employees in the industry to that of Maldivians, she notes that Maldivians generally shy away from working in the wellness industry, maybe due to cultural and traditional reasons. She says she would like to see more Maldivians venture into the wellness industry noting encouragingly that it is an "amazing journey".
Sindy also sees a bright future for the wellness industry in the Maldives. She comments: "What I see is that the industry will become more innovative and inclusive. Wellness has exploded in the past few years, and more and more resorts are starting to integrate it and even showcase it as the main attraction."
She says we need to start thinking bigger than before, to keep up with the latest trends and innovations, as well as creating new ways and approaches to fitness, diet, mindfulness and the environment.
Considering that sheer number of high-end luxury resort chains that are opening new properties in Maldives, Sindy notes that competition will be tough and constantly being on the cutting edge of wellness is going to be a strong advantage.Sindy has come a long way, from being a secretary at a three-star property to managing the spa at one of the most luxurious five-star resorts in the Maldives. As a woman, in a management position of a male-driven industry, she says it is her devotion and dedication that has taken her to where she is today."I embrace working with different nationalities and building interpersonal relationships with them has helped me be more confident. In today's industry climate, a great deal of women pioneers has trail blazed to the forefront," she says.
"What I have learnt from them is that a mixture of skill, intelligence, wit, and confidence allows anyone, regardless of being male or female, to succeed in the field. Some employers are even starting to prefer women candidates due to their natural compassionate and nurturing traits."
Life can be hard living in a secluded island, with island fever taking over many hoteliers working in Maldives. Sindy notes that being happy and enjoying what you do is the ultimate cure for that. She says socialising, maintaining personal fitness and health keeps the motivation going. Noting the support she receives from her colleagues, Sindy says discovering local islands, snorkelling and fishing are some of the best memories of life in Maldives.
The journey of Sindy Lagare in the wellness industry is far from reaching its destiny. She says that the personal growth she has attained from the experiences, cultures, team building and guest interactions is her greatest achievements. She says: "One day, I would like to become a Wellness & Spa Director or to be a successful entrepreneur and have my own Spa business."