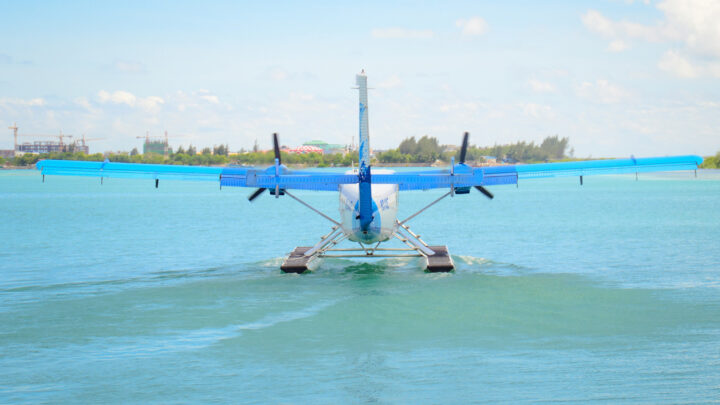 Maldivian's new seaplane arrives in Maldives today
Maldives' national airline Maldivian's 8th seaplane is scheduled to arrive in the country this Saturday. The DHC-6 Twin Otter Aircraft that departed from Canada on 9th July 2016 is expected to be operational within 30 to 45 days.
Maldivian began its seaplane operations just two years ago, and according to Ali Nashath Hameed, Maldivian's Head of Administration, at the end of this year, the airline expects to have 10 seaplanes in its fleet. Maldivian welcomed its 7th seaplane in June and two more are expected to arrive in the country within the next few months.
Maldivian is owned and operated by Island Aviation Services Ltd, and the airline commenced operations in 2000, serving all three of the domestic airports present in the country at the time. The airline began its international operations in January 2008 with the first flight to Thiruvananthapuram, India, and was formerly known as Island Aviation until it was rebranded in August 2008.
According to Nashath, Maldivian entered the seaplane industry in 2014 because there was both the need and space for competition. And according to him, Maldivian's long history in the aviation industry coupled with a staff that's worked in the industry for a long time, allows the airline to take care of its passengers from the moment they arrive at the airport until they reach their destinations.
Nashath also noted Maldivian's capacity to ensure its passengers reach their destinations safely even during rough weather situations. "Seaplane operations can only be conducted during the day. Seaplanes cannot be operated if the visibility goes down or if it gets too windy. In these cases we can transport our passengers on our Dash8 aircrafts because we have them in our fleet. We can make sure our passengers reach their destinations and this is a great advantage we have over our competitors," said Nashath.
Currently Maldivian operates daily flights to all domestic airports within the country. And the airline has scheduled international flights to Chittagong and Dhaka in Bangladesh, Chennai and Thiruvananthapuram in India, Thailand's Bangkok, and Changsha, Chengdu, Chongqing, Nanjing, Wuhan, Xi'an and Fuzhou in China.
"We started operating flights to China in 2013 with the first flight to Chongqing, and over the last three years, we've expanded our services to seven destinations," Nashath explained. According to him, before these scheduled flights to Chinese destinations, Chinese nationals who wanted to visit the Maldives often arrived via international carriers such as Qatar Airways and Singapore Airlines. These trips were usually long and at times costly. "We are providing the option for them to come to Male' directly from their city, without having to change their flights," Nashath explained. "Currently we bring 1300 Chinese tourists per week. We started three years ago and I think that's a really good number," Nashath noted.
Speaking about the airline's plans for the future, Nashath noted that the airline is looking into expanding its network to the Middle East along with further additions to its fleet. "By the end of this year we will have 21 aircrafts. This is a huge achievement for us as when we started out 16 years ago we had just two," Nashath said.
On the 20th of July, Maldivian is introducing an 8 seat luxury Twin Otter, an exciting new addition to its seaplane line-up. "Compared to our normal seaplanes that have 15 seats, our luxury Twin Otter would be more spacious with comfortable seats. We would also be able to serve meals to our passengers which is something that we are unable to do in all our other seaplanes," Nashath said. According to him, the new luxury seaplane is targeted for high-end customers and will be available for charter.