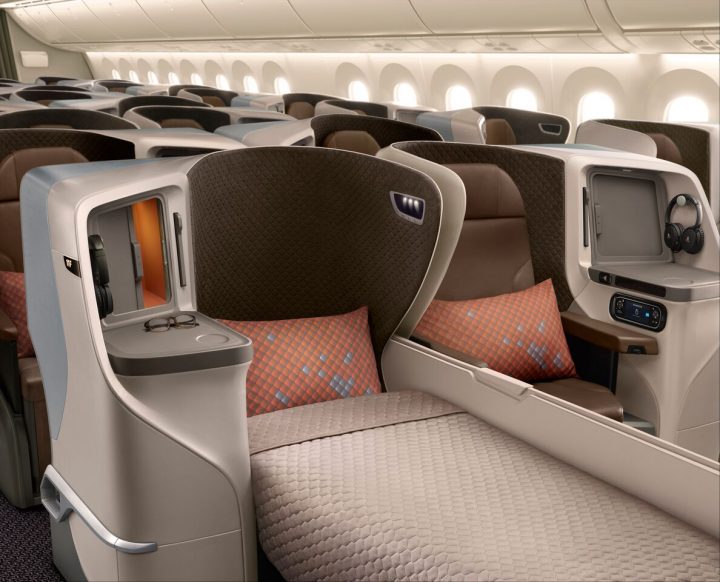 Singapore Airlines unveils new generation of regional cabin products
Singapore Airlines (SIA) today unveiled the next generation of regional cabin products, fitted on its new Boeing 787-10 fleet, which, the company says will redefine travel on flights up to eight hours.
The new cabin products feature fully-flat beds and direct aisle access for all Business Class customers, ergonomically-designed contour backrests with six-way adjustable headrests in Economy Class, and personalised in-flight entertainment (IFE) experience for all customers through myKrisWorld.They were unveiled for the first time today at a launch event in Singapore following the arrival of the world's first 787-10 from Boeing's production facility in North Charleston, South Carolina.
The new 787-10s are configured with 337 seats in two classes, featuring 36 Business Class seats and 301 Economy Class seats.
Manufactured by Stelia Aerospace, the new regional Business Class seats on the 787-10s are arranged in a forward-facing 1-2-1 staggered configuration to provide every customer direct aisle access.
With each seat able to recline directly into a 76" fully-flat bed, Business Class customers can rest in more comfort, even on the shortest flights. Customers will have more options to relax in their seat while being entertained by KrisWorld, SIA's award-winning in-flight entertainment system, on their personal 18" full high-definition touchscreen monitor, powered by Panasonic's latest eX3 system.
Each seat measures up to 26" in width with retractable armrests that can be raised and lowered. Whether travelling alone or with a partner, adjustable dividers at the centre seats provide for a customised level of privacy to suit individual preferences.
Customers can also look forward to other features to enhance their travelling experience, such as ample stowage space for personal items, a business panel with in-seat power supply and USB ports, and integrated reading light unit with adjustable lighting intensity.Designed and built by RECARO, the new Economy Class seat also offers an enhanced in-flight experience. Arranged in a 3-3-3 configuration, each of the 301 Economy Class seats on the new 787-10s has an ergonomically-designed contour backrest that provides greater comfort, with a six-way adjustable headrest with foldable wings to provide more neck support.Economy Class customers can also enjoy an enhanced entertainment experience on their personal 11.6" full high-definition touchscreen monitor, as they browse from the selection of more than 1,000 movies, TV shows, audio programmes and games on KrisWorld.
Other features that Economy Class customers can look forward to include personal storage space for small personal items, a coat hook, USB port and in-seat power supply.
All customers on the new 787-10s will also have greater control over their in-flight entertainment (IFE) experience through myKrisWorld, allowing for world-first IFE personalisation. Features of myKrisWorld include content recommendations based on customer preferences and viewing history, and KrisFlyer members being able to bookmark and resume content, as well as customise and save preferences for subsequent flights.
SIA is also the first airline in the world to offer a series of games from Toca Boca and Sago Mini on KrisWorld. Initially available on the 787-10s, this popular entertainment option will progressively be made available on other aircraft types in the Airline's fleet.
The new 787-10s will also be equipped with in-flight WiFi supported by Panasonic's Global Communication Services and GSM phone services provided by Panasonic's wholly owned subsidiary Aeromobile.
"The introduction of the new cabin products on our Boeing 787-10 fleet reinforces our unwavering commitment to product leadership, one of the key pillars of our brand promise," said SIA CEO Mr Goh Choon Phong.
"The new products were the result of a series of consultations with customers, and from working closely with our seat designers and manufacturers. We are confident that the new regional cabin products, with full-flat beds in Business Class and the many new features in Economy Class, will offer our customers a more comfortable in-flight experience even on the shortest flights."
SIA is investing US$350 million in the introduction of the new regional cabin products on an initial 20 787-10s.
SIA is the first and largest customer for the 787-10, with firm orders for 49 of the type. The Airline also has a firm order with Boeing for 20 777-9s, which are due for delivery from the 2021/22 financial year.
Osaka and Perth are planned to be the first scheduled destinations to be served by the new 787-10s, from May 2018. Prior to the launch of these regular services, the aircraft will be operated on selected flights to Bangkok and Kuala Lumpur for crew training purposes.