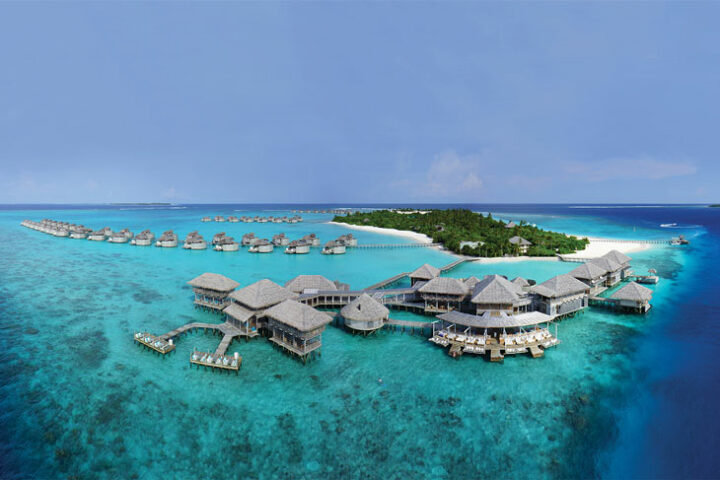 Six Senses Hotels Resorts Spas named Best Hotel Group
The Six Senses Hotels Resorts Spas has won Best Hotel Group at the Telegraph Travel Awards, based on one of the most comprehensive and reliable travel surveys in Britain. The world's best destinations, hotels, airlines, tour operators and cruise lines were also recognised at an awards ceremony held on April 13.
More than 75,000 readers of the UK's The Daily Telegraph submitted votes in 14 categories. The paper has a circulation of over 500,000 readers.
Bernhard Bohnenberger, President of Six Senses, said upon receiving the award: "On behalf of everyone at Six Senses we are honored by the votes from The Telegraph readers."
The voter award "reflect the great service, amazing activities and fabulous design" at Six Senses' properties, he added.
Bohnenberger also announced the opening of a new resort this fall on the private island of Felecite in the Seychelles.The group are also planning to open five small resorts in Bhutan in 2017.
"Each resort takes advantage of the land and its geographical site, and the architecture and design celebrate the stunning locations. The Six Senses Spa division is booming and this year seven new spas will premiere – two in Doha, plus Dubai, Mumbai, Pune, Seychelles and Courchevel. It's an exciting time for Six Senses," he said.
Six Senses Hotels Resorts Spas was established in 1995 with the opening of the group's first resort in the Maldives. Six Senses resorts and spas represent a refreshing reinterpretation of five-star travel for today's sophisticated traveler and spa goer. Well-being combined with ethical responsibility for the world we live in genuinely forms the central tenet to Six Senses philosophy.
In 2012, the company was acquired by Pegasus Capital Advisors, L.P. a private equity fund manager in New York. Pegasus partners with management teams of growth companies with a focus on those that benefit from the business implications of global resource scarcity. Sectors where this trend is most pronounced are food, water, energy, health & wellness and security. Through ownership Six Senses is working with a variety of innovative companies and experts to elevate the offerings presented at its spas and resorts.
Six Senses Spas has a global following due to the group's ability to consistently pioneer new standards and innovate. Six Senses 'Integrated Wellness' was recently launched; the multi-dimensional wellness program starts with a wellness assessment that evaluates a number of different and important bio-markers. Results allow Six Senses wellness experts to determine behavioral and lifestyle change and create a personalised program based on the needs of the guest. Created by the Six Senses Spas team along with respected medical doctors, each guest's personalised program may include spa treatments, exercise, yoga, meditation and sleep tips and guidance. The four programs are called: Sleep & Resilience, Trim & Fit, Cleanse & Detox and Full Potential.The wellness assessment has launched at Six Senses Douro Valley, Six Senses Laamu, Six Senses Yao Noi and Six Senses Zighy Bay. In addition, it is available at third party Six Senses spas in Koh Kood, Thailand (Soneva Kiri) and Muscat, Oman at Al Bustan Palace, A Ritz-Carlton Hotel. Additional Six Senses resorts and spas will launch the program later this year.
'Sleep with Six Senses' is a resort-wide experience that allows guests to receive personalized guidance on improving their sleep. Sleep with Six Senses is currently launching at Six Senses Douro Valley in Portugal and will be available at more resorts this fall.
"It features Six Senses sleep ambassadors at each property and in-villa items including: beds by Naturalmat, Beaumont and Brown bed linens, Valley Forge moisture wicking linens, Hanse pillows and duvets plus two sleep machines – one that blocks disruptive ambient noise and another with LED lighting (red awake and blue sleep light that tracks sleep). Each guest receives a sleep bag that contains pajamas, a sleep journal, sleep mask, ear plugs, neti pot and nose strips. It is one of the most innovative and in-depth sleep experiences any hotel group has ever launched," the company said in a statement.
"Nutritional guidelines are also underway and this includes looking at all menus and improving them so guests can enjoy the same great taste experienced in the past at Six Senses restaurants, but delivers even healthier dishes than before. Chefs are creating low sugar and low sodium items, gluten free and hormone free options, plus offering home grown and organic ingredients where possible."
Six Senses Hotels Resorts Spas is a hotel and spa management company comprised of 10 resorts and 28 spas under the brand names Six Senses, Evason and Six Senses Spas. Six Senses operates resorts in far-flung locations of incredible natural beauty known for their distinctive and diverse design personalities. Each of the eight properties is supported by a leadership commitment to community, sustainability and wellness.
Six Senses Spas offers a wide range of holistic wellness, rejuvenation and beauty treatments administered under the guidance of expert therapists. Six Senses Spas operates 18 standalone spas in prestigious hotels and resorts as well as located aboard a ship and the premier class lounges of two major airports.
Evason introduces a collection of two unique resorts that follow the Six Senses philosophy of uncompromised responsibility to sustainability and to the community. Family friendly, these properties also provide a strong value focus while offering a vast array of guest services and personal attention.