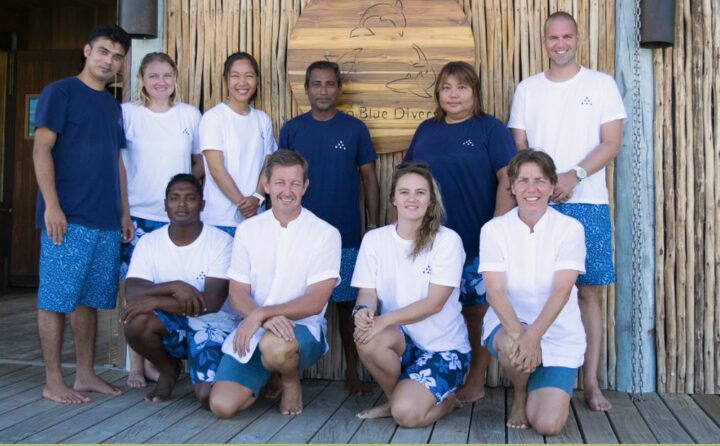 Six Senses Laamu unveils Deep Blue Divers – a brand new dive centre
Six Senses Laamu has announced the opening of Deep Blue Divers – a brand new dive centre owned and operated by the resort. With Deep Blue Divers, Six Senses Laamu seeks to offer guests "premier diving experiences in the lively and colourful reefs surrounding the resort and at the same time focus on enhancing guest awareness, appreciation and understanding of the marine environment."
According to the resort, the international team at Deep Blue Divers is staffed by 10 dive instructors and dive masters who can speak a total of 10 languages and who offer PADI courses and guide daily dive trips. The dive centre is certified by PADI and has received the PADI Green Star Award from its first month of operation.
Deep Blue Divers has also partnered with Project Aware who has listed them as 100% AWARE. Both these recognitions have followed the dive centre's commitment to marine conservation and sustainable dive practices, which include the protection of marine life, no anchoring of boats, sustainable cleaning products and continuous support to the Resident Marine team and to the research of the onsite team of the Manta Trust and the Blue Foundation, according to the resort.
"Deep Blue Divers will add value to our guests' underwater experiences. With a very experienced and highly trained team of dive instructors and dive masters that can assist our guests in a variety of languages, in addition to the variety of courses and dive excursions, diving is now open for enjoyment by more guests," says Marteyne van Well, general manager of Six Senses Laamu.
"The Deep Blue Divers team is committed to sustainable diving practices and to raising awareness of marine conservation while supporting the resort's marine conservation and sustainability initiatives."
The resort is surrounded by a large variety of coral reefs to which guests can dive, based on their level of dive experience. For beginners, the House Reef is beautifully sloping with three pinnacles standing just a few meters away and is home to the resident Green turtles and many colourful reef fish.
Inner reefs are a 10 to 20-minute boat ride away and each has its own unique features such as black coral walls, caves and anemone gardens. In the outer reefs, divers can cruise or drift along loping reef walls where friendly reef sharks and turtles usually pass by. The larger marine life, such as grey reef sharks, eagle rays, huge schools of snappers, and barracudas reside in the channels.
At Manta Point (also known as Hithadhoo Corner), there is a manta ray cleaning station just five minutes away from the resort. Here guests can observe the resident manta ray population all year round, along with reef sharks, turtles and a huge diversity of marine life. Both the channel and the Manta Point dives are recommended for experienced divers only.
According to Six Senses Laamu, the new dive centre offers PADI courses and Open Water, Advanced Open Water, Rescue Diver and Divemaster certification. For younger adventurers who would like to explore the secrets and beauty of the underwater world, the Bubblemaker course is available for children between eight and 10 years, while the Discover Scuba Diving course is for children from 10 years and above.
A Nitrox speciality course along with a set of specific courses is also available such as the Manta Trust Specialty course, the Turtle and the Maldivian Shark and Ray course. For these courses, aside from diving, guests can learn more about these marine critters and how to protect them, according to a statement by Six Senses Laamu. To learn more about the property and special offers, please visit sixsenses.com/resorts/laamu/destination.